Visiting Watkins Glen with pets takes some preparation. Especially if you want to hike the gorge. But it's so worth the effort! Here's what you need to know to plan your pet friendly visit.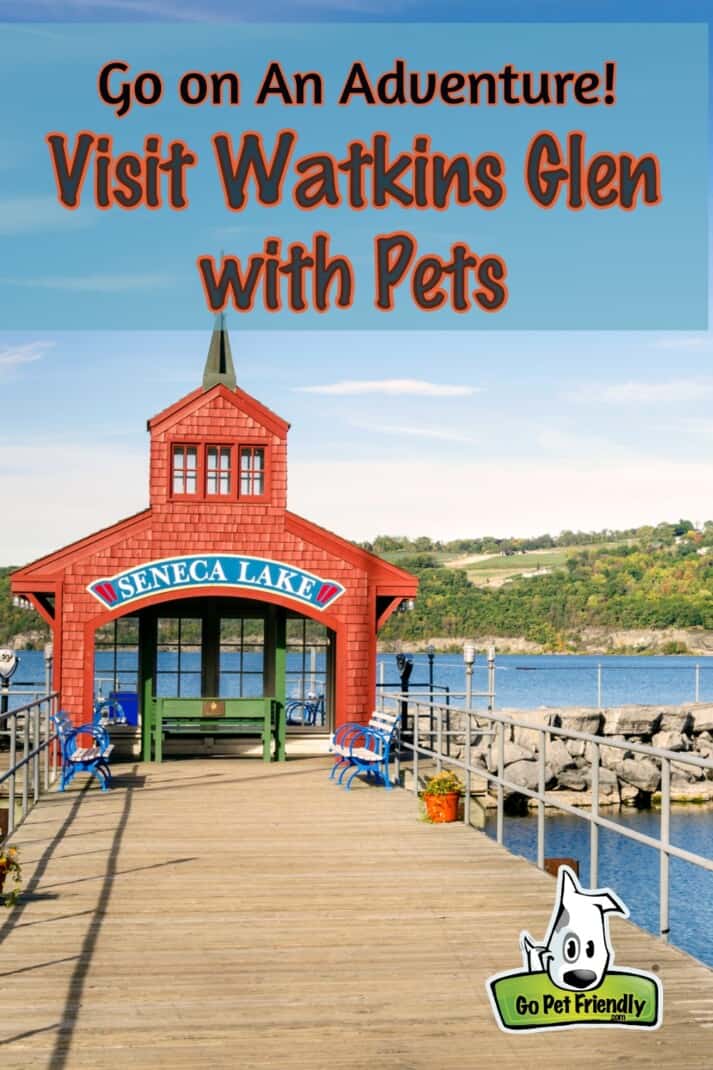 Watkins Glen is located at the base of Seneca Lake, one of eleven lakes carved by retreating Ice Age glaciers. Spreading like claw marks across central New York, the lakes give the region it's name – the Finger Lakes.
While locals have crowned the area "New York's Wine Country", the Finger Lakes region is that and so much more. With a wide range of four-season outdoor recreation, quaint downtowns, and a plethora of excellent wineries and breweries, it's an exceptional pet friendly vacation destination. And Watkins Glen makes a wonderful basecamp for your adventures.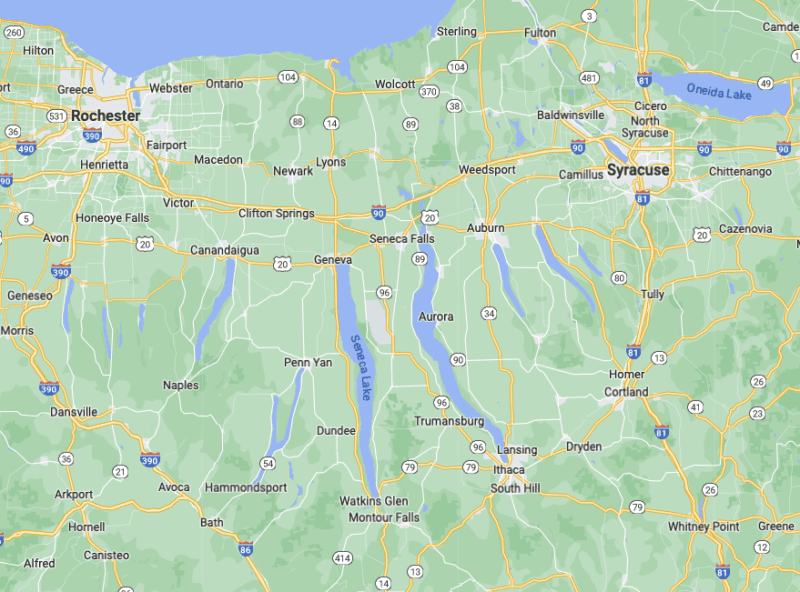 Watkins Glen State Park
No trip to Watkins Glen would be complete without a trip to the state park, which is located right downtown (1000 N Franklin Street). In a region filled with stunning state parks, Watkins Glen State Park is the most famous.
Though its amenities are similar to other nearby state parks—camping, picnic areas, and hiking trails — Watkins Glen State Park also has the gorge, a truly jaw dropping spectacle.
READ MORE ⇒ Tips For Hiking With Dogs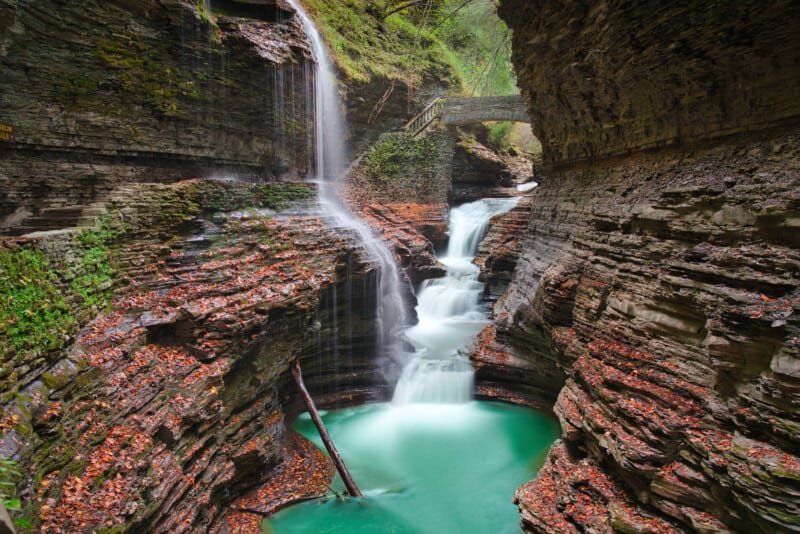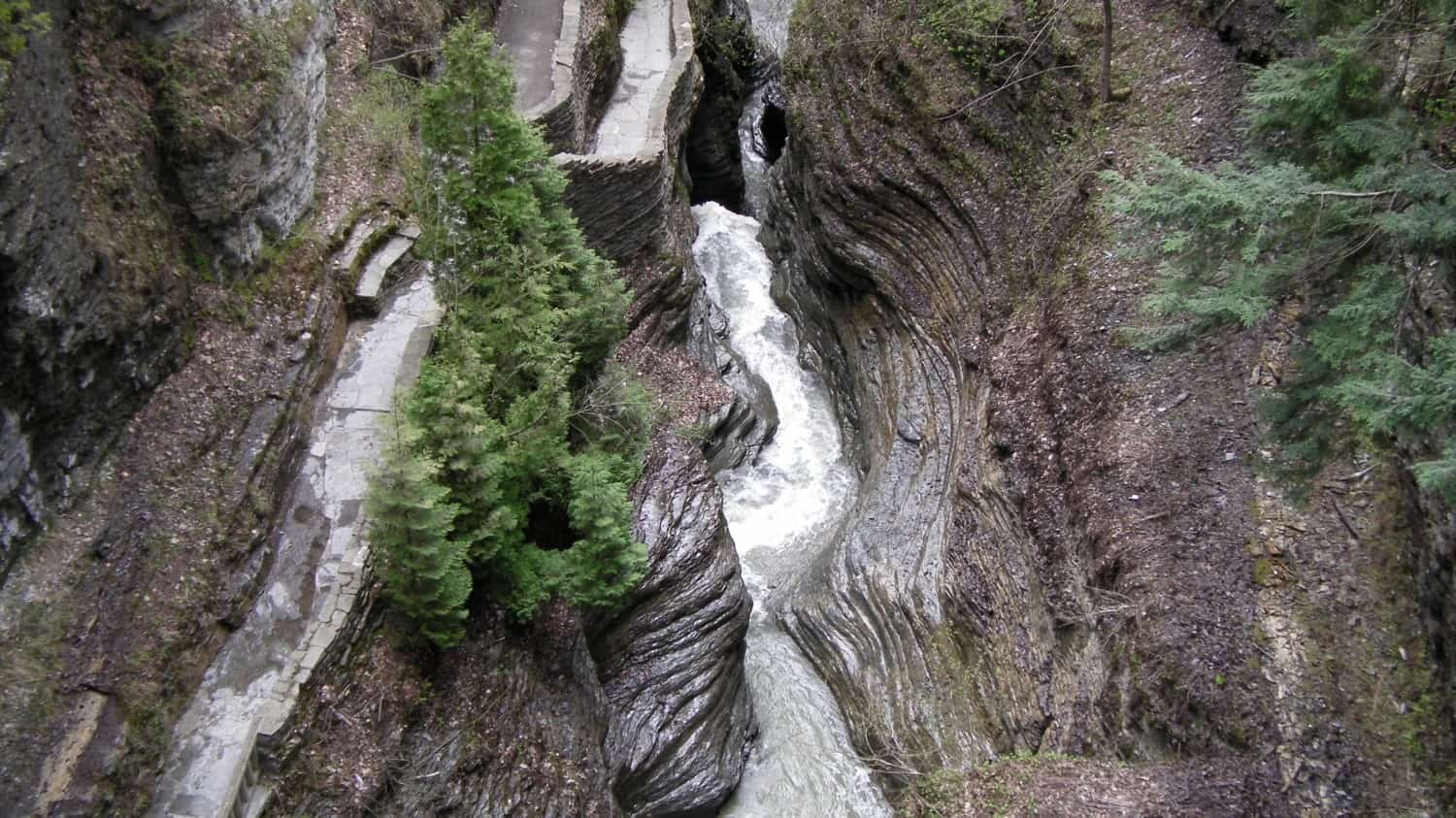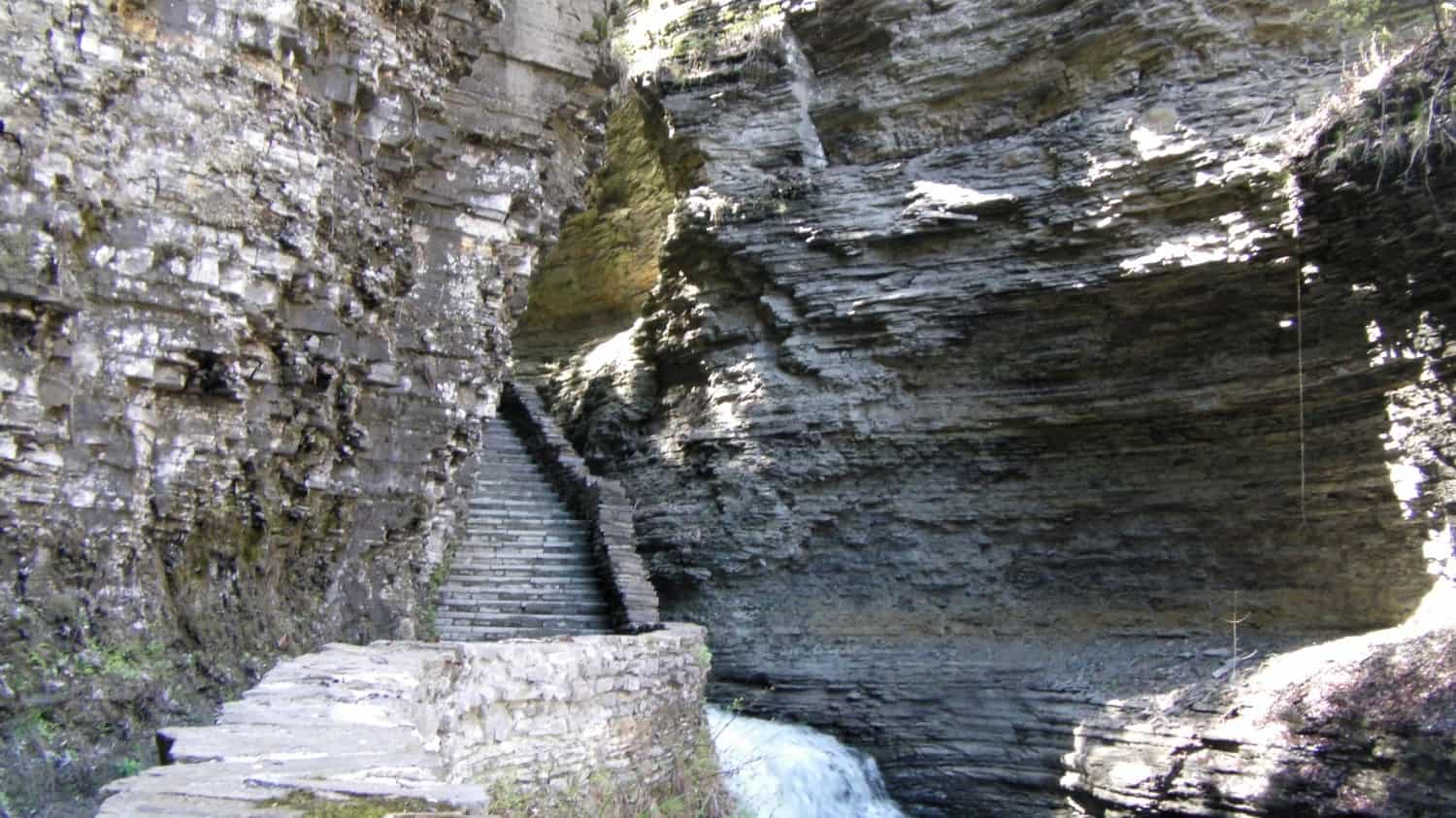 Exploring Watkins Glen State Park With Dogs
The Gorge Trail is what draws most visitors to Watkins Glen State Park. And if you hike it, you'll see that the trail is narrow, steep, and crowded. Just imagining leashed dogs on the path is enough to give you nightmares, which is why they're not allowed.
Watkins Glen State Park Pet Policy

A maximum of two pets are allowed in campsites and day use areas unless prohibited by sign or directive (not allowed on Gorge Trail). Pets are to be supervised at all times and either be crated or on a leash not more than 6-feet in length. Proof of rabies inoculation shall be produced if requested by staff. Pets are not permitted in playgrounds, buildings, pools and spray-grounds or guarded beaches (this does not apply to service animals).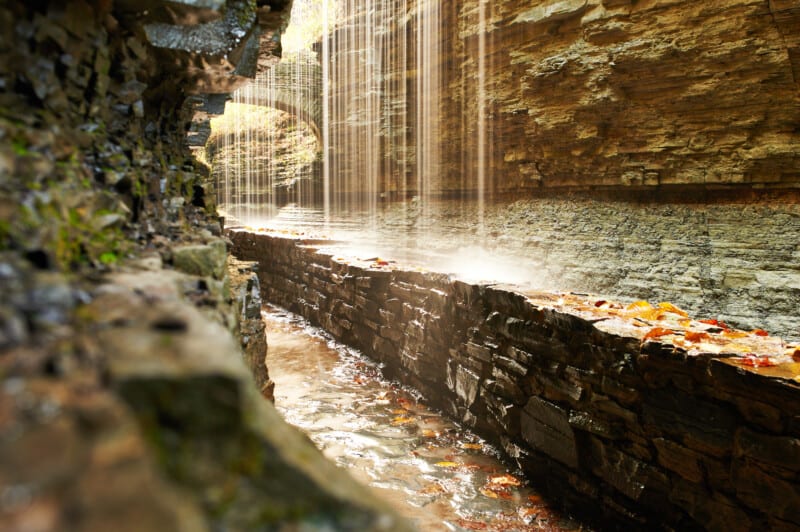 Despite the most dramatic of the park's trails being off limits, you and your dog can still enjoy a wonderful visit to Watkins Glen State Park!
Glen Creek runs for two miles within the park. And over that distance it descends 400 feet, creating 19 waterfalls, and many natural pools. This gives you plenty of options to enjoy with your best friend.
The park is open year round, though parts of some trails may be closed when icy during the winter.
Dog Friendly Rim Trails Overlooking The Gorge
Watkins Glen has two dog friendly trails that follow the rim overlooking the gorge—the North Rim Trail and the South Rim Trail. At 1.1 and 1.8 miles, respectively, both provide views into the gorge at select viewpoints.
Hiking both rim trails is a lovely way to explore the park with your dog and get a workout in the process! If that's your plan, allow about 3 hours to fully enjoy these trails.
Pro tip: The South Rim Trail is part of the Finger Lakes Trail, a 580-mile-long footpath that crosses the Finger Lake Region. The entire trail its pet friendly, as long as pets are leashed.

https://fingerlakestrail.org/plan-hikes-finger-lakes-trail/about-the-finger-lakes-trail/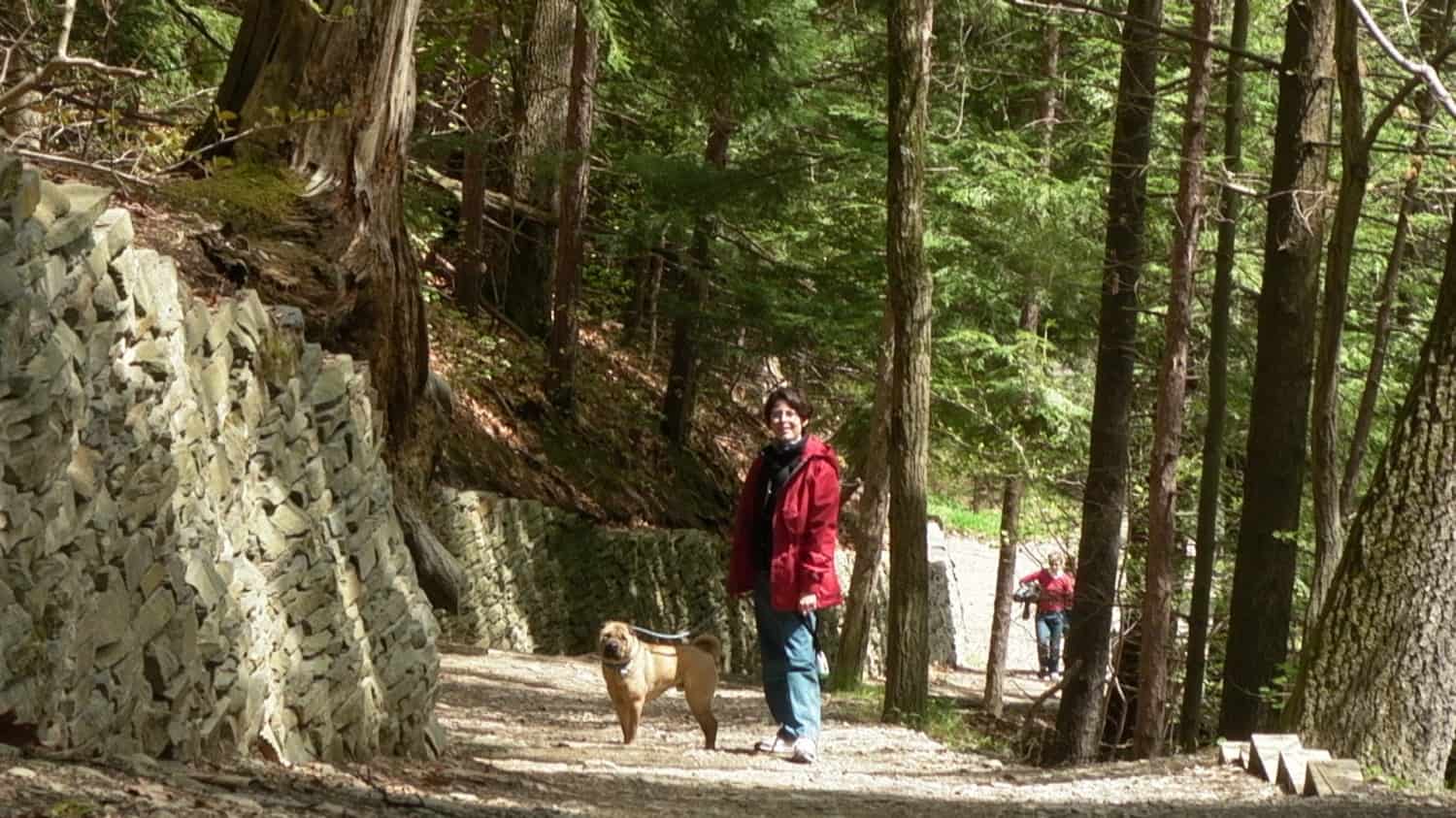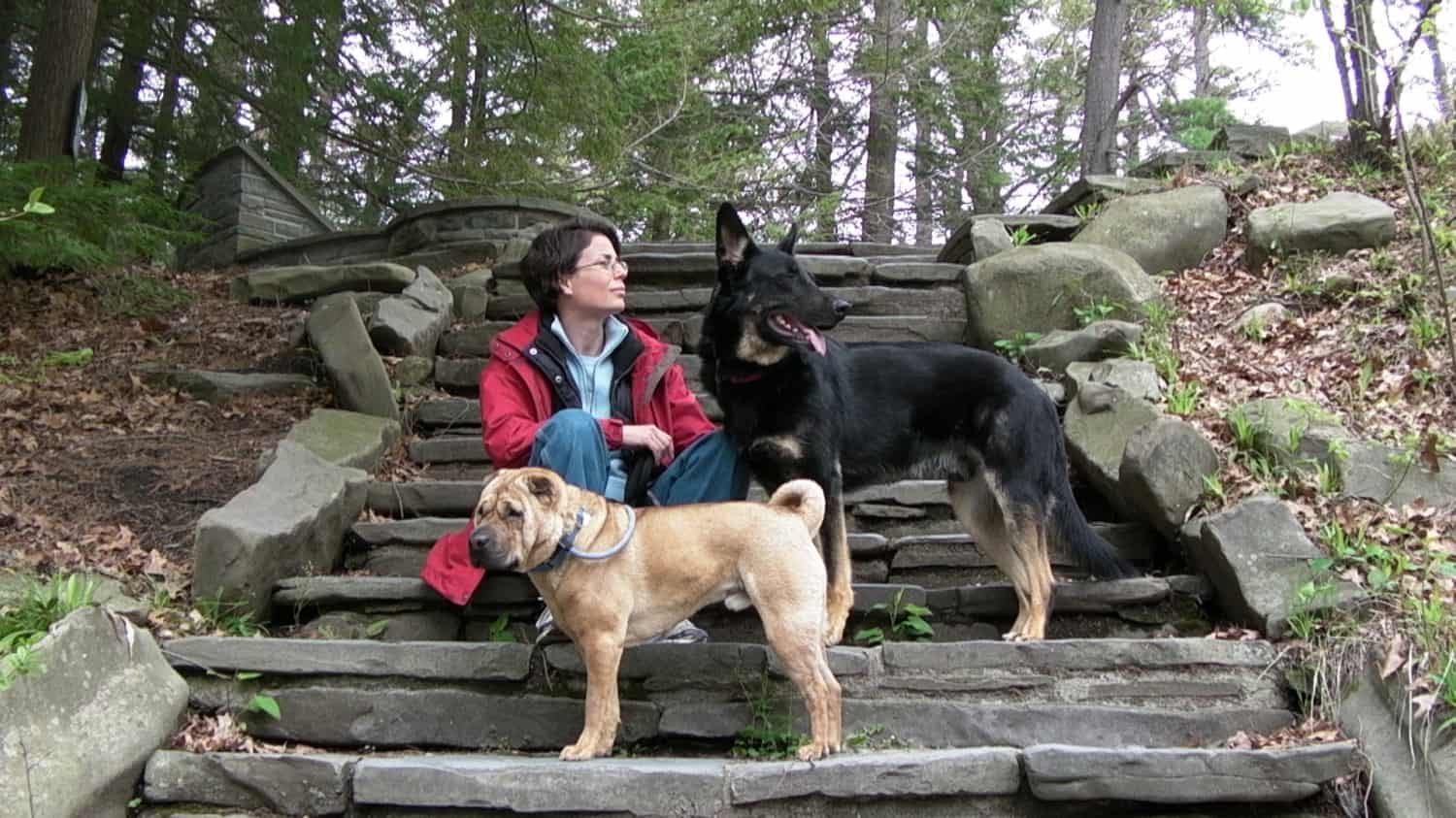 Take Turns Hiking The Gorge Trail
Once you've explored the rim trails trails with your dog, grab a bench or table at the gift shop near the park's main entrance. The gift shop sells cold drinks and simple snacks. And it's a comfortable place for one person to sit with the dogs and do some people-watching while the other person hikes the Gorge Trail (1.5 miles).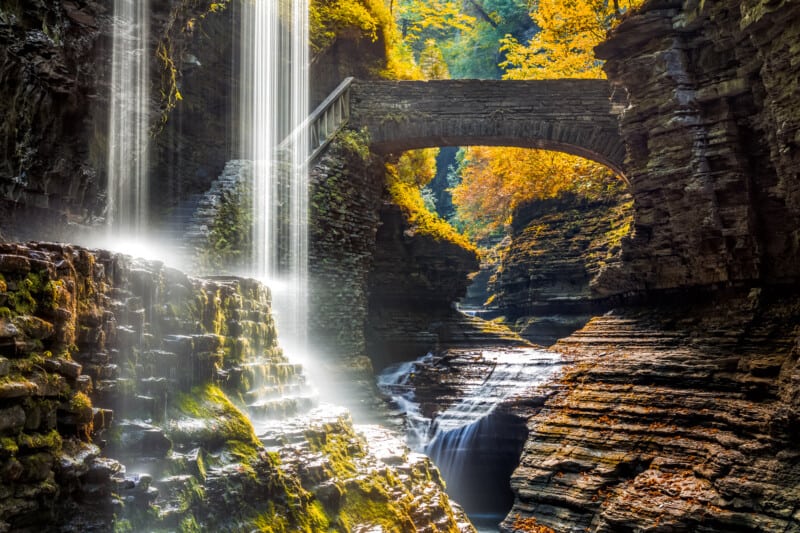 Rent A Campsite Or Cabin
Making Watkins Glen State Park the base for your visit instead of just a place to enjoy a day hike gives you more flexibility for hiking the gorge. And your pups will have a familiar "home" to wait in while one of their people is climbing the scenic gorge.
The park has campsites for RVs and tents and rustic, pet friendly cabins. But keep in mind that Finger Lakes state park camping is very popular. You might need to make reservations up to a year in advance. And during the high-season you are required to reserve a 3-night stay.
Also, the prime season is short, lasting from May through October. And without electricity or heat, the cabins might offer a chilly stay during the shoulder seasons.
READ MORE ⇒ Should You Try Cabin Camping With Your Pets?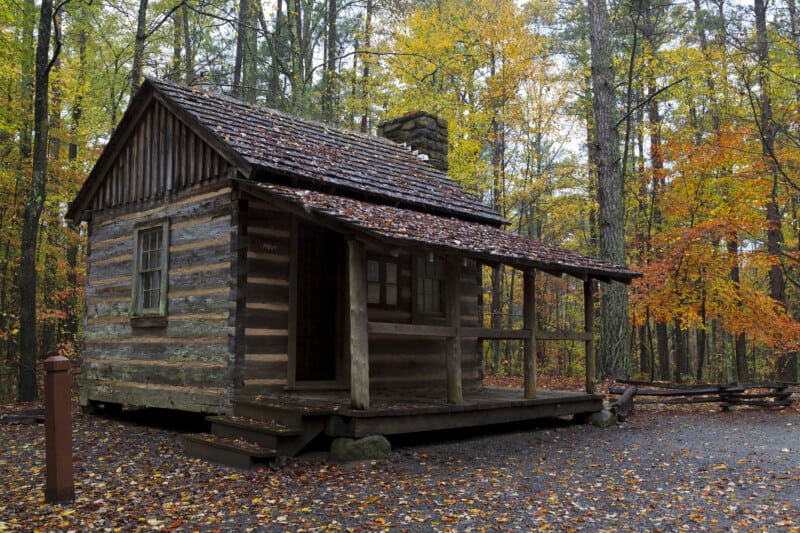 More Dog Friendly Things To Do In Watkins Glen
Once you arrive in Watkins Glen, you won't want to leave without seeing everything. Luckily, you have plenty of options to keep you busy!
Enjoy A Dog Friendly Cruise
Join Captain Leo on his pontoon boat for a sightseeing lake tour. You can learn about the area's industrial history, or just sit back and watch the sunset. Private charters can take up to 6 people (and polite pets) and last two hours. 
Prefer to keep things simple? You can launch your own kayak on the Catharine Creek Canal, which leads to Seneca lake. There is plenty of parking and the concrete ramps make it easy to load up your pup and paddle off.
READ MORE ⇒ Tips for Canoeing or Kayaking with Dogs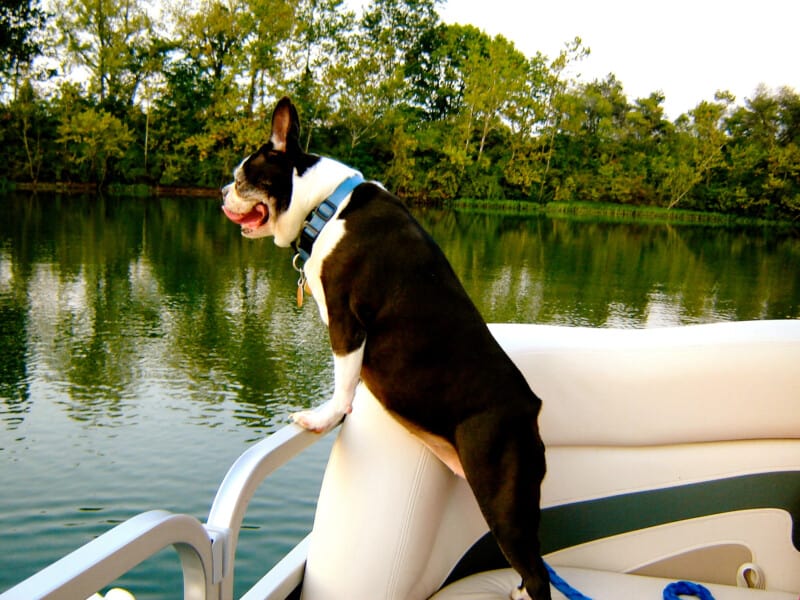 Stroll The Nearby Towns
One of our favorite things to do when visiting Watkins Glen with pets is to visit the surrounding towns. From Canandaigua to Ithaca, each place has its own personality and charm. Strolling their main streets provides hours of entertainment!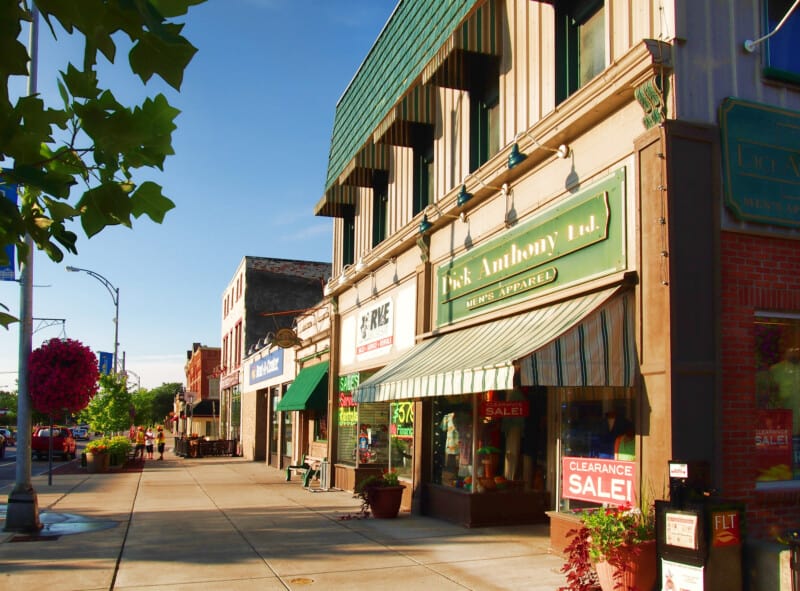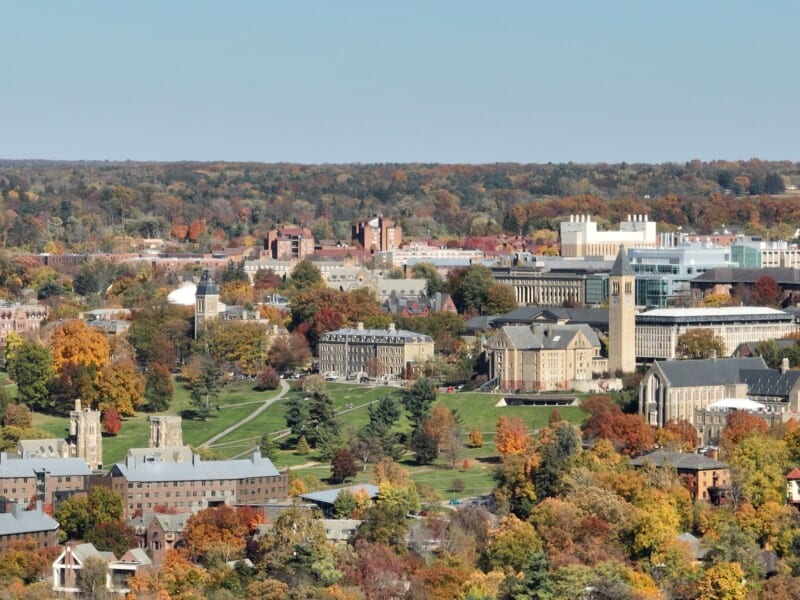 Visit Some Pet Friendly Wineries
A trip to New York's Wine Country calls for trying some of the local vino. So be sure to set aside some time to visit a few wineries when visiting Watkins Glen with pets.
Watkins Glen is close to three different wine trails, but the closest is the Seneca Lake Wine Trail. With over 30 wineries, a handful of breweries and a distillery, it's the largest and most active of the all the Finger Lakes wine trails. The good news for pet lovers is that the trail features at least 11 wineries that are dog friendly, and that list is always growing.
READ MORE ⇒ Uncorking the Pet Friendly Finger Lakes Wine Country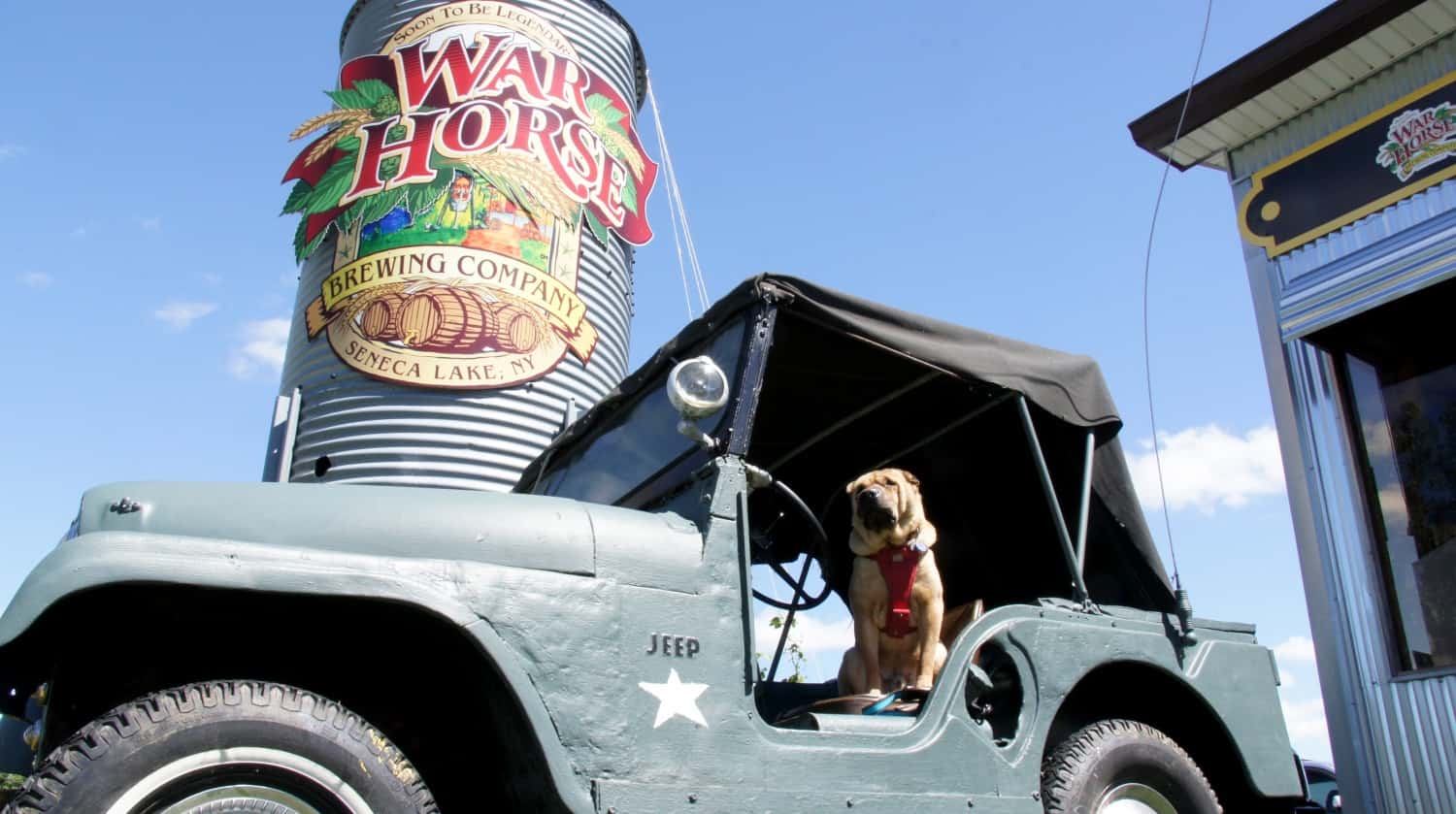 Just outside Watkins Glen, you will find Castel Grisch winery that welcomes polite dogs inside their tasting room.
Boundary Breaks, on the east side of Seneca Lake, is the only Finger Lakes winery with a dedicated, fenced-in dog park, where dogs are welcome to run off-leash. How cool is that?!
Lakewood Vineyard is a lovely place to take a picnic to pair with their award-winning wines.
At Fox Run Vineyards, just a short drive south of Geneva, they view dogs as part of the family!  They offer Bo's Bones treats for sampling and purchase. Their wine garden is dog friendly and if the weather isn't cooperative, they welcome dogs in their historic barrel room
You will also find breweries and distilleries a short drive from town. Grist Iron Brewing Company in Burdett and The Beerocracy at Seneca Lake Brewing Company in Rock Stream offer sunset views, live music, and pet friendly areas.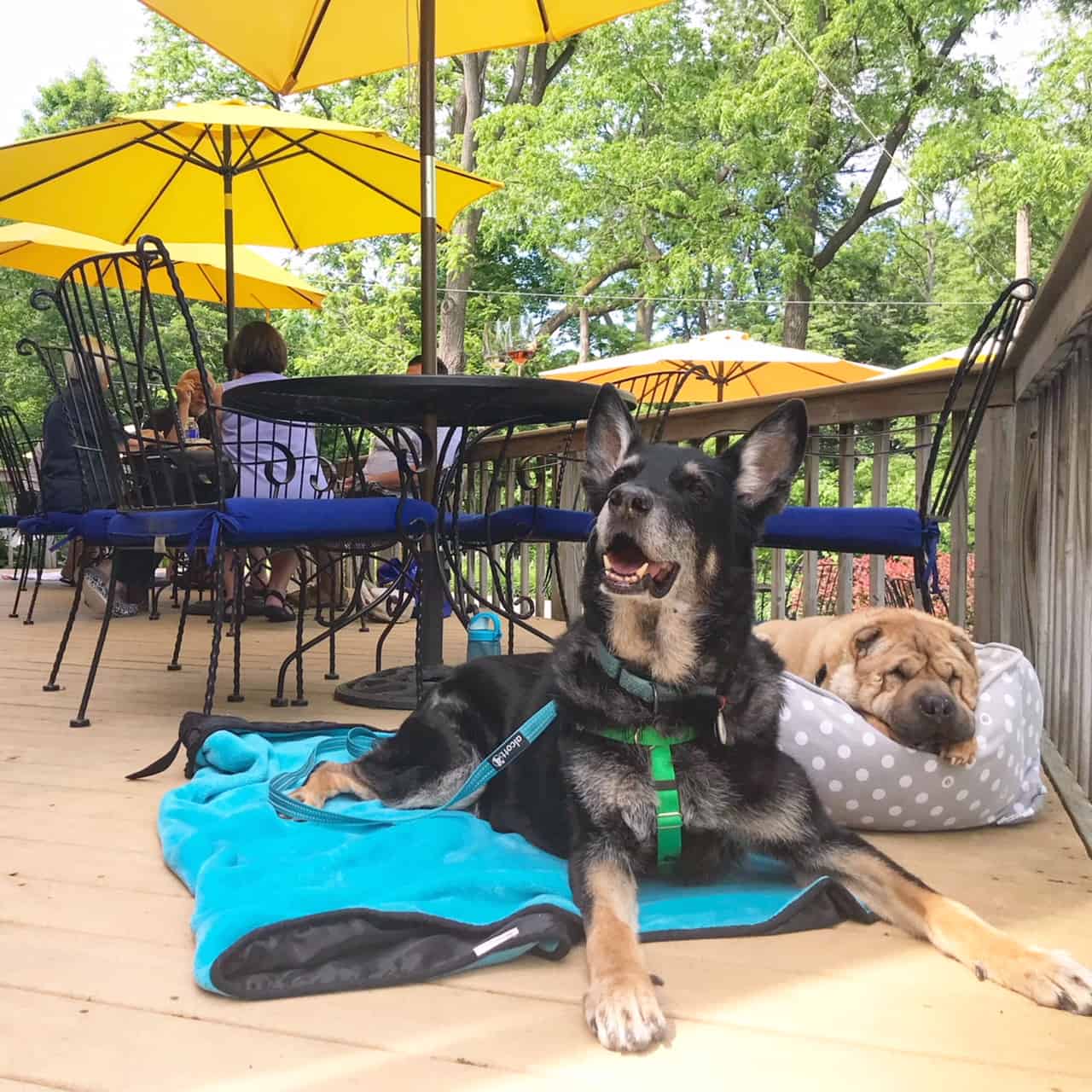 Hit More Trails
If you enjoyed the hike at Watkins Glen State Park and want to check out more trails in the area, you'll find plenty of options! The Finger Lakes National Forest lies on a ridge between between Seneca and Cayuga Lakes and offers over 30 miles of pet friendly trails.
And just 28 miles north of Watkins Glen, Sampson State Park encompasses over 2,000 acres on the eastern shore of Seneca Lake. Sampson State Park features hiking, boating, and camping, as well as the most picturesque sunsets in the Finger Lakes Region. Best of all? Dogs are allowed to swim there! It would be another great location to stay during your visit.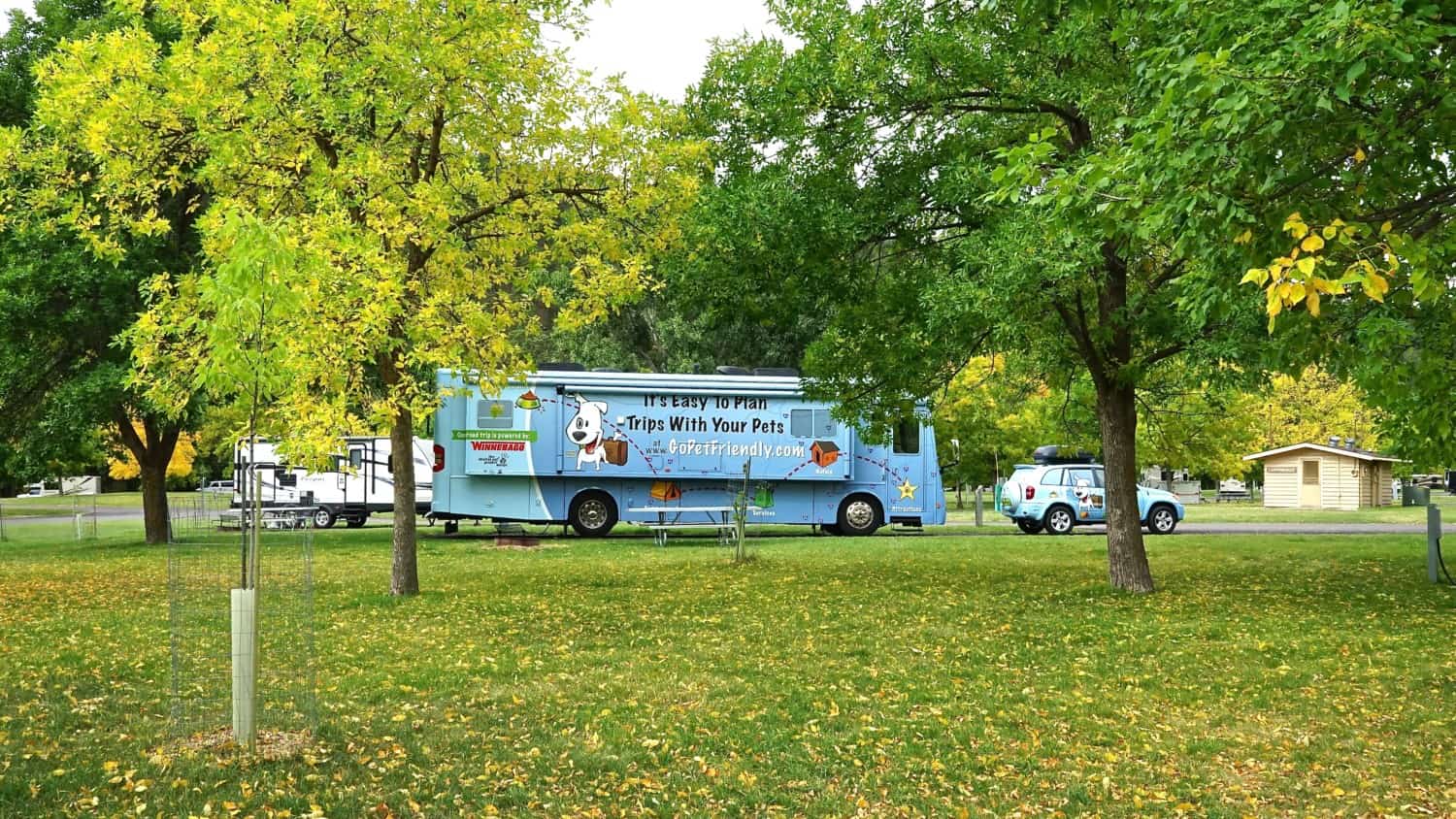 Explore the glacially-carved valley south of Seneca Lake on the Catharine Valley Trail. Following abandoned railroad and canal towpath corridors for six miles, the trail provides easy walking, bicycling, cross-country skiing and snowshoeing on a compact stone-dust surface.
The Finger Lakes Trail stretches 580 miles, from Allegany State Park to Catskill Park, and passes right through Watkins Glen!
New York's State Forests offer even more dog friendly hiking. Check out Sugar Hill State Forest, just 8.6 miles west of Watkins Glen, for an old-school fire tower & scenic views. Or head to Connecticut Hill Wildlife Management Area, 14 miles east of Watkins Glen, for panoramic views, fishing and primitive camping.
Eat On A Pet Friendly Patio
Visiting Watkins Glen with your pets is sure to make you hungry! So take your pup for some barbecue on the pet friendly patio at Nickel's Pit BBQ on Franklin Street. It's a great spot for people watching. And you can listen to live music on the weekends.
For a casual nosh, stop at Lakeside Eatery in the marina. You'll have to leave your pet outside while you order. But you'll enjoy great boat watching while you eat your food.
The Watkins Glen Harbor Hotel also offers patio seating at their restaurant, Blue Pointe Grill (open seasonally and weather depending). Enjoy your meal surrounded with flowers and water views.
Or watch boats launching from the beach patio at Seneca Harbor Station.
READ MORE ⇒ Tips For Taking Your Dog To Pet Friendly Restaurants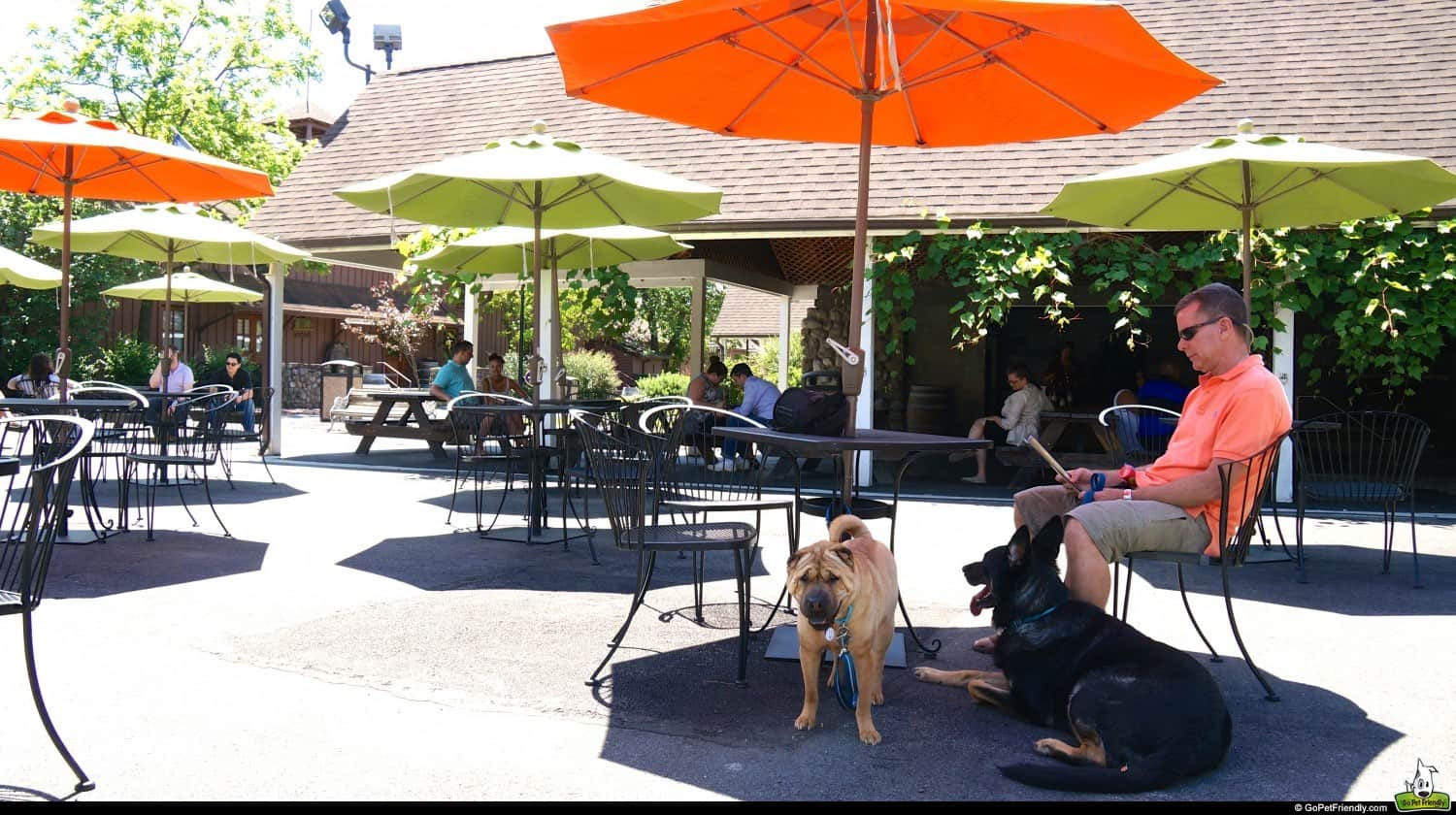 Attend An Outdoor Concert
Is your pet a music lover who doesn't minds crowds? Then why not take them to an outdoor concert?!
Lafayette Park located downtown at Fourth and Decatur Streets hold concerts every Tuesday evening from 7 to 9 in July and August.
On the waterfront, Clute Park holds concerts every Sunday evening.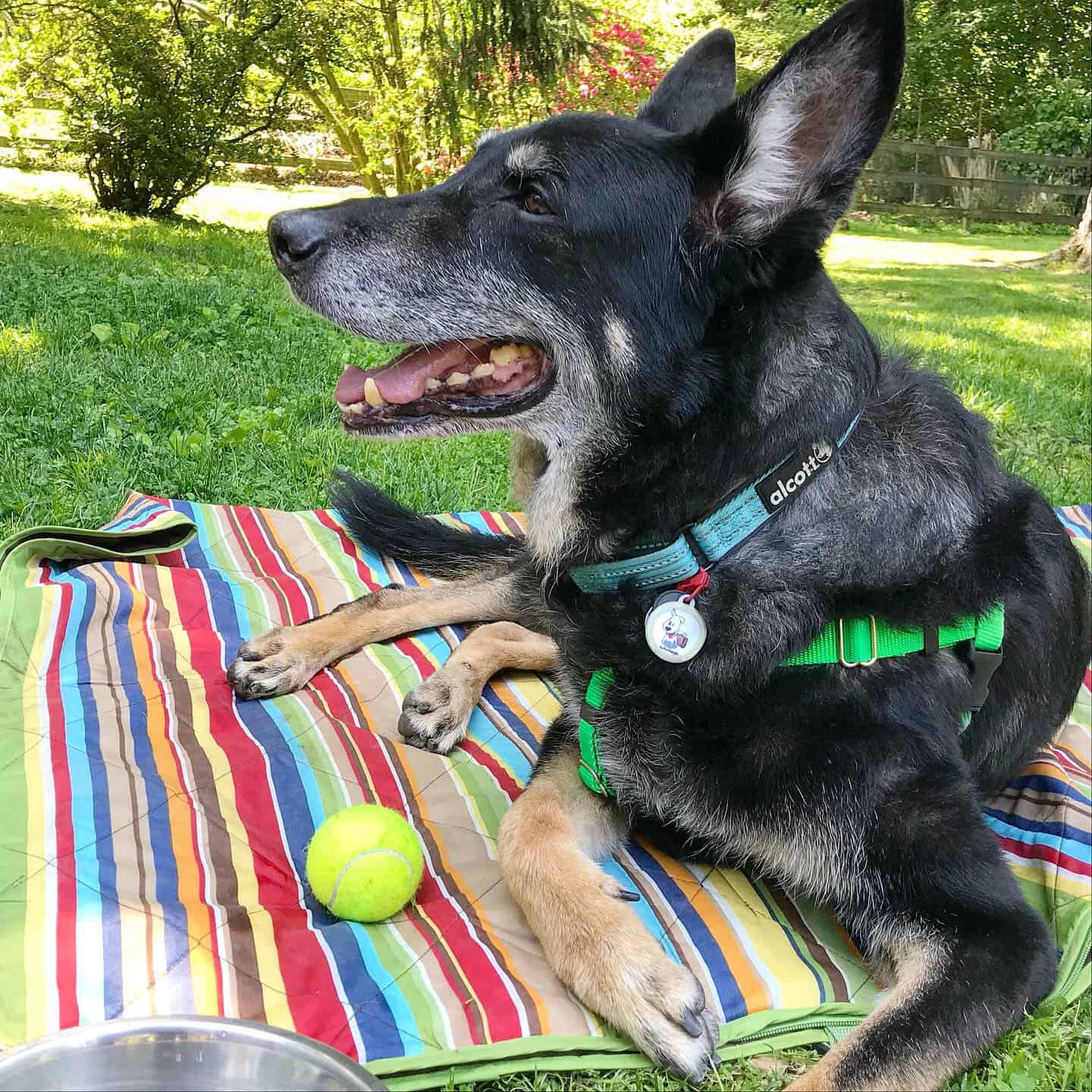 Visiting Watkins Glen With Pets
Have we convinced you? Are you ready to plan your pet friendly visit to Watkins Glen?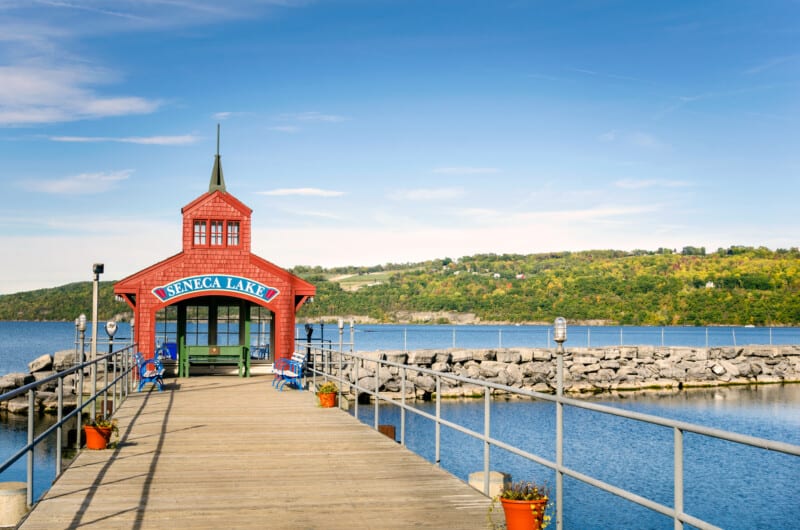 I hope so. Because the Finger Lakes are an under appreciated national treasure. And Watkins Glen sits right at its heart.

(Visited 17,001 times, 1 visits today)



Credit : Source Post