There are many ways to build a car. Some projects happen out of opportunity and convenience, some out of a strict set of rules and standards, and others purely out of a love for a specific subculture. Dan's S15 Nissan Silvia Spec-R is a curated mix of the above, which he looks back at with nostalgia. Although, I think there's more to this than meets the eye.
The story really starts in 2009; Dan was only nine years old and his dad organised a boys day out at Lydden Hill Race Circuit. Dan's father didn't take him to see touring cars or open seat racers, though. The boys were in for a day of drift car action at the JDM Allstars RD2 event.
Just like that, Dan was hooked. Everything we know and love about drifting today – the noises, the speed, the angles and importantly the style – was there to grab his imagination.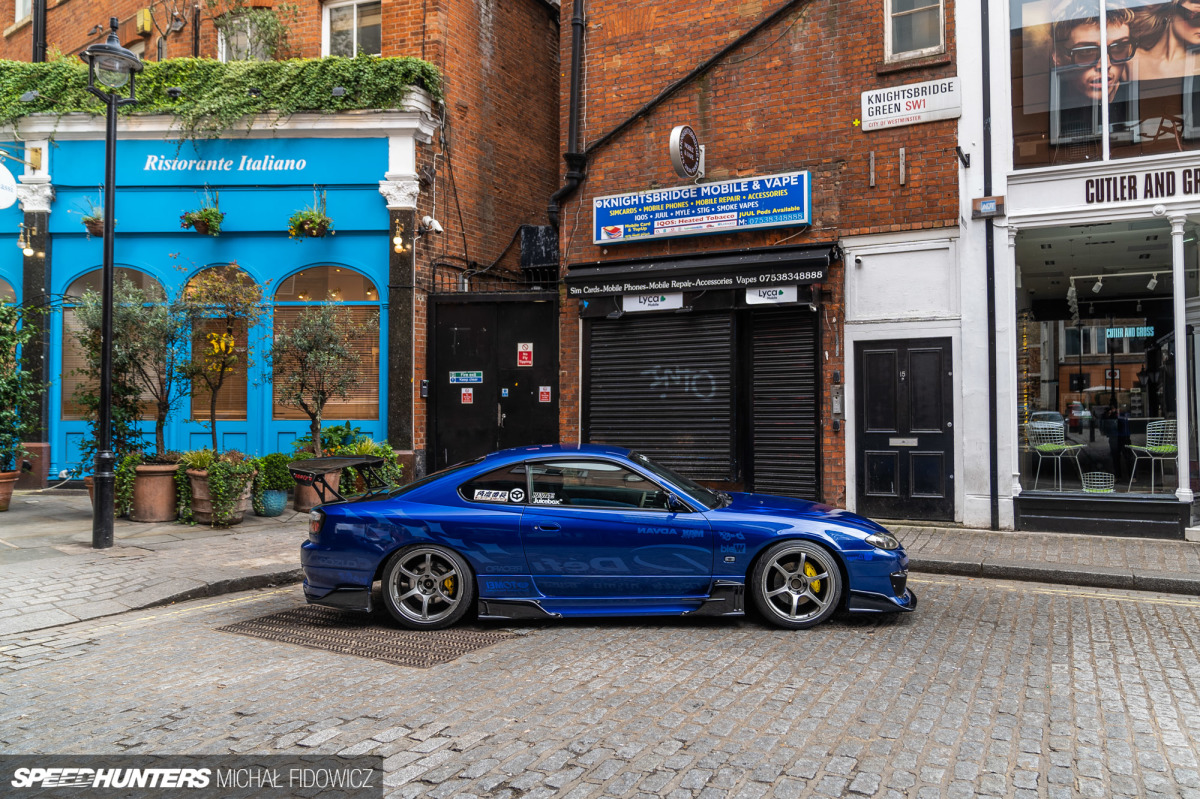 With a curiosity to learn more, Dan found himself researching the sport when he got home. As the years rolled on by, Dan's interest in drifting never waned. He watched old DVD clips from Japanese drift tournaments that were uploaded to YouTube. He followed relevant internet forums documenting the hobby and generally consumed all sorts of period media covering drifting and Japanese street car culture. He got an understanding of its origins and what it was all about.
Eventually, a whole decade later at the age of 19, Dan got his cash together and was finally in a position to turn a childhood passion into reality. He kept a keen eye on the import market, and despite never actively looking for an S15, the car you're looking at in the photos came up for sale at an asking price which Dan knew he couldn't pass by.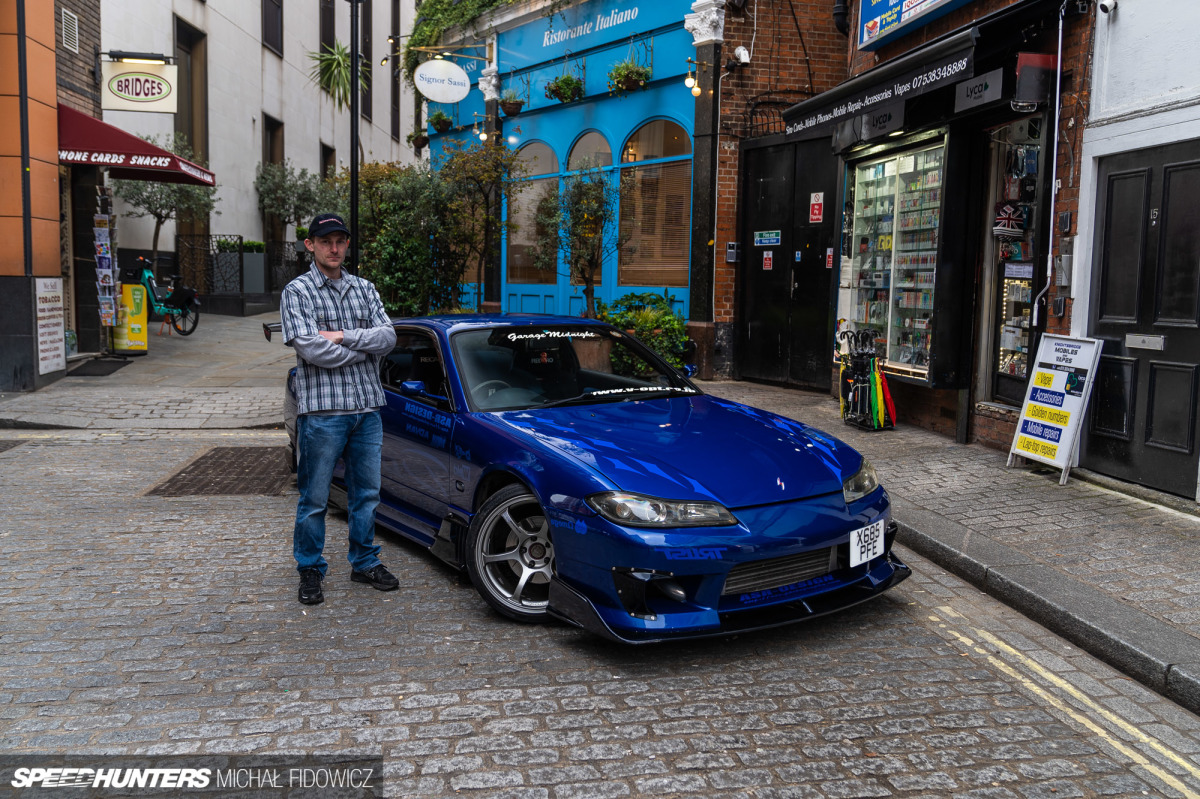 "I was a bit out of my comfort zone at first. I had to sell my nice and sensible car to fund the S15, and at the time I really needed something reliable to get me to work and back," Dan tells me, whilst I wrap my head around owning something this cool whilst being a teenager.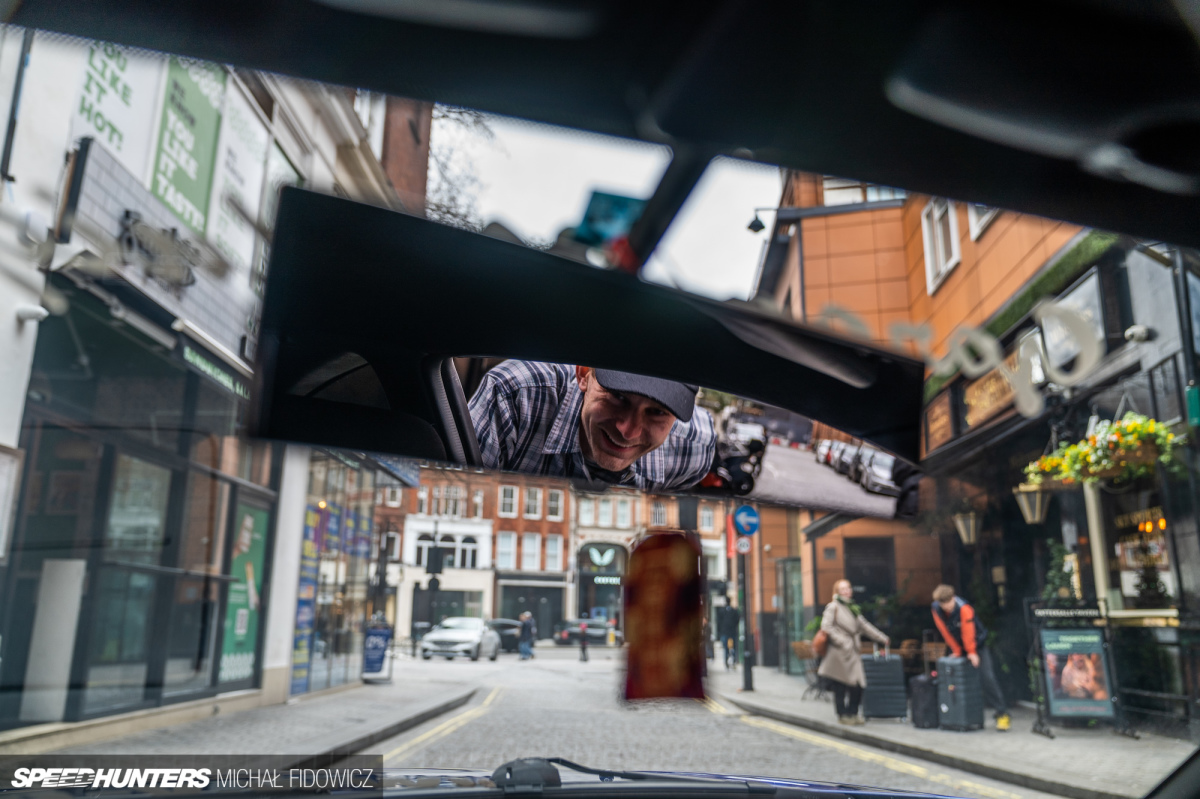 "It never missed a beat though. For the first year of my ownership the S15 was my daily driver. I remember one time I had to drive it from South England to Belgium and back in one day, and of course it did the journey with ease."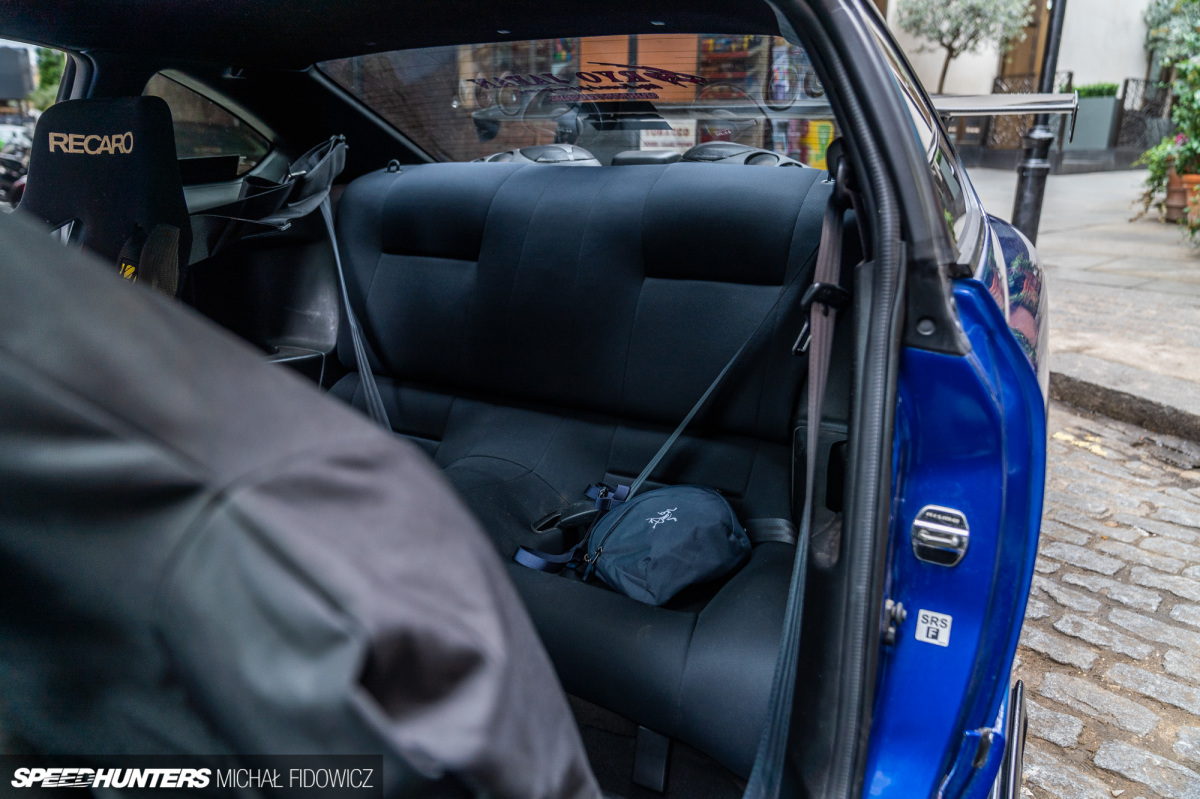 When the S15 was imported from Japan, it arrived relatively standard. It had a couple of aftermarket suspension bits installed already, but Dan's plan was to build the car to his desired specification anyway, so these miscellaneous bits would be getting replaced regardless.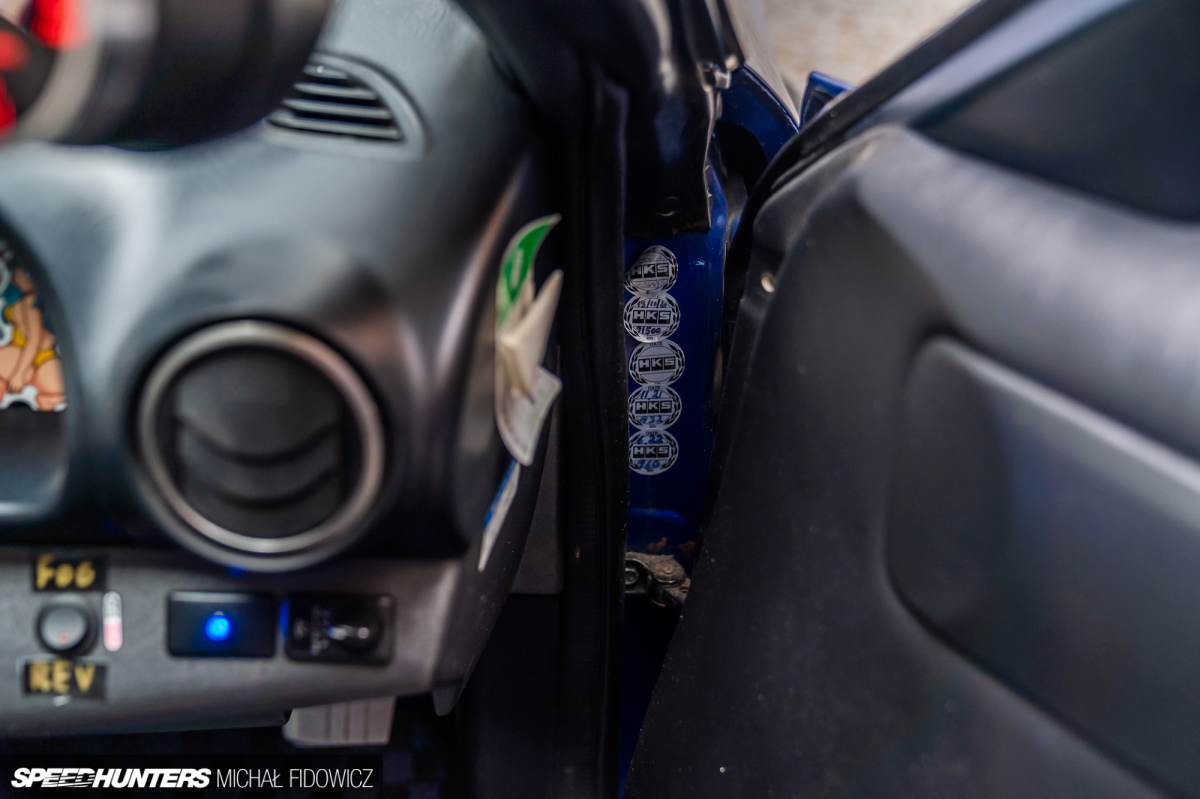 The first year of S15 ownership was slow for Dan as he learned how to live with the car. The long-term objective was always to build something that could really work its way around a drift circuit, but Dan himself admits this took some time. "I didn't attend a proper drift day until owning the car for a year. I did the occasional roundabout or junction, but didn't have the confidence to go to a proper circuit until I met some great friends."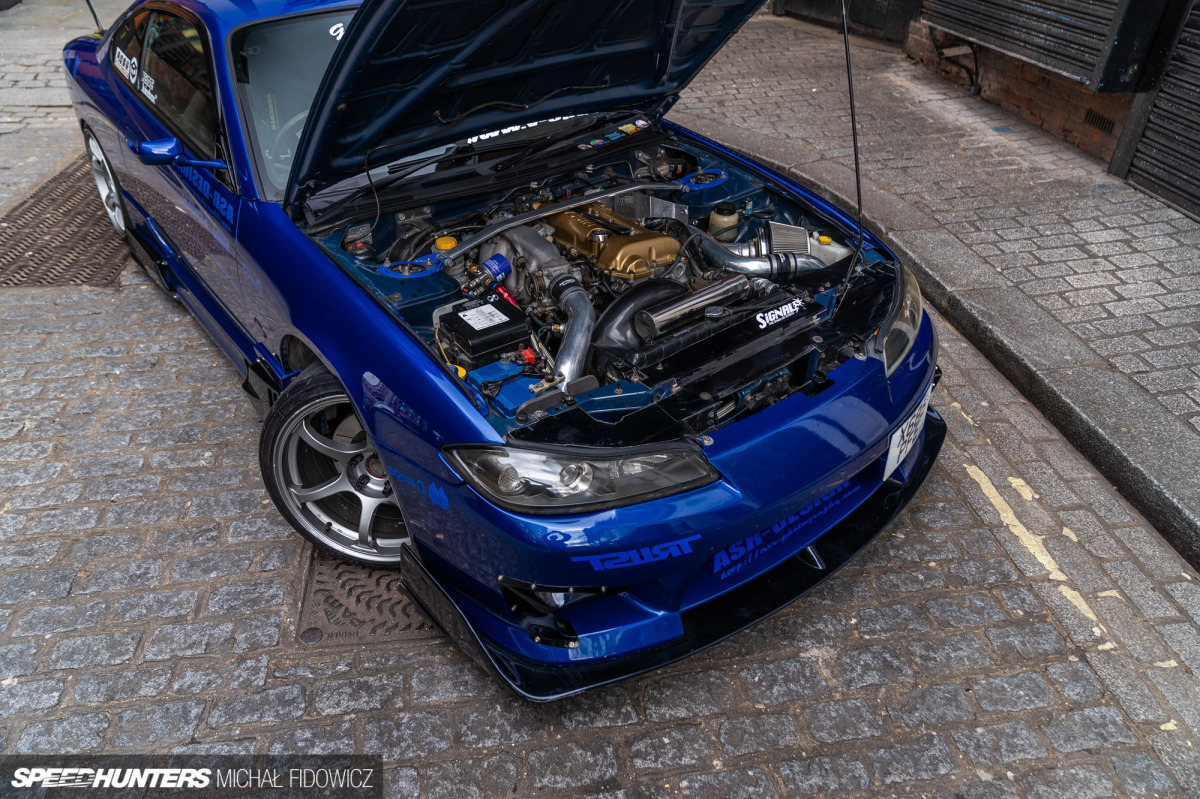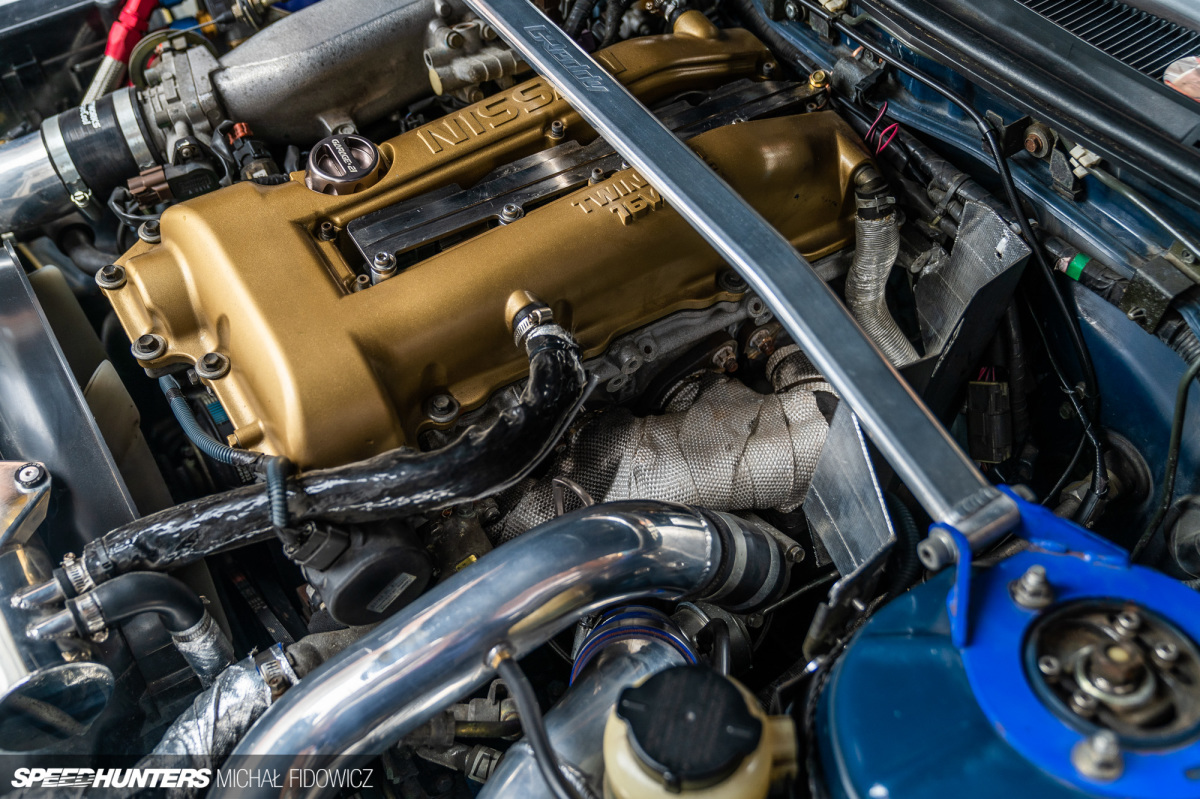 The beauty of car culture is that you naturally end up making some life-long friends through the hobby, and the people Dan met along the way helped him rally up the confidence he needed to get onto the track. With a good support group around him, he got stuck into building the S15, with his second year of ownership seeing some more action and the build naturally progressing with time.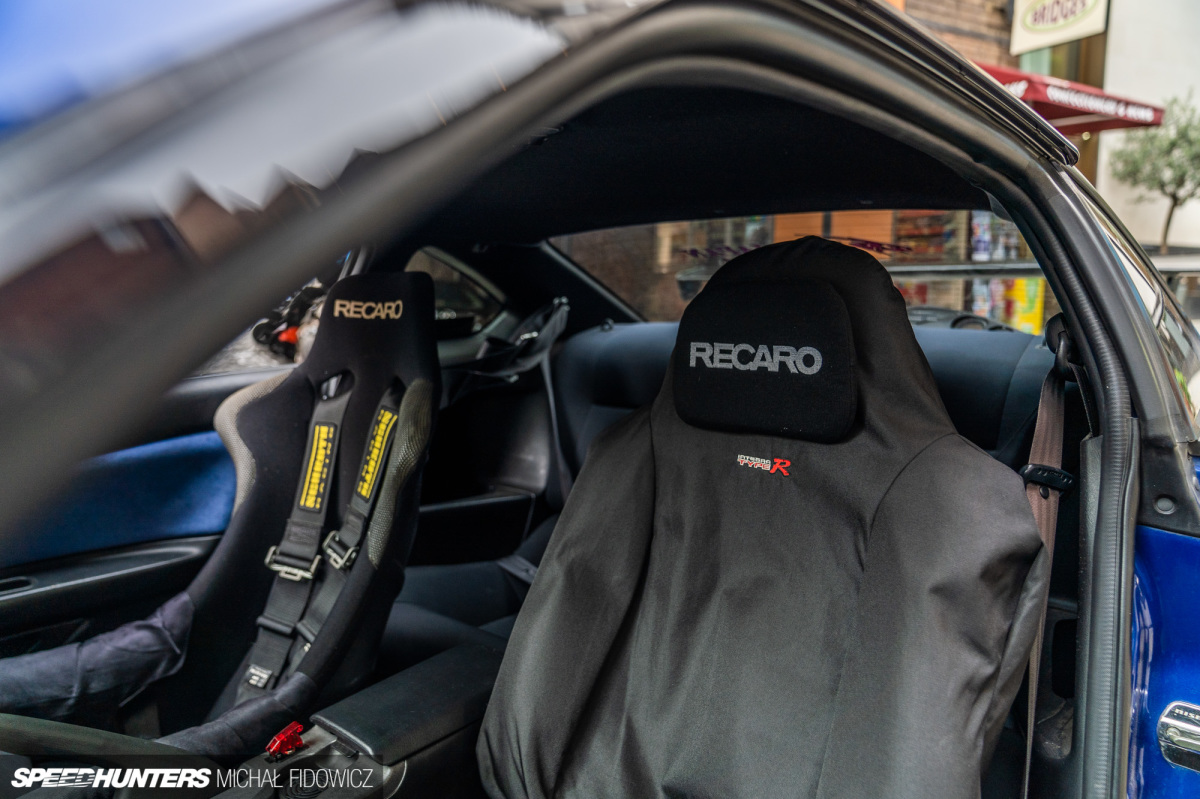 "I didn't change a great deal for around a year; Work Kiwamis, a bucket seat and a KAAZ 2-way LSD were the first things I added." 
"As I got more seat time, I continued to learned more about drifting, and, as cliché as it sounds these days, I started to get hugely inspired by the D1 Street Legal [D1SL] cars from the early 2000s. I know it's quite a popular style to go for, but for me this timeframe and style of cars is the golden era of drifting," says Dan.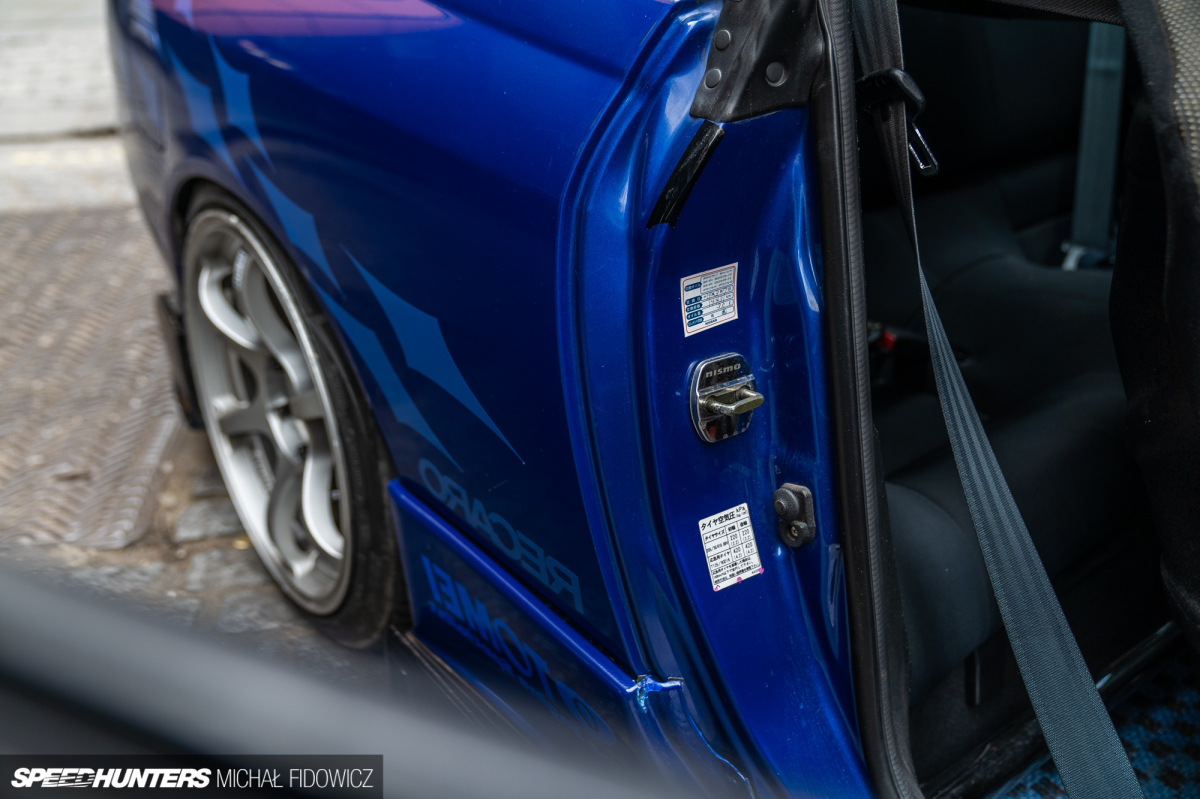 With a styling direction in mind, Dan fought the urges and did the sensible thing first: he focussed on making the car drive as good as possible before being distracted by aesthetics. "There were a few things which I wanted to change for peace of mind. A Mazworx SR-VQ gearbox swap was fitted, alongside an ORC 559D clutch. The standard gearboxes don't have the best reputation for strength and aren't cheap now, so I replaced it whilst it was still intact."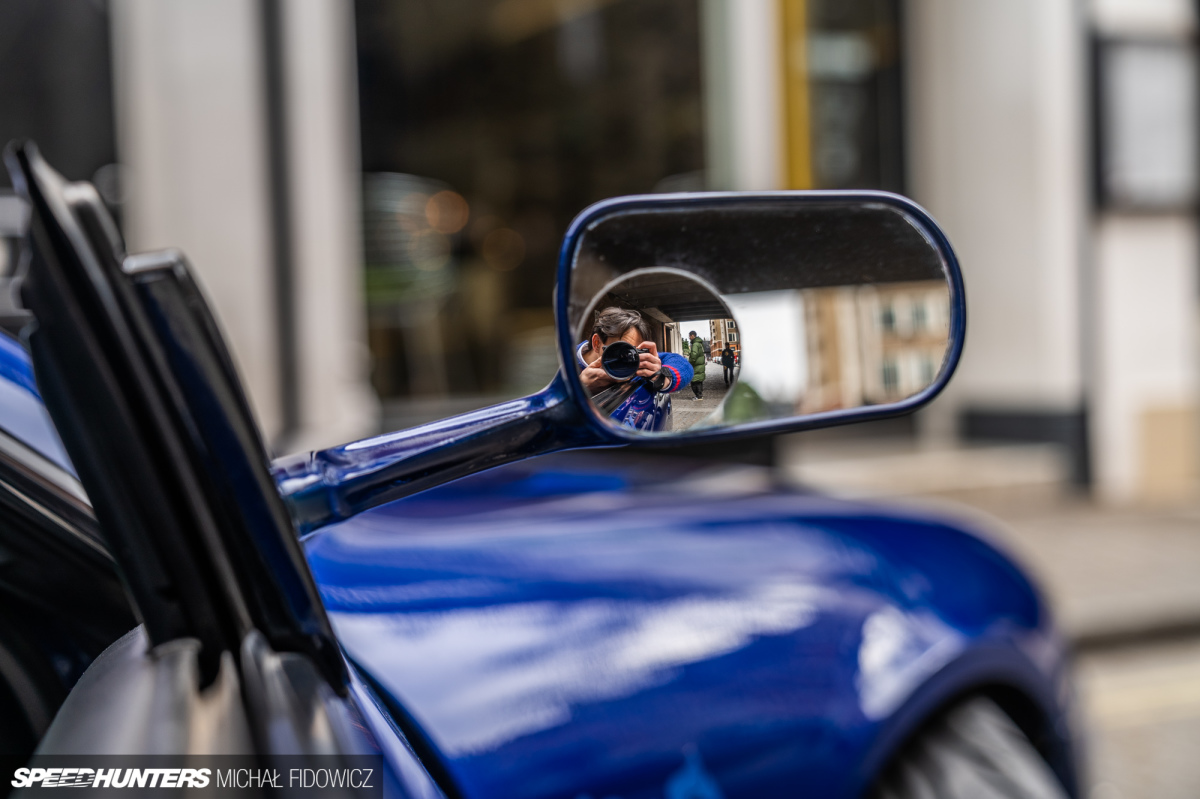 "I then tried to fit an R33 Skyline drum handbrake setup but struggled to get the wheels to lock up reliably when I wanted them to, so I opted for a hidden hydraulic handbrake utilising the stock handbrake lever instead."
Whilst being a practical modification, Dan aimed to keep the interior as functional and original as possible. Big jobs that result in little touches like this hydraulic handbrake are a nod to Dan's intentions of keeping things stock enough, uncluttered and in line with his original styling influences on the inside.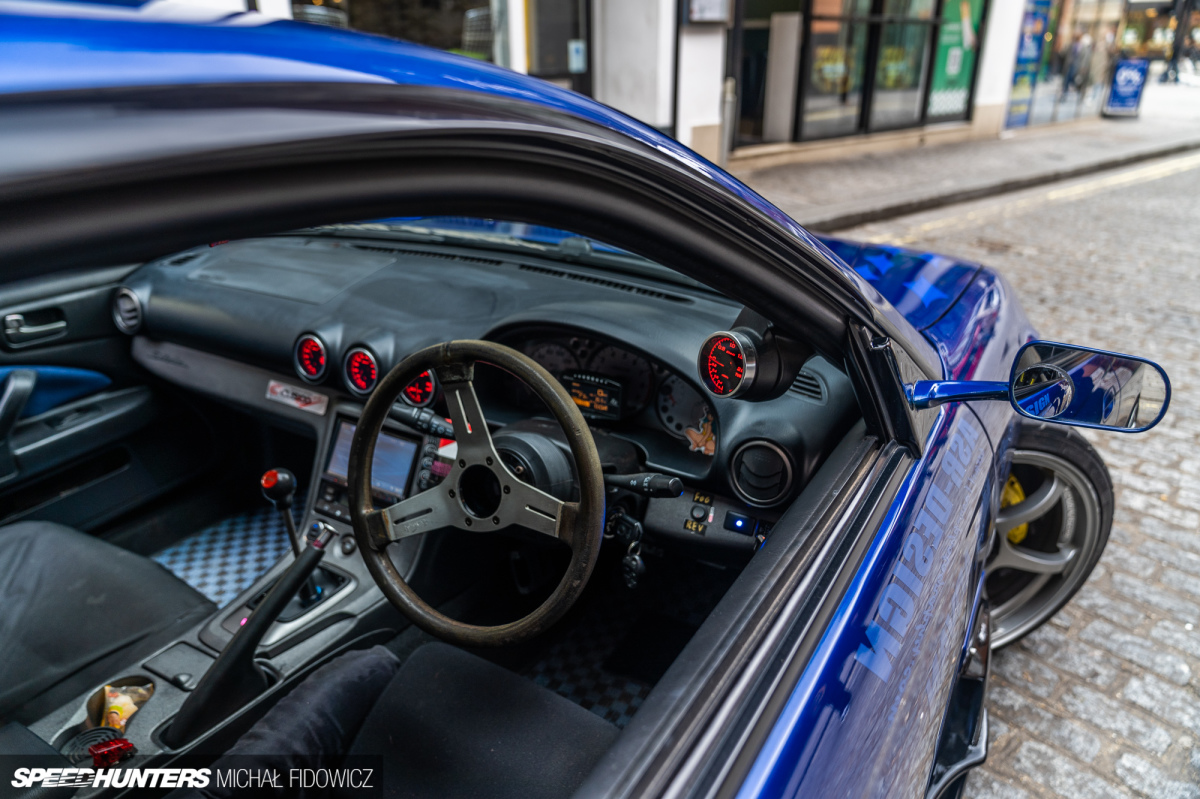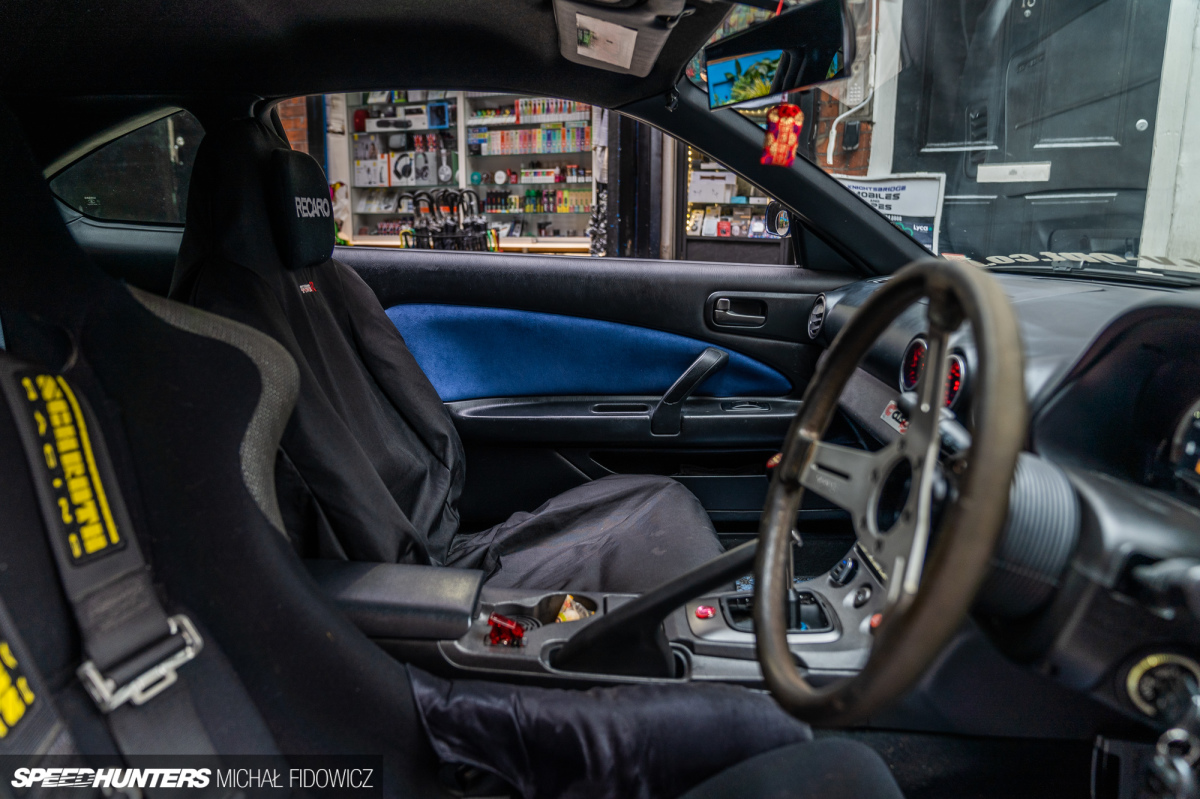 With the drivetrain set up to Dan's preferred spec, it was time for the fun to begin. "Styling wise, I have always liked circuit-inspired aero. Canards, GT wings, anything like that. I'd seen a video of the Drift Speed S15 driven by Hideo Hiraoka and fell in love with it. I thought the Wise Square aero looked amazing, and knew that was the sort of thing I wanted for my S15."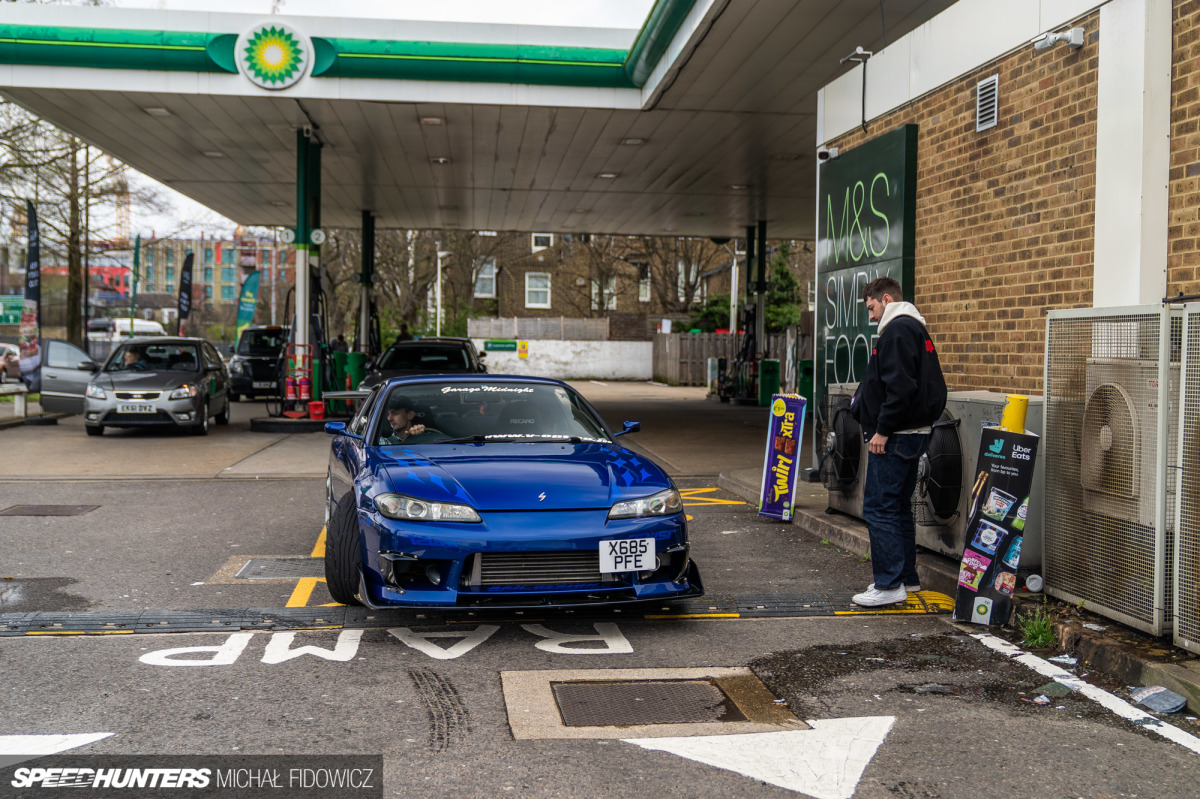 "But the aero was expensive, so I always saw it as a really long-term, end game sort of thing for me." 
As luck would have it, not long after Dan bought his S15, another one came into the country, this one fitted with – I'm sure you can see where this is going – a Wise Square kit. "I was pretty frustrated I didn't wait and buy that car instead. However, it just so happened that one evening not long after, my friend sent me an advert for my dream kit."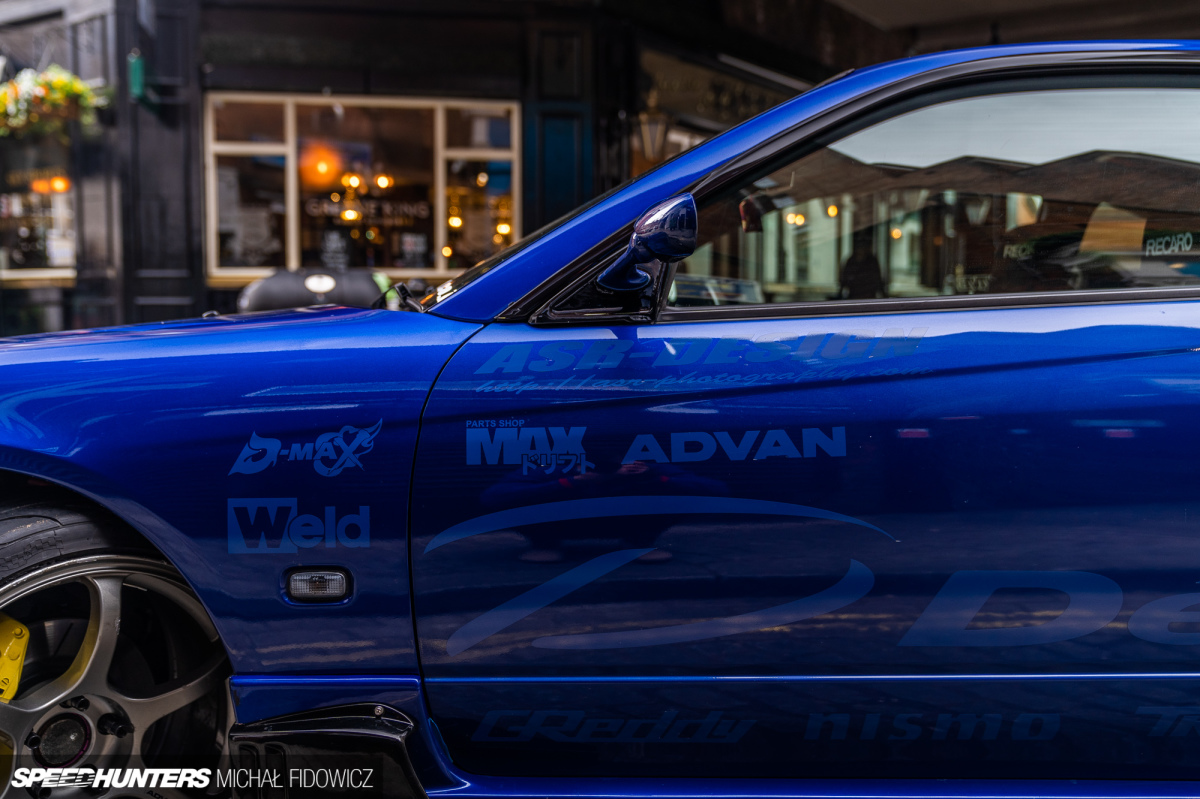 Dan didn't hesitate and bought the Wise Square kit instantly. As it turns out, it had came off the S15 that was imported after his one. What happened to the rest of the car is a mystery to me, but this shows that sometimes luck does just play into your hands when building your dream project.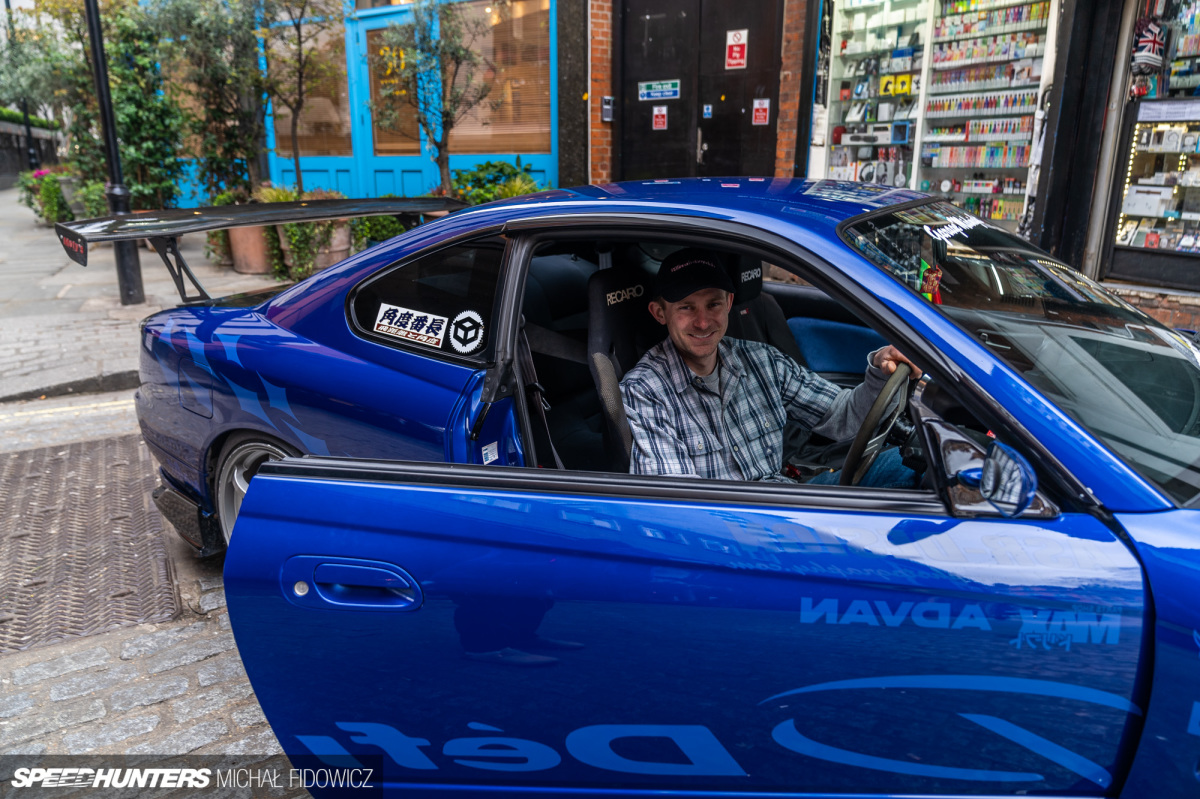 "One of my favourite parts on the car is the Recaro SPG. I found it really cheap on eBay and the man I bought it from told me it came out of his rally car from back when he was a race car driver for Porsche. The seat even has a Porsche OEM part number." 
Following a variety of different wheel setups, Dan scooped up a rare set of 18-inch Yokohama Advan RGII wheels. His S15 styling was finally complete when he stumbled across the Sard GT rear wing, which actually came from an S14 built by Agent-K in Japan. The provenance on parts like these not only adds to the style Dan wanted to go for, but also the genuineness of his S15 dream.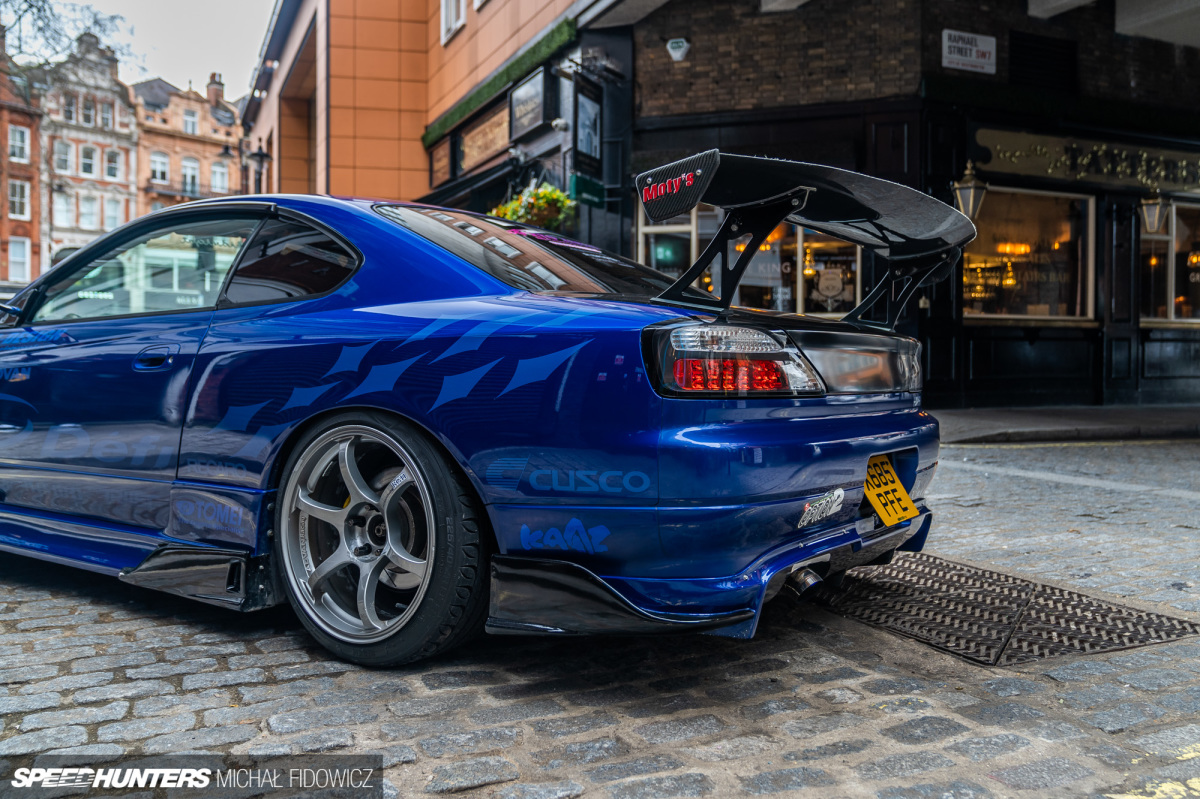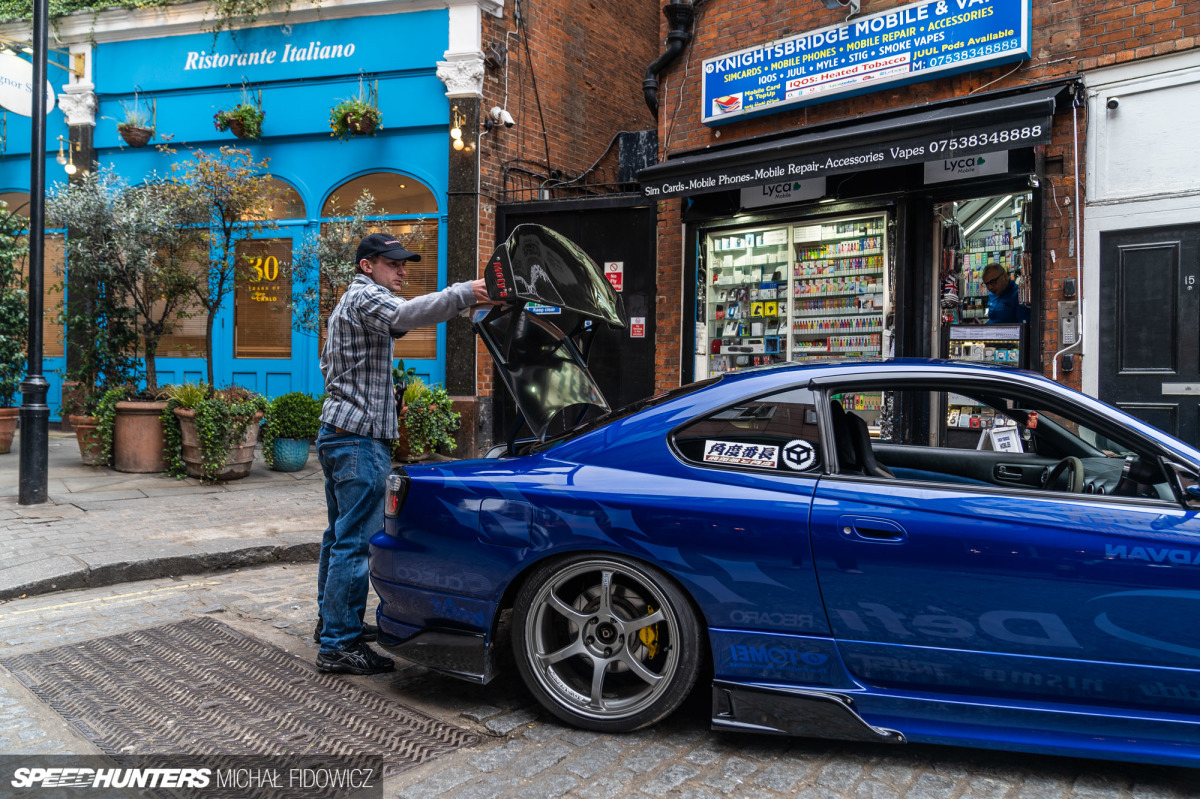 In the four years Dan has now had his S15, he's entered a fair few drift events but the build isn't done yet. "In the future I'd like to see the car continue to change and improve, drivetrain and visually I think it's almost where I'd like it to be. A Cusco D1 'dash-dodger' roll cage wouldn't go amiss. I would of course like to dive more into the engine when funds allow."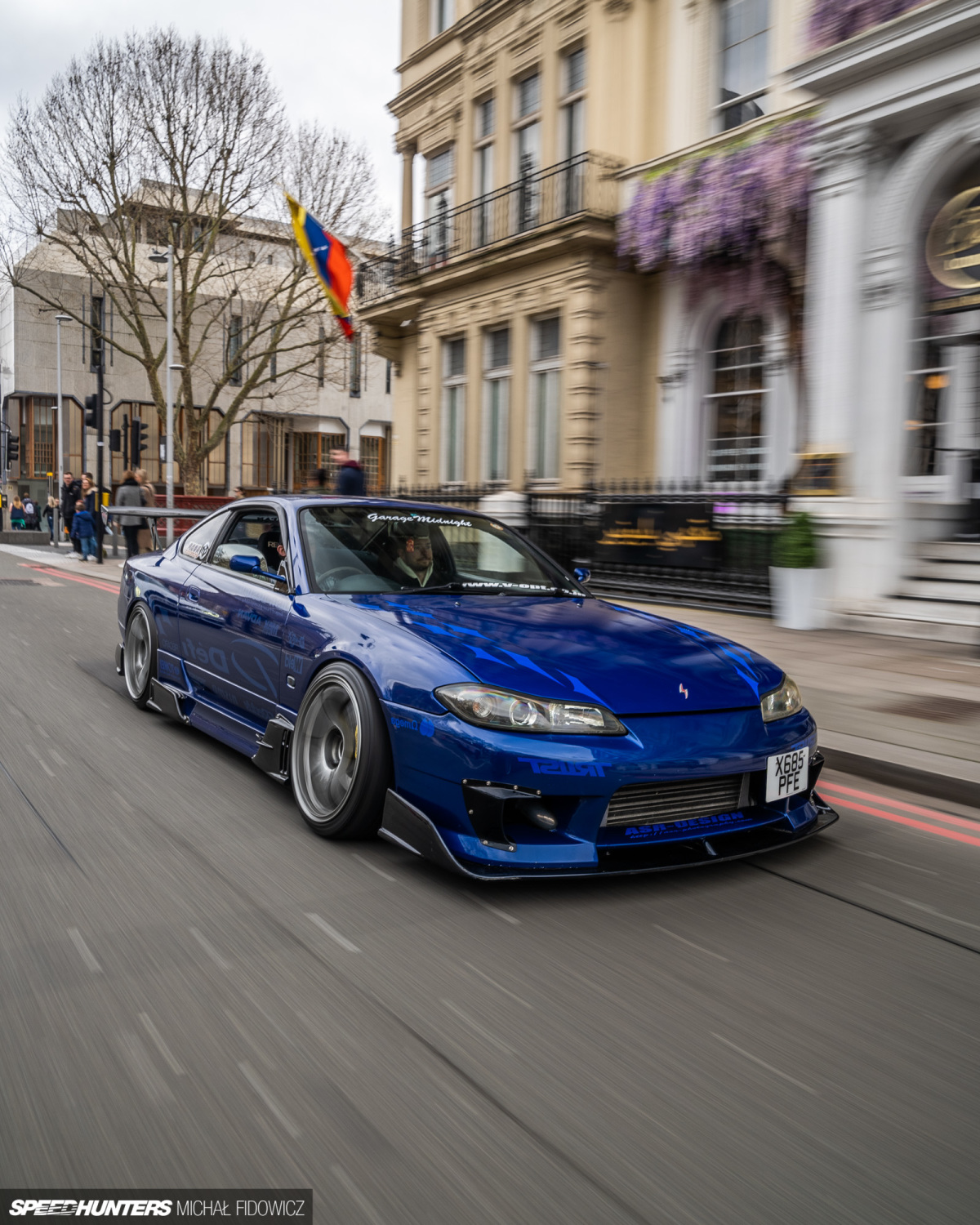 "For now though, I'd just really like to use the car more for what I've built it to do. I recently got accepted into Dorifest 2, [the follow up to the event covered on Speedhunters last year] which I'm really excited for and believe the grassroots drivers like me here in the UK really want more of. An event that focuses on the style of the cars as well as the driving itself."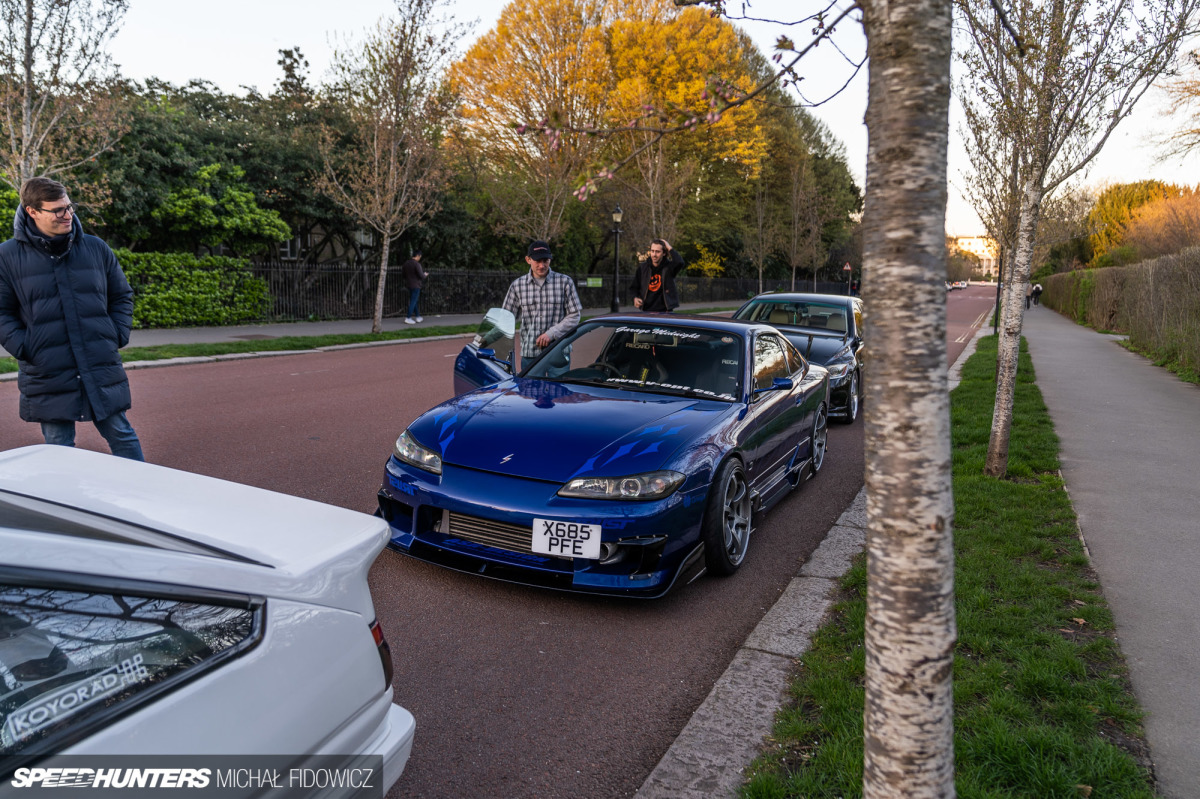 This leaves me with some food for thought: With Dan being part of a bigger drive into street-style JDM drift cars based on the golden age, I think we're likely to see it return with even more to offer. At least here in the UK anyway.
People like Dan, who have a genuine interest in the history and stylistic choices from time gone by, make for a good argument that while the style of their cars kicked off 20 years ago, it's not gone anywhere. The golden age is still happening right now!
Michał Fidowicz
Instagram: candyshowroom
2000 Nissan Silvia S15 Spec-R
Engine: Nissan SR20DET 2.0L DOHC 16-valve, Blitz SUS Power air filter, stainless steel MAF-less intake pipe, Parts Shop MAX turbo elbow/down pipe, Garrett GT2871R turbocharger, Driftworks Supercool intercooler, 3-inch exhaust system with turndown tip, Nismo 555cc injectors, Walbro 255lph fuel pump, Blitz oil filter sandwich plate, Gktech water temp sandwich plate, GKtech oil catch tankGreddy oil cooler & oil filter relocation block, Garage21 oil cap, Garage21 dipstick, Nismo radiator cap, Driftworks Supercool intercooler, WELD manifold heat shield, Circuit-Sports coil pack ground, HEL turbo lines, Link G4X engine management system, Nismo engine mounts
Driveline: Nissan CD009 350Z 6-speed gearbox, Nismo gearbox mount, Mazworx SRVQ bell-housing conversion, Serialnine shifter, ORC 559D twin-plate clutch, Gktech clutch damper removal, Nismo clutch pivot, ARP flywheel bolts, Garage-D VQ-SR prop shaft, KAAZ 2-way adjustable LSD 3.9 ratio, S14 auto R200 finned casing
Suspension/Brakes: Driftworks CS2 coilovers 7k springs front/9k springs rear, Driftworks front tension rods, Driftworks rear traction rods, Driftworks rear toe rods, GKtech V4 rear camber arms, GKtech adjustable lower control arms, GKtech roll center correction kit, GKtech extended tie rods with OEM ends, Cusco tension rod brace, GReddy engine strut brace, Cusco brake master cylinder stopper, R33 GTS-T front callipers, R33 GTS-T Rear callipers, EBC discs/pads, Garage21 braided brake lines, poly-bushed steering rack, diff mounts, rear hubs & subframe, Hardrace anti-roll bar links front/rear, GKtech ABS removal, GKtech hidden hydraulic handbrake
Wheels/Tyres: Yokohama Advan RGII 18×9-inch +29 wheels, Nankang NS-2R 225/35R18 front tyres, Riken UHP 225/40R18 rear tyres, Nismo wheel nuts
Exterior: Behrman D1GP Pro Spec rear valance, Behrman D1GP Pro Spec side skirts, Behrman D1GP Pro Spec side skirt diffuser pieces, Behrman D1GP Pro Spec front bumper & splitter, Sard Fuji Spec-M GT wing, DMAX rear lights, OEM wind deflectors, Honda CBR wing mirrors, Nismo smoked side indicators, Nissan Brilliant Blue (TV3) paint
Interior: Recaro Profi SPG driver seat, SCHROTH Racing 6-point harness, Nardi Classic 330mm steering wheels, HKS shift knob, Razo pedal set, Defi BF oil temp, pressure, water temp, boost gauges, Defi ZD meter, HKS turbo timer, Broadway interior mirror, Pioneer Carrozzeria ZHX700 head unit, Pioneer Carrozzeria TS-X480G rear speakers, FET Karo floor mats, Shirtstuckedin cup holder, Do-Luck rear interior cross brace, fire extinguisher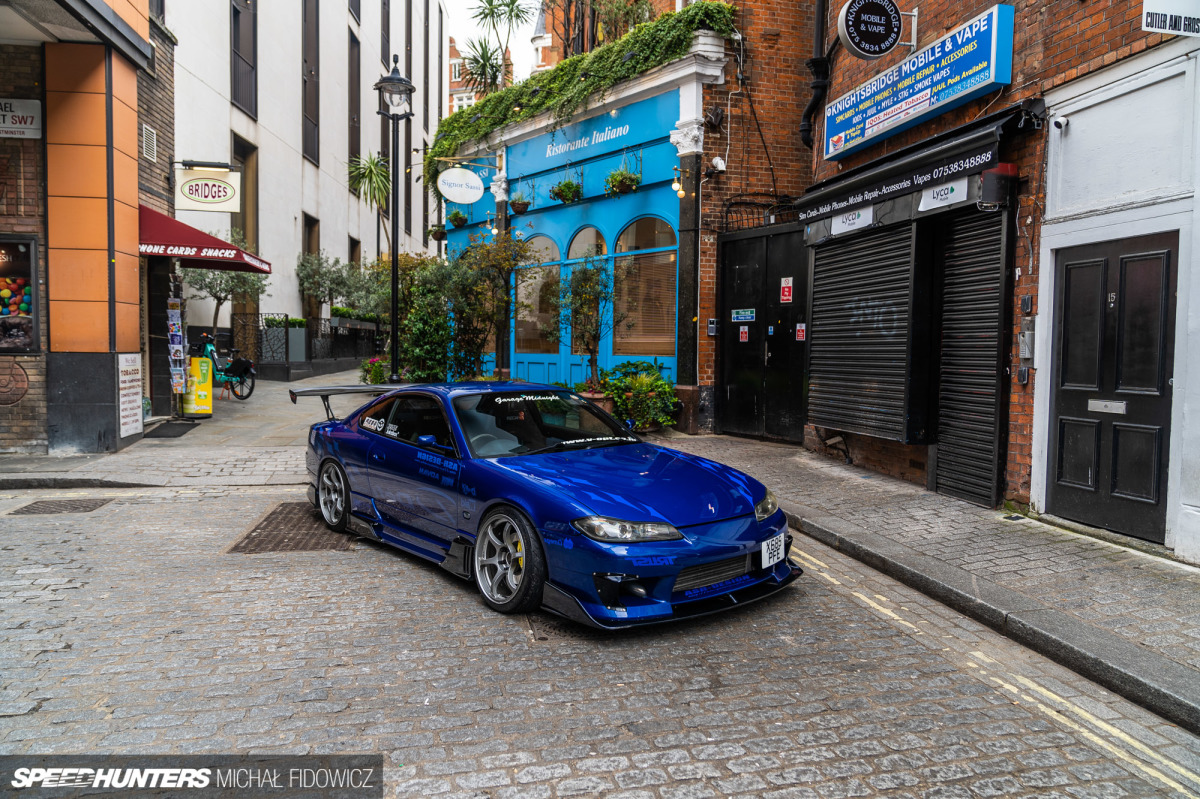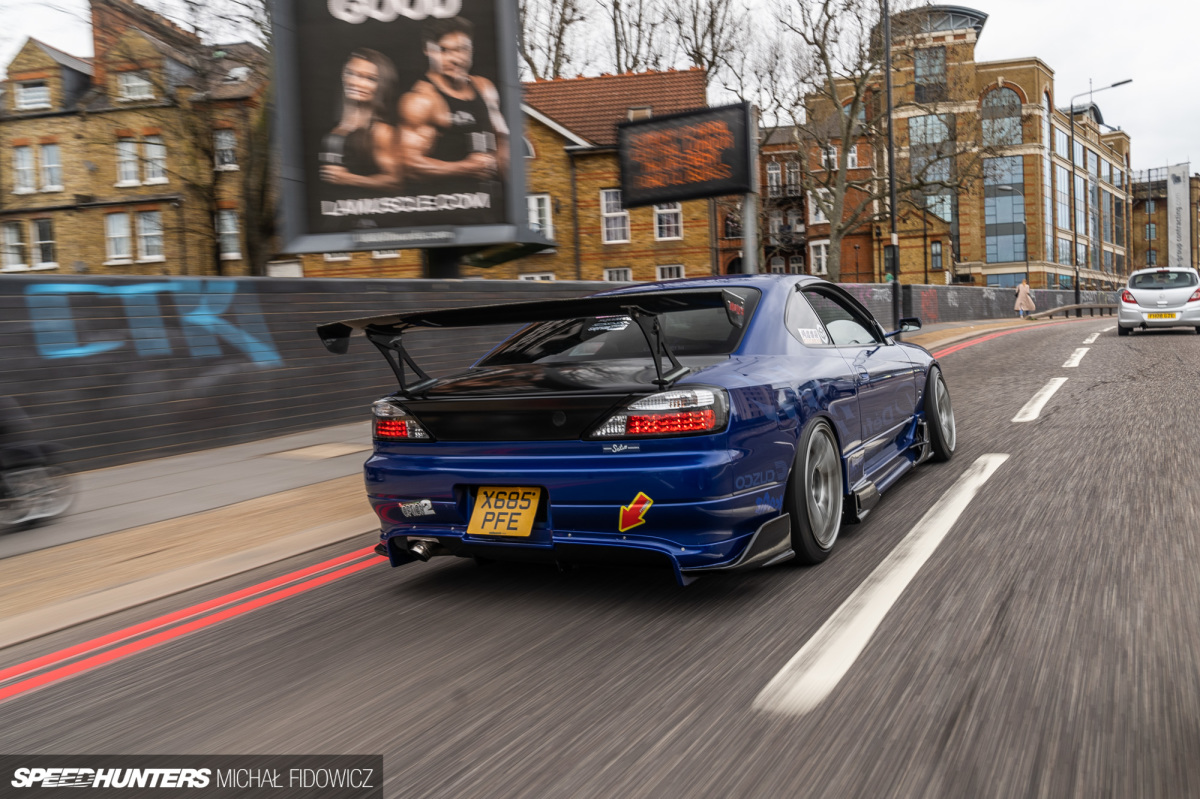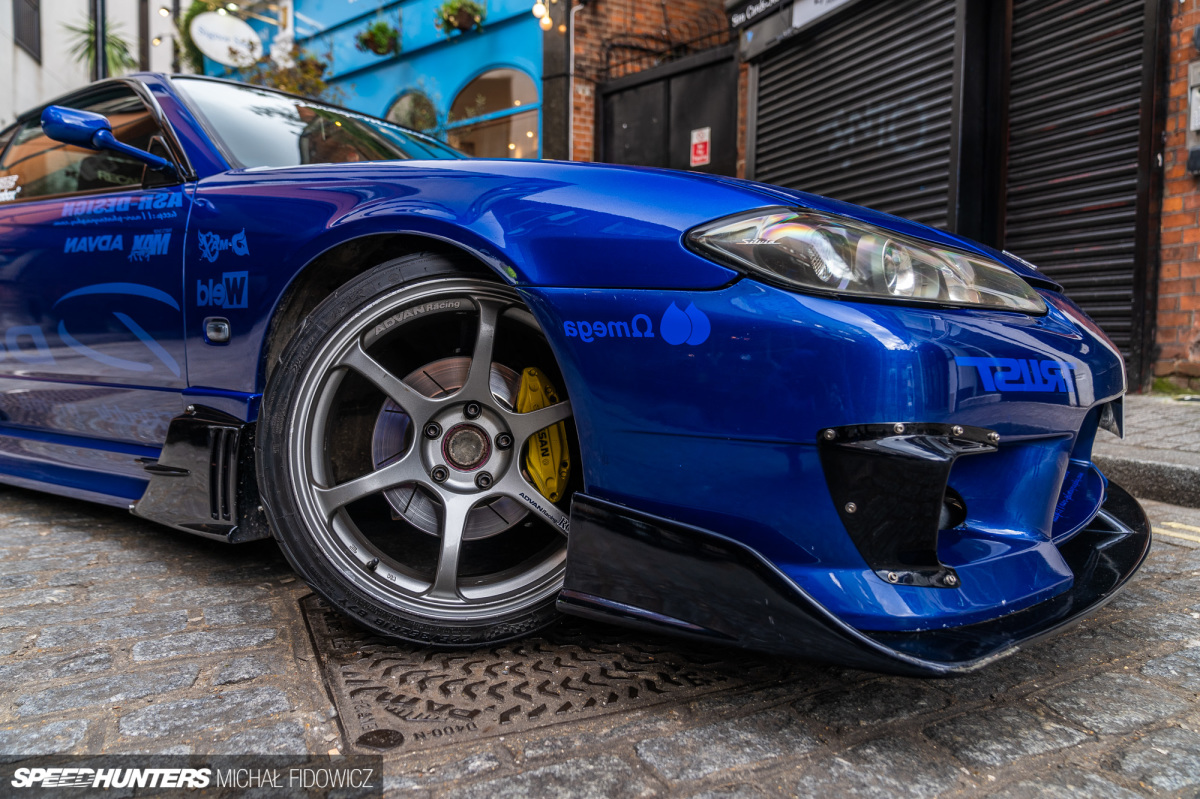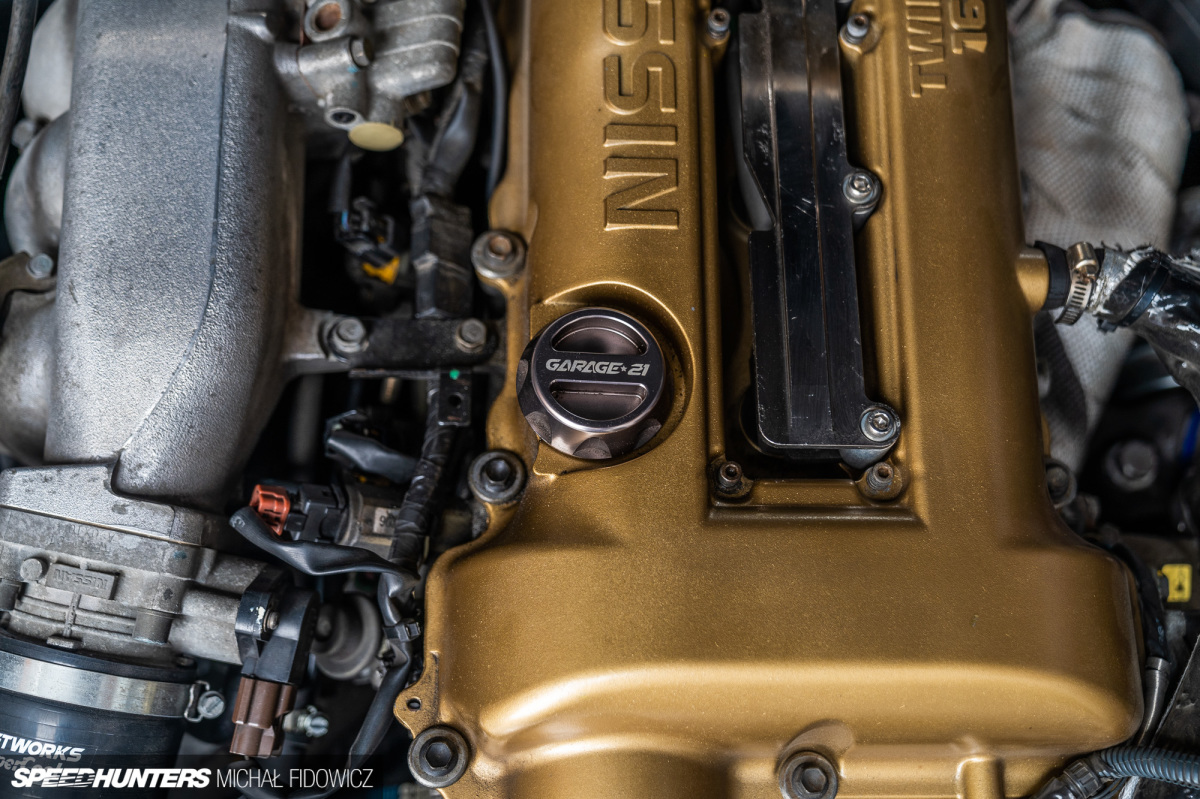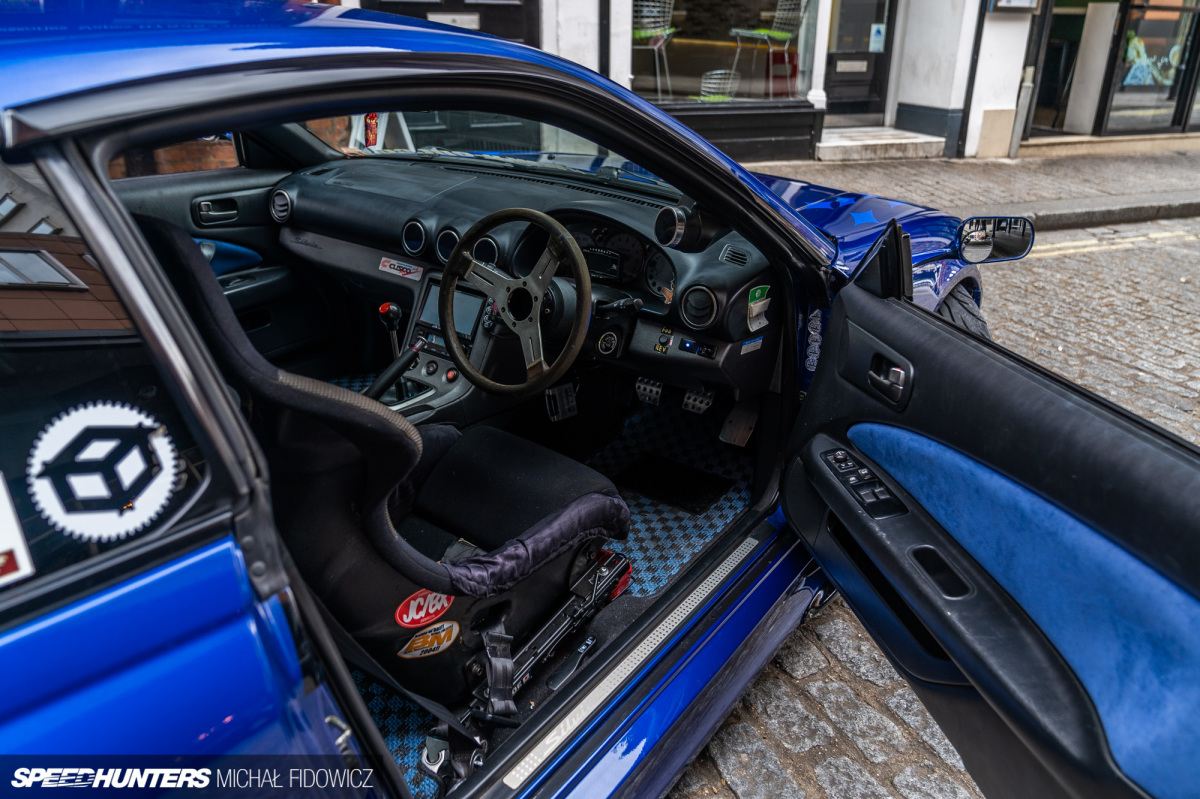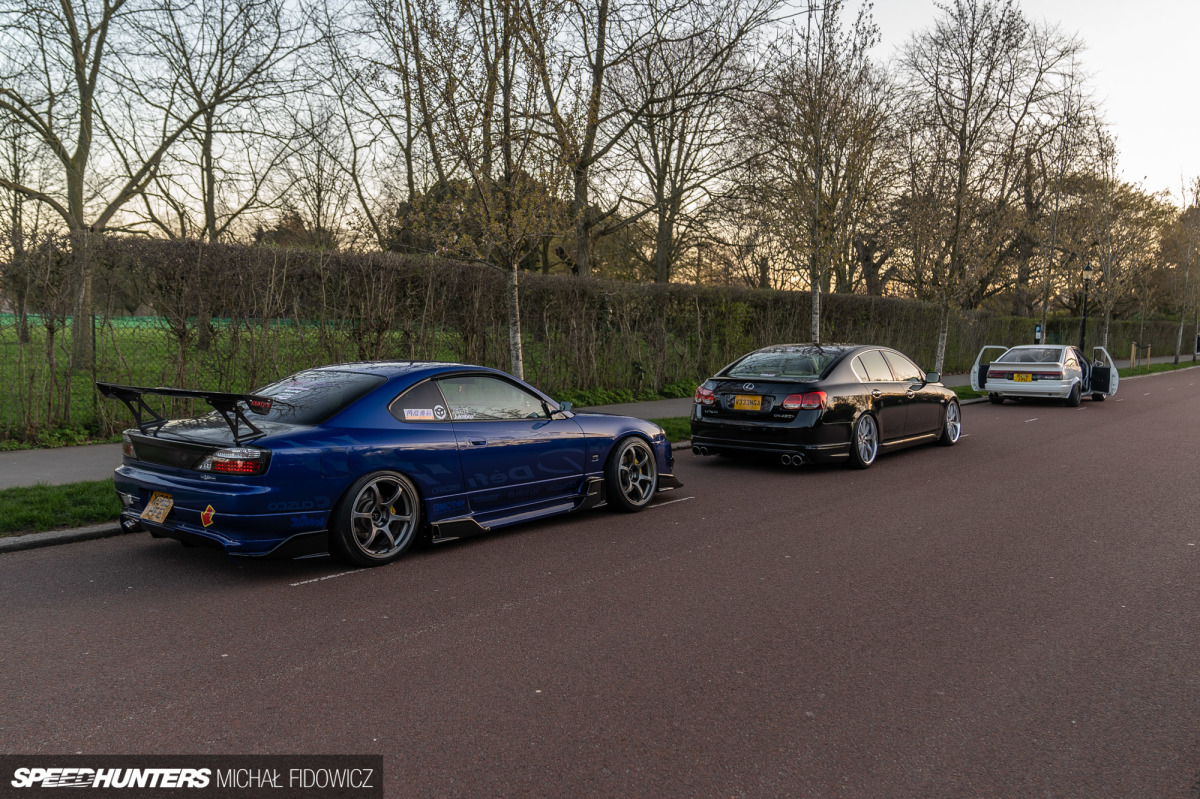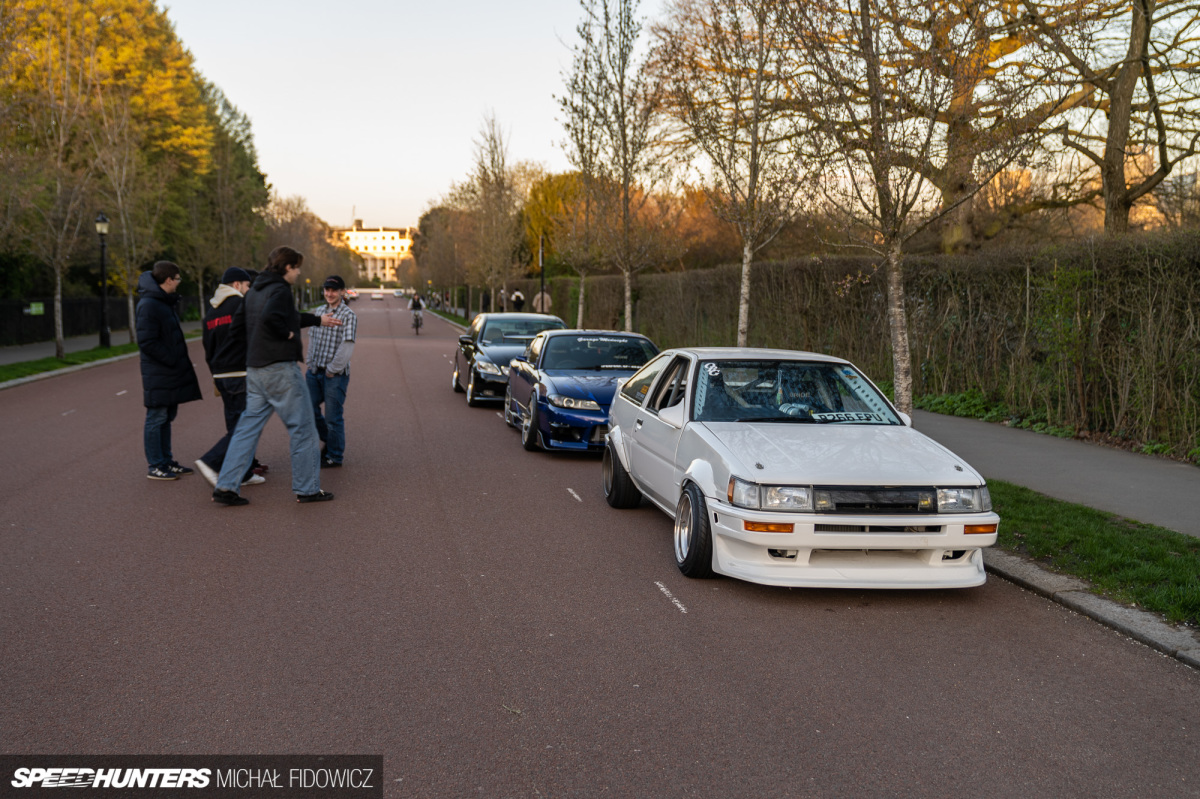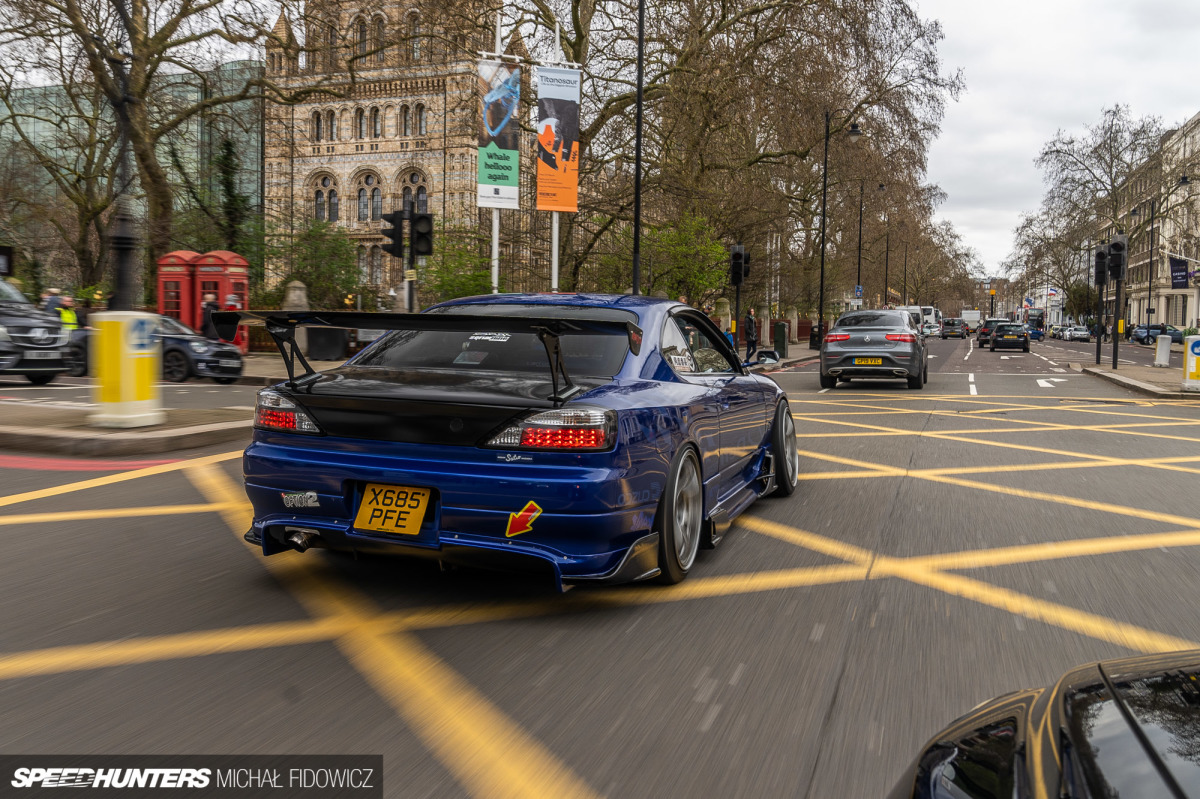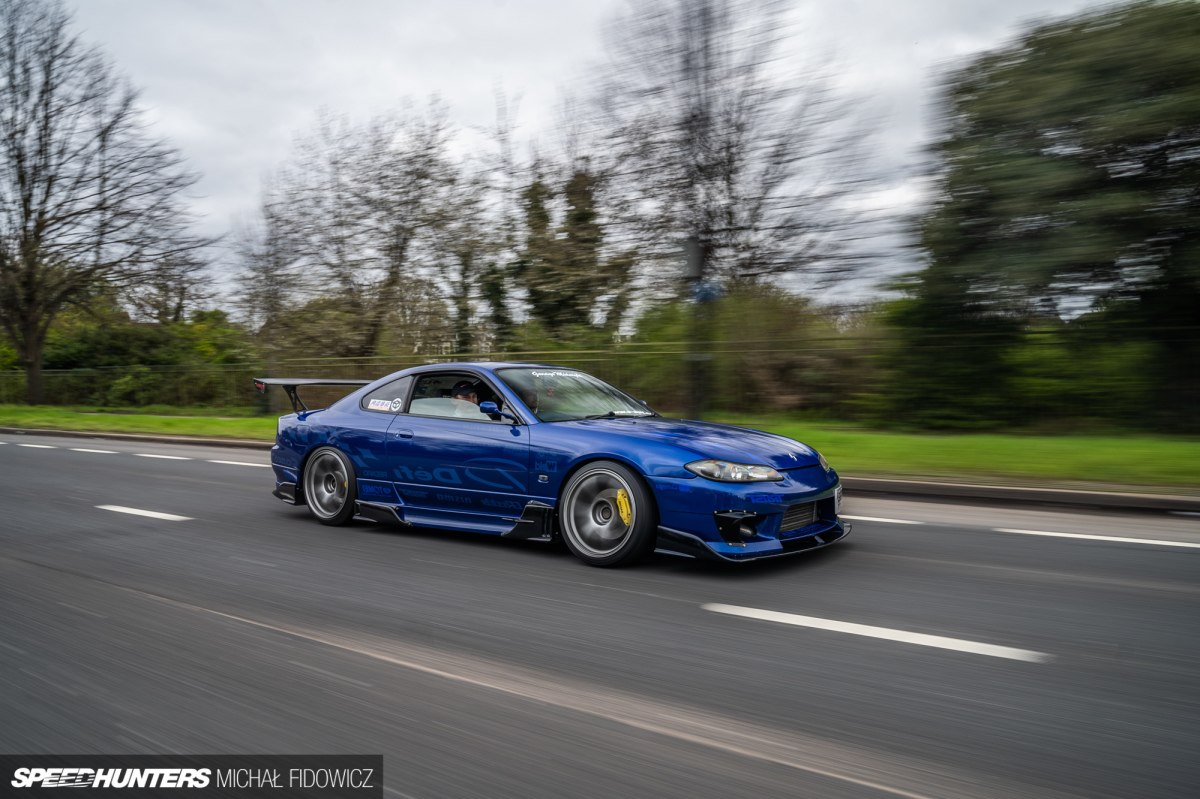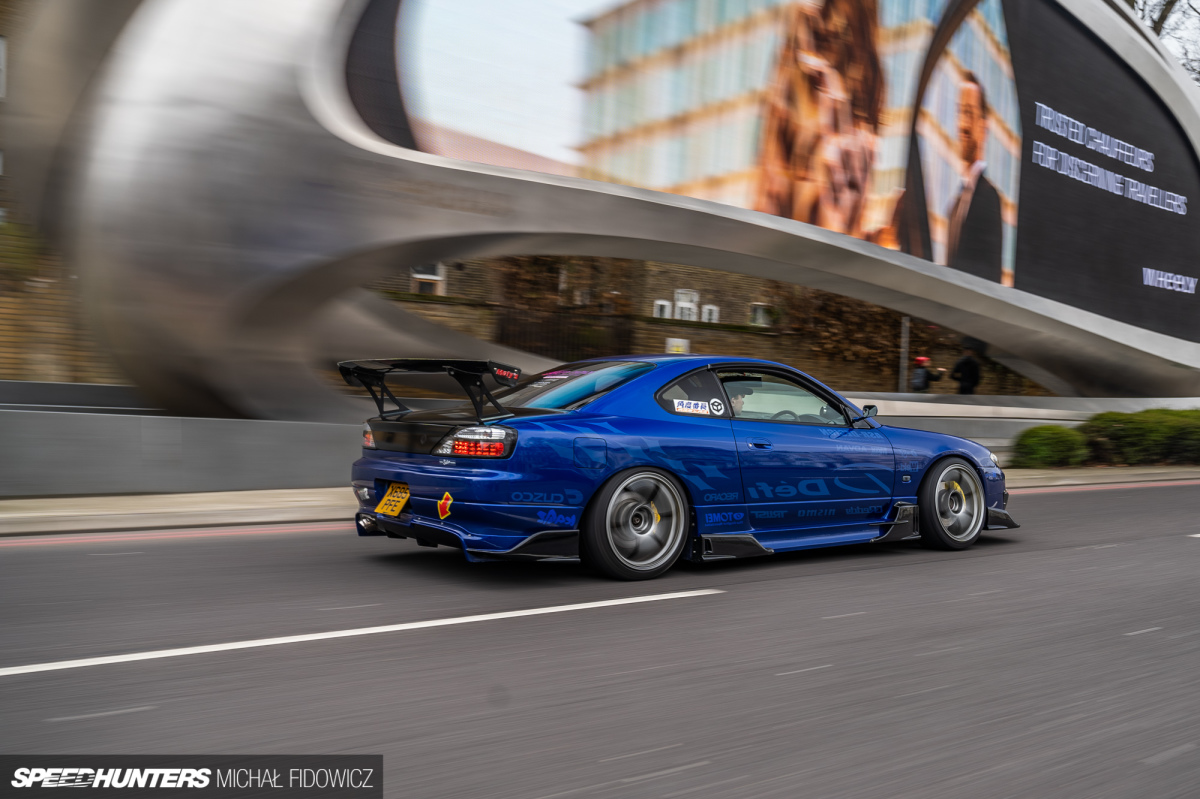 Credit : Source Post