"It's hard to take something so good and make it even better."
These are the words of Swedish car builder Torbjörn von Braun as he described the main challenge of his latest creation – a Volvo P1800 restomod nicknamed the Saint – ahead of its unveiling at this year's Elmia Custom Motor Show. As it turns out though, this was a challenge not only accepted, but totally overcome.
The original P1800 was manufactured by Volvo between 1961 and 1973, and this project has some real credibility thanks to the people involved. A collaboration between von Braun Sports Cars and Zachau Design, the P1800 Saint team consists of ex-Volvo design employees from back in the car's era. That includes Pelle Petterson, the P1800's original designer.
Like many restomods, the P1800 Saint retains the silhouette of the original car, but even before you delve beneath the skin it's a very different machine to the P1800s that left the Volvo factory more than 50 years ago.
Buyers can either supply their own P1800 base for the Saint conversion or have von Braun Sports Cars source a suitable candidate for them. Each car is stripped right down to its bare shell before being acid dipped and then improved in a number of ways. Any rusted panels are replaced, the transmission tunnel is reinforced, an epoxy primer and sealer is applied to all joints for rust protection, and a sound-absorbing rubber coating is added to the underside.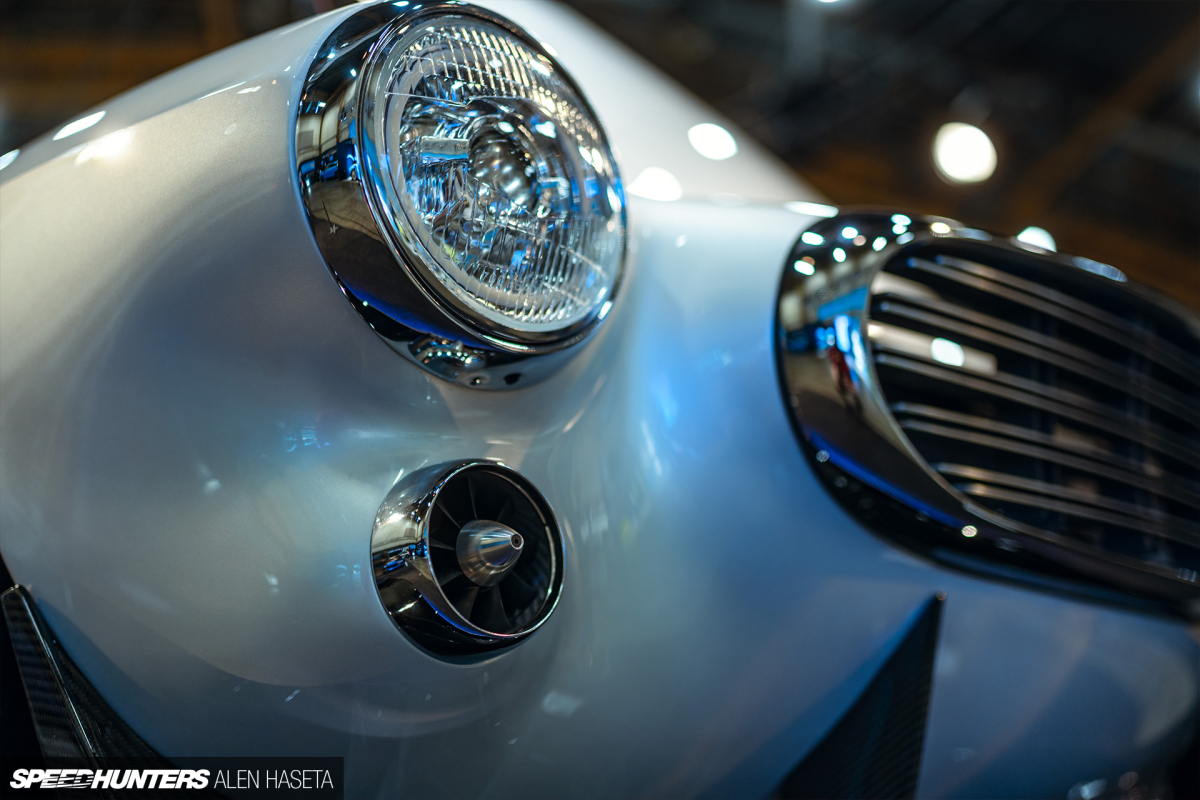 When it comes to the exterior, von Braun Sports Cars is offering the P1800 Saint with two body panel options: steel or ultra-light carbon fiber. After final paint, further carbon pieces are added to both versions.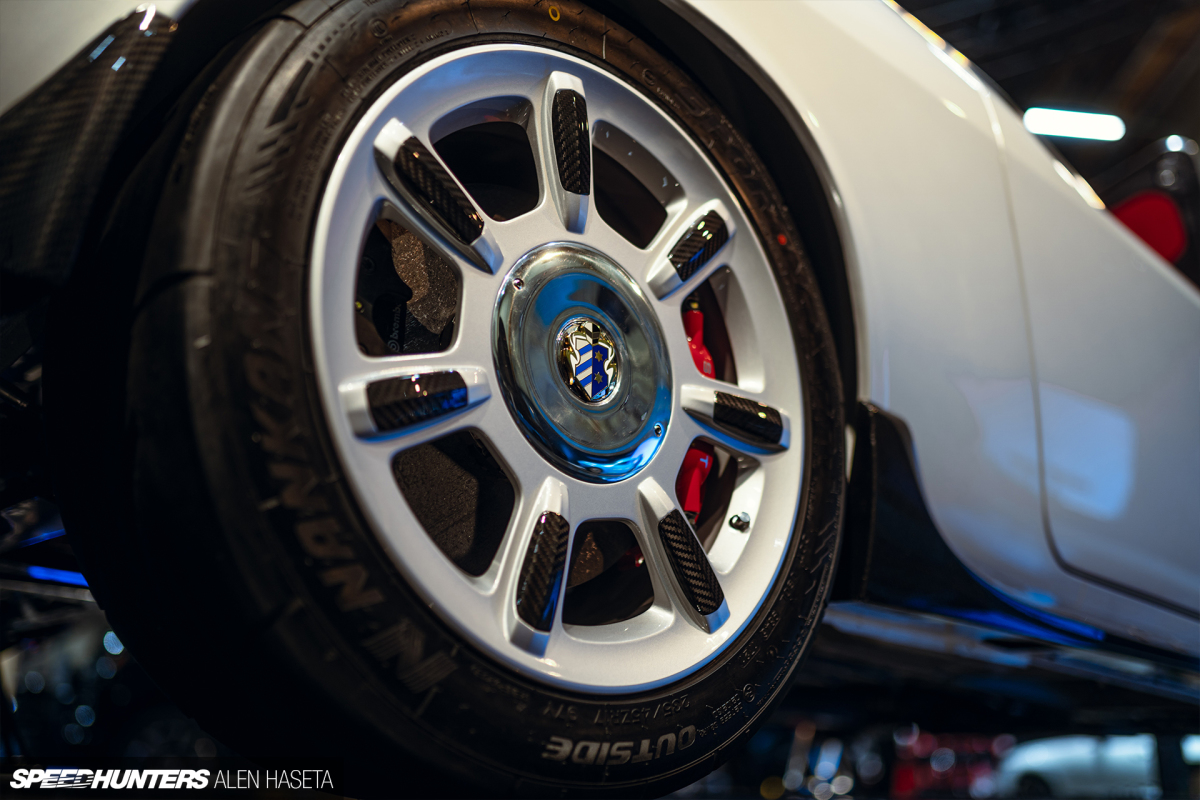 The exterior has a few tasteful upgrades for the modern era – including the option of a speed-sensitive active rear wing/air brake – but one really stood out to me. These 17-inch custom forged wheels – named the Lucky 7 – were designed by Hans Phillip Zachau (of Zachau Design), taking inspiration from racing machines of the 1960s and '70s.
Behind the wheels you can catch a glimpse of the brake upgrade, which features Brembo 4-piston callipers and 330mm carbon-ceramic brake discs in the front, and a Brembo 4-piston/320mm setup out back with an additional calliper for the park brake. Furthermore, ABS is added, but this can be disabled when 'Chase Mode' is enabled. I like the sound of that!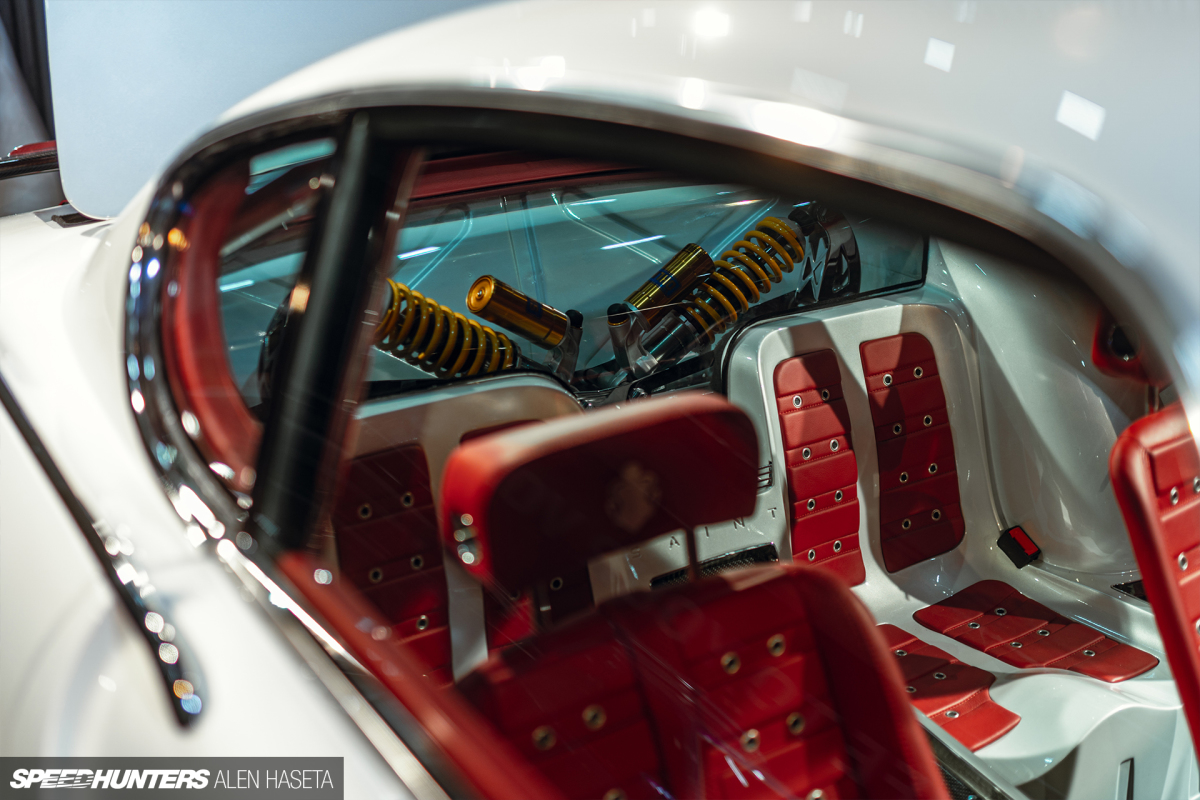 The suspension is completely bespoke, built around double wishbones front and rear. It's also a visual aspect of the P1800 Saint, with the pushrod rear suspension featuring fully adjustable Öhlins coilovers on show, but sealed off from the cabin with a glass screen.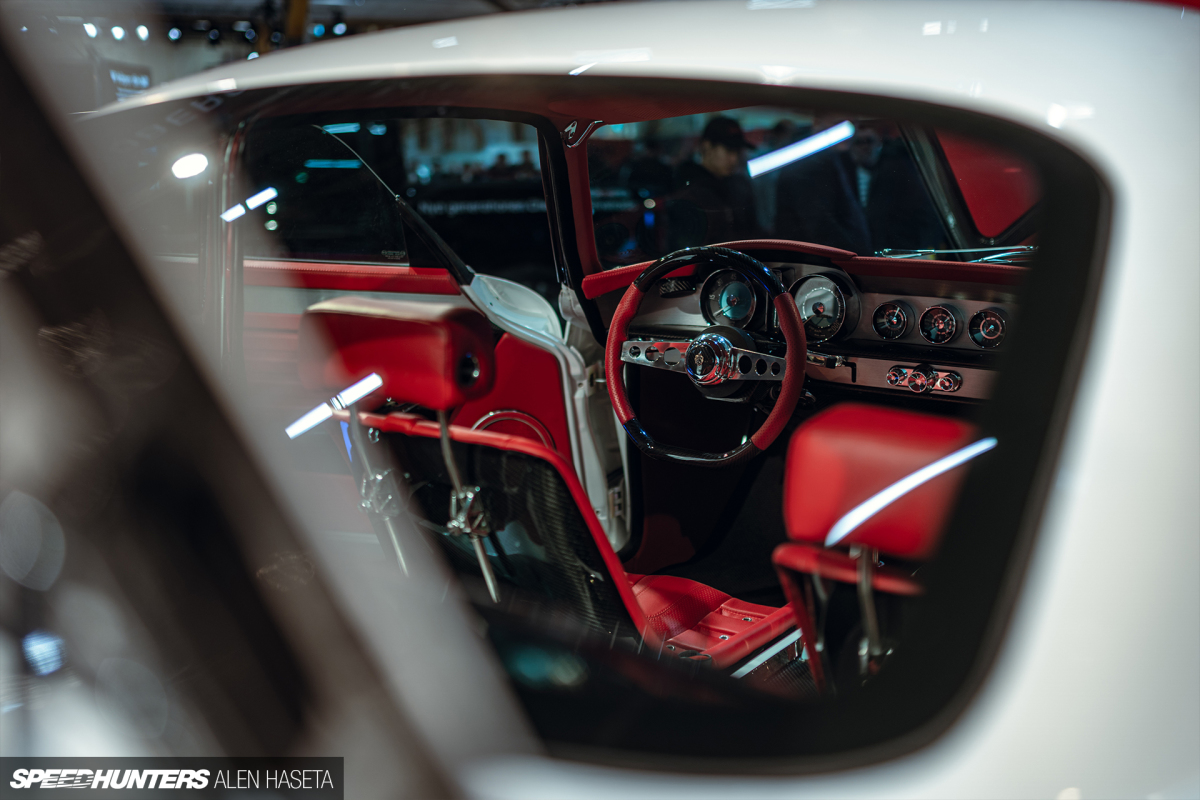 That cabin is something very special too.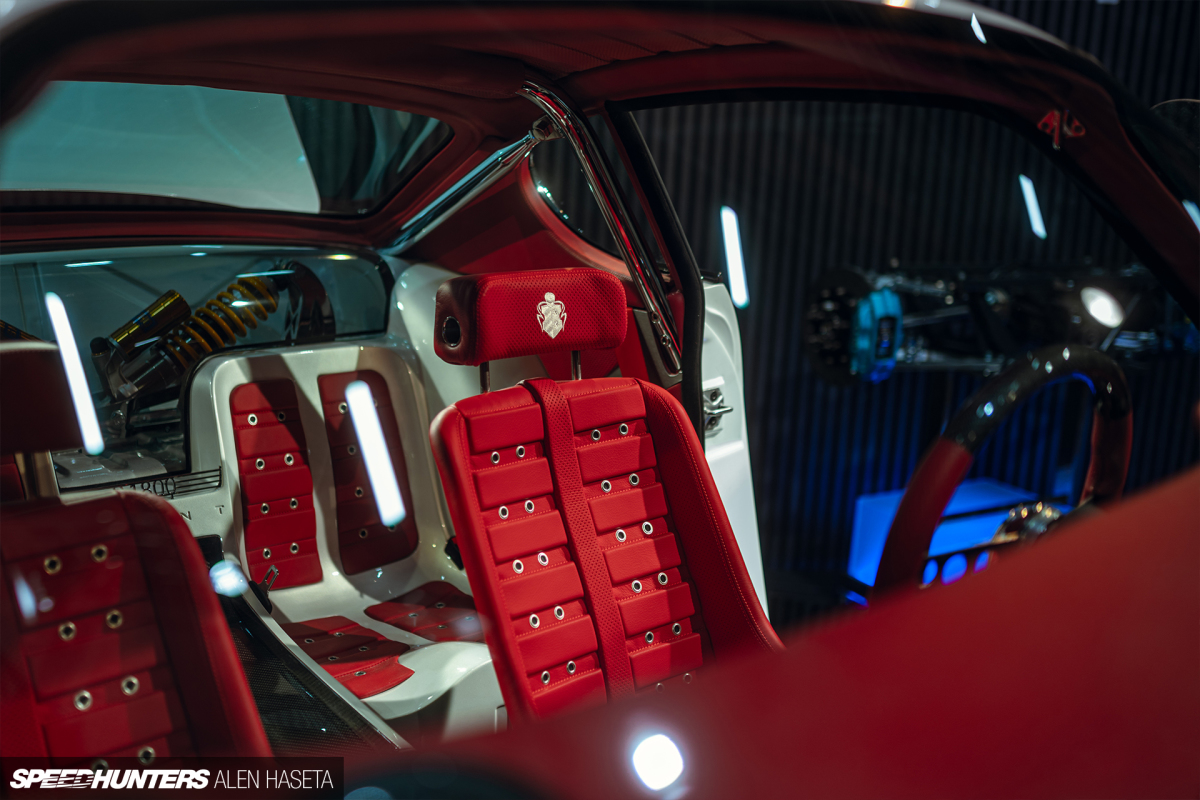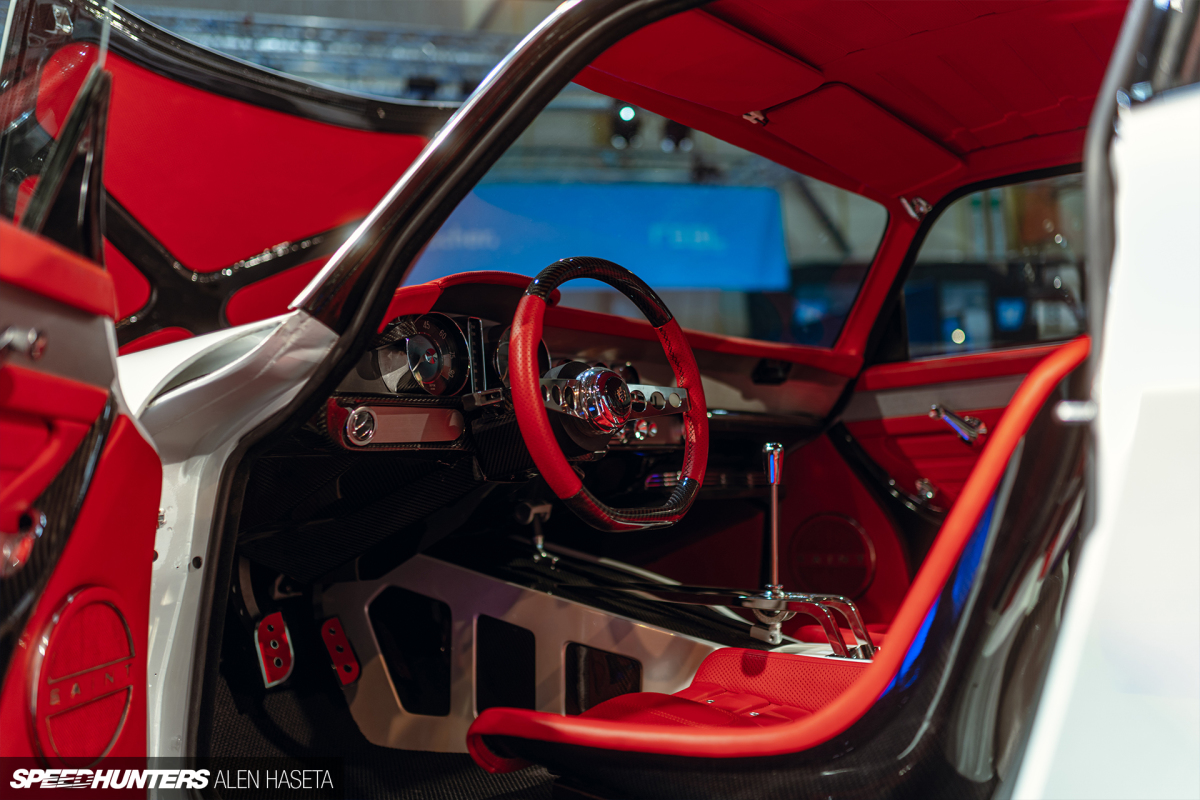 Everything in here has been custom-designed and finished, but is largely based on the original fit-out. The door panels, roof liner and front seats are upholstered in red leather.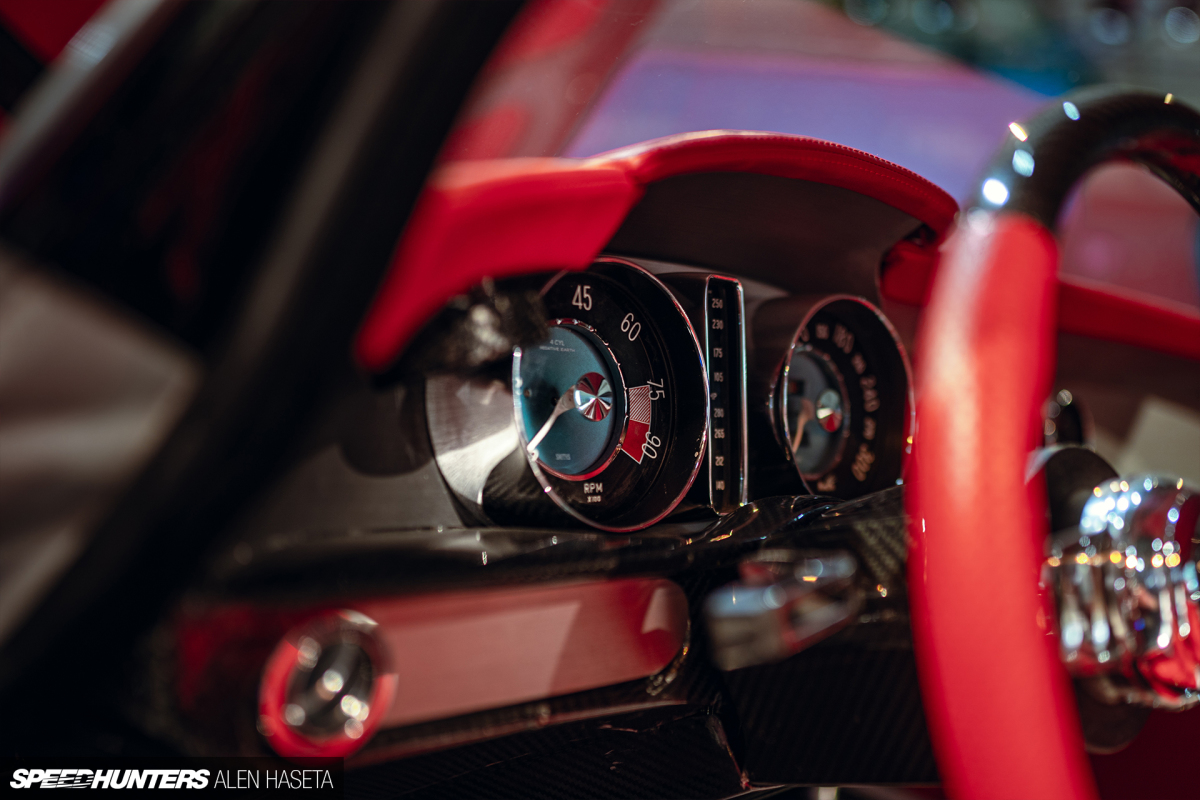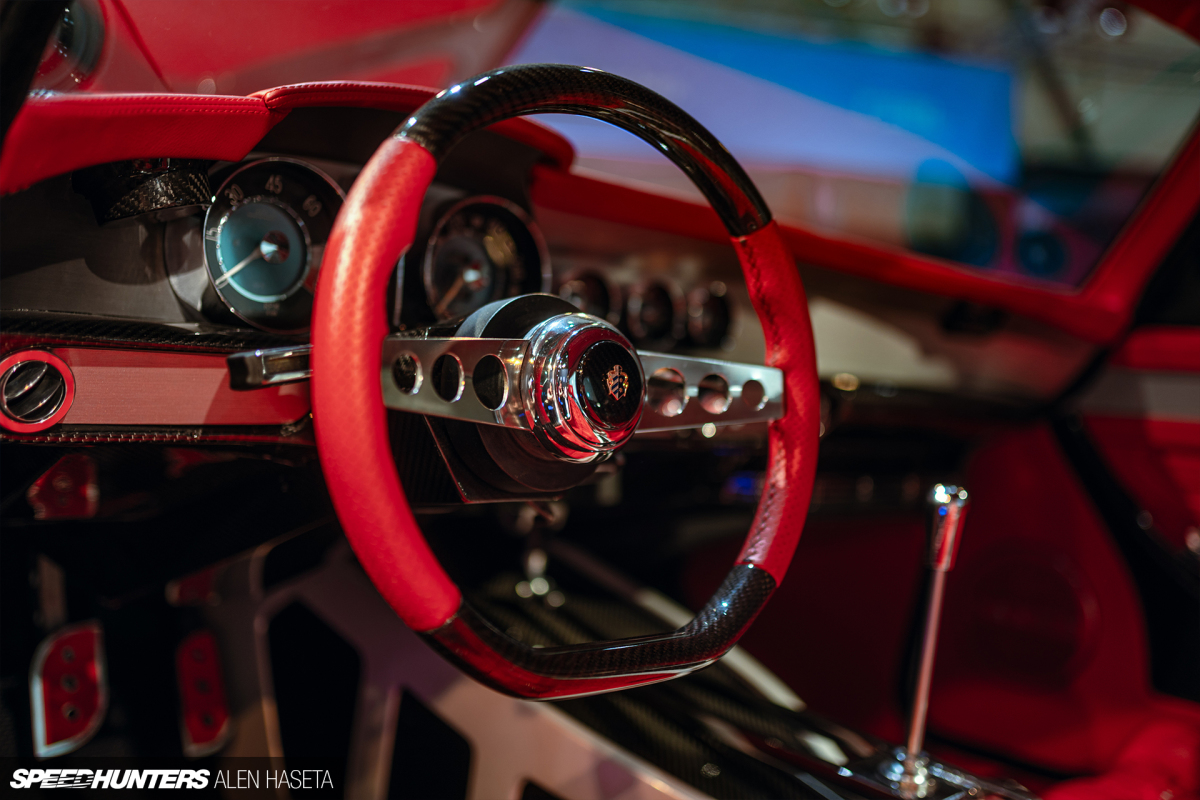 The original dash layout has been preserved, but it's re-trimmed and uses gauges made by watchmakers. The two-spoke steering wheel is an iconic feature of the original P1800, and the design has been retained in the Saint, albeit in a smaller size and with a more modern look.
As you'd expect, everything is custom-tailored so trim options are endless. A rear seat section – constructed from carbon fiber of course – was on display next to the Saint demo car, showcasing a different look.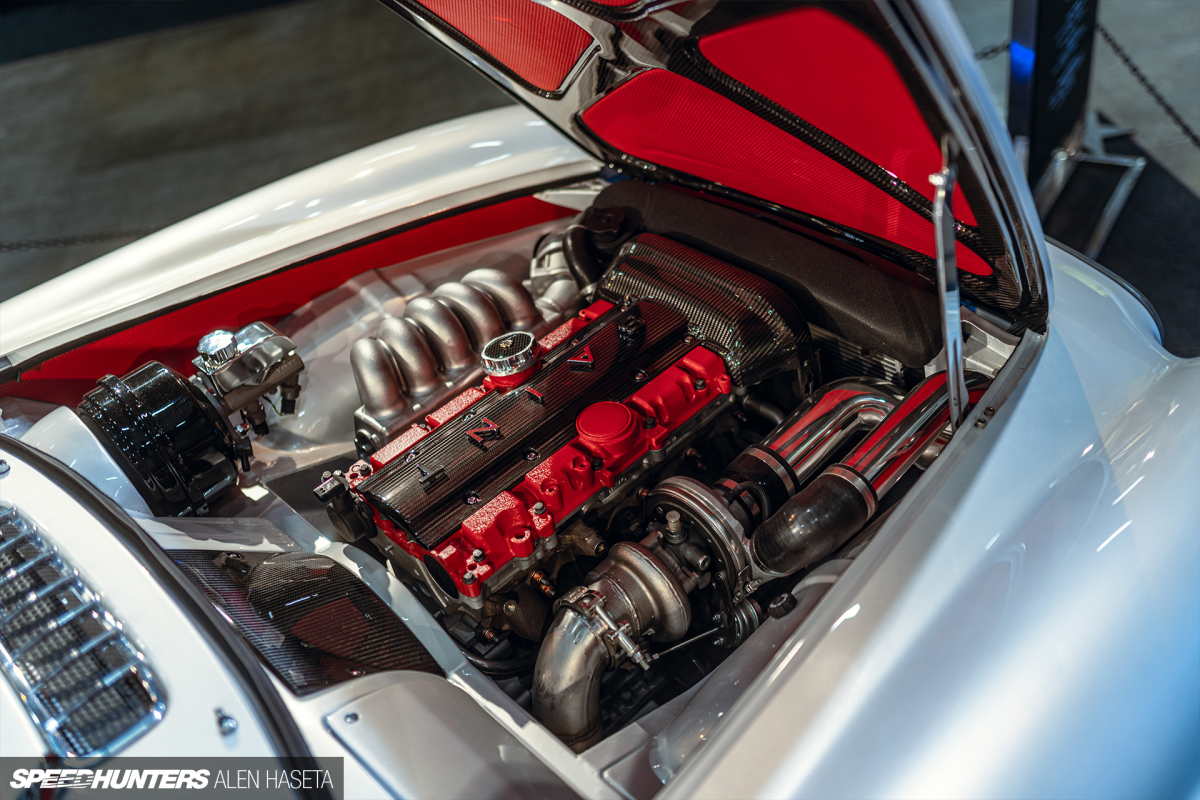 Earlier, I mentioned two choices for the body panels; when it comes to the P1800 Saint's engine, you've got three. The first is a nostalgic, naturally-aspirated four-cylinder Volvo engine, fed by a carburettor and outputting 150hp+. The second is a naturally-aspirated 2.4L Volvo five-cylinder with fuel injection, good for 250hp+. The final engine, as seen in the demo car, is a turbocharged 2.4L five-cylinder Volvo T5. This one is making around 450hp – which is plenty for a car that weighs just under 1,100kg or 2,425lb – but 750hp is possible.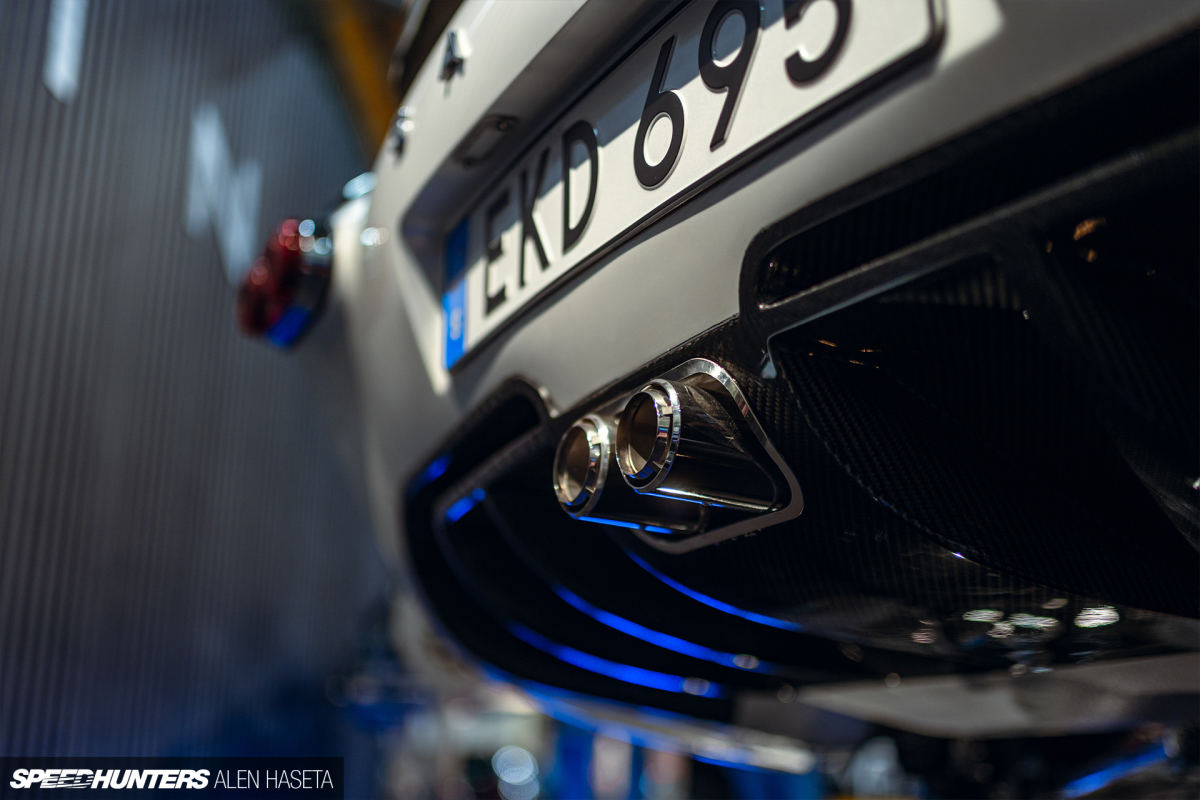 Mounted longitudinally, the engine marries up to either a manual transmission, or with the two 2.4L engines, the option of a 7-speed Getrag dual-clutch transmission and Sellholm Tuning differential to drive the rear wheels. The DCT configuration provides a comfortable ride with all the power and drivability of a GT-spec car, which is exactly what this is.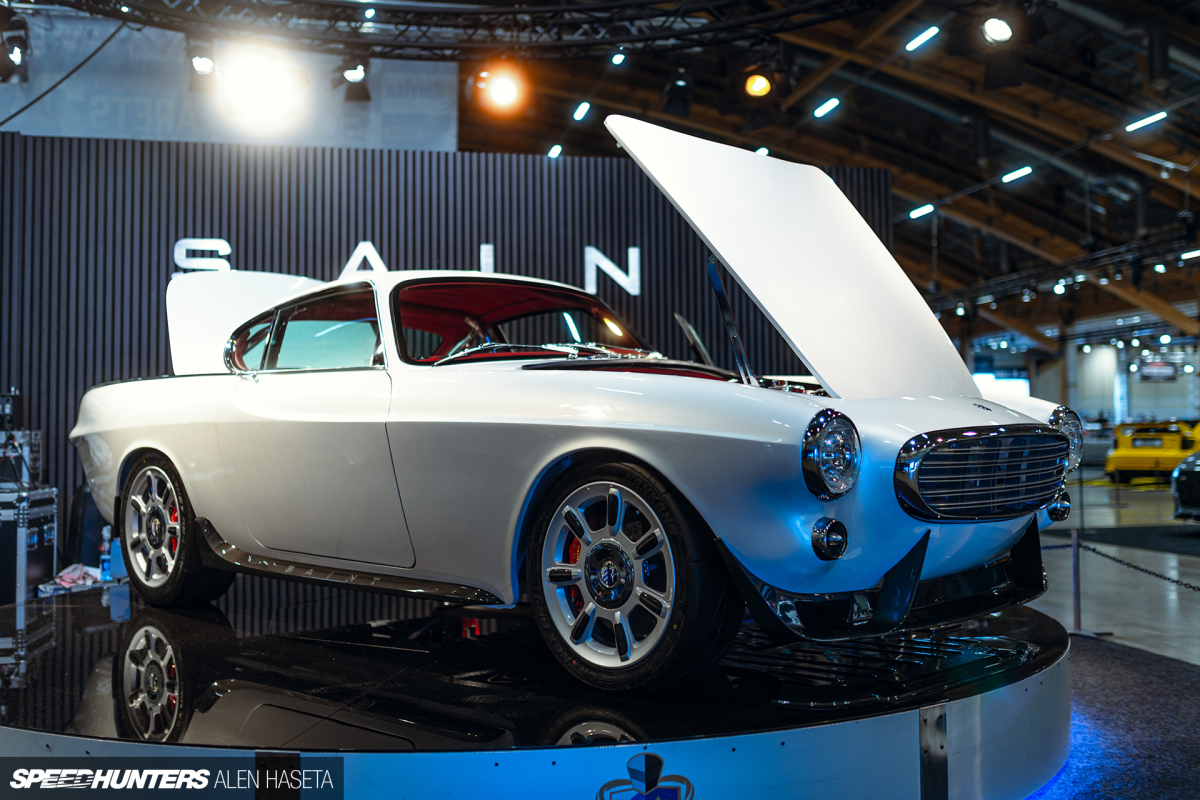 There's so much to this restomod that my quick spotlight has definitely not done the P1800 Saint justice. If I have the chance for a closer look in the future, you can count on a full feature.

Alen Haseta
Instagram: hazetaa







Credit : Source Post