Just across the border from America's popular (though not very pet friendly) Glacier National Park is Canada's equally spectacular and very dog friendly Waterton Lakes National Park. Waterton is known for its chain of crystal clear lakes, cascading waterfalls and towering mountain peaks. But our favorite part is how much you and your dog can do together!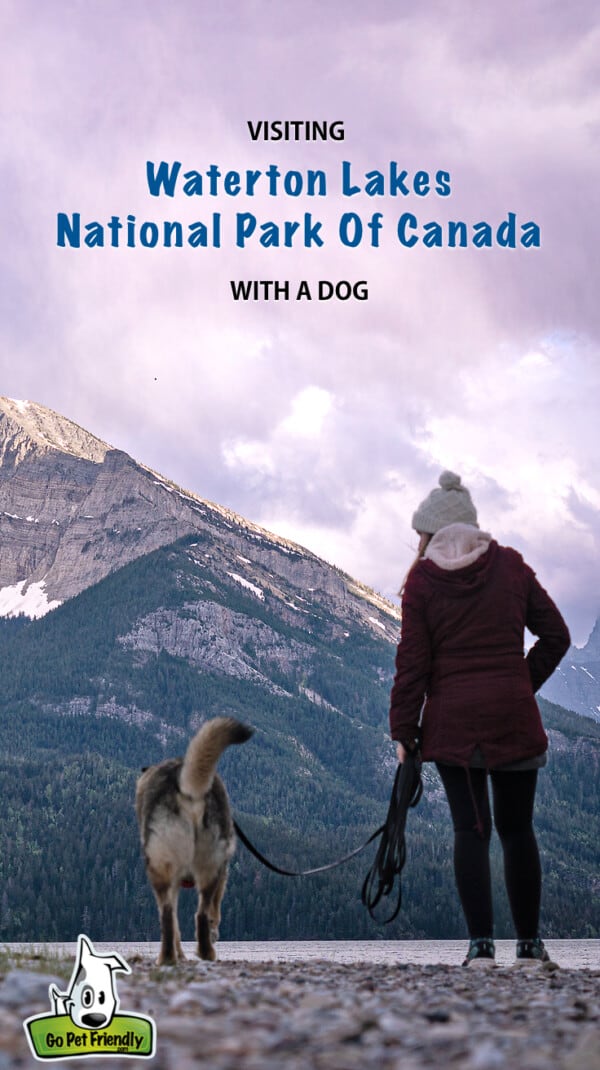 Tucked along the southern edge of Alberta's vast prairies, Waterton Lakes National Park is one of the crown jewels of the Canadian park system. Just two hours south of Calgary, the park boasts some of North America's most scenic peaks, alpine meadows, and glittering lakes.
And with outdoor activities including hiking, fishing, boating, camping, horseback riding, golfing, wildlife viewing and much more — you and your dog will find plenty to explore!
Visiting from the United States? Get our tips for crossing the Canadian border with your pets!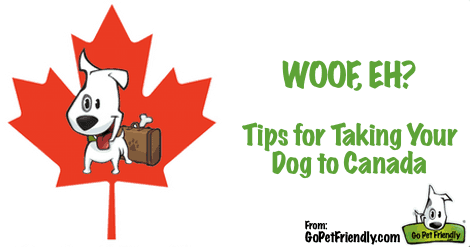 Dog Friendly Sightseeing In Waterton Lakes National Park
Waterton packs a lot of scenic punch into a relatively small and accessible area. When planning your trip, be sure to add these highlight to your itinerary:
Red Rock Parkway
This parkway is only 14 km, but it will feel much longer with all the stops you'll want to make to take in the views! And there are many pullouts along the way to do just that.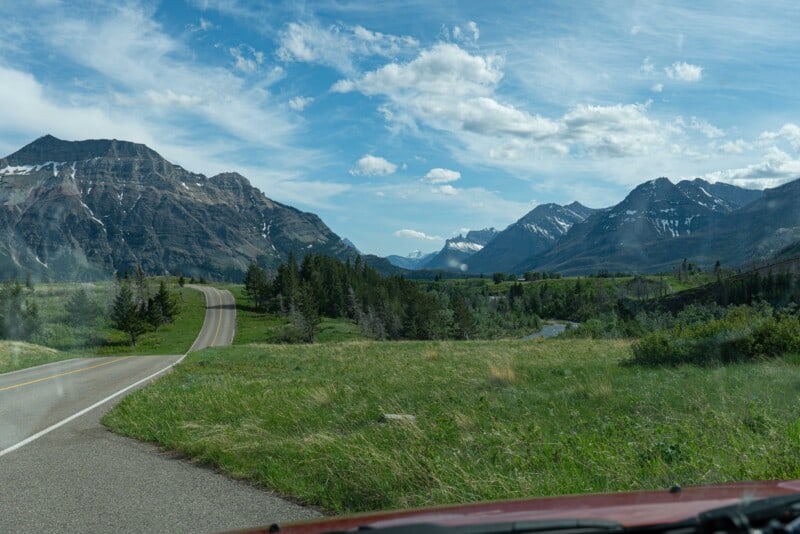 Red Rock Canyon and Blakiston Falls
At the end of Red Rock Parkway you'll find some of the park's water features. From the parking lot you can access a gentle stream that's dog friendly, running its way through a ruby red canyon.
After you've both dipped your toes, take a walk around the canyon and then make your way over to Blakiston Falls. Both walks are easy and combined total about 2.5 km. If you're wanting more hiking, the trail continues in the Blakiston Valley.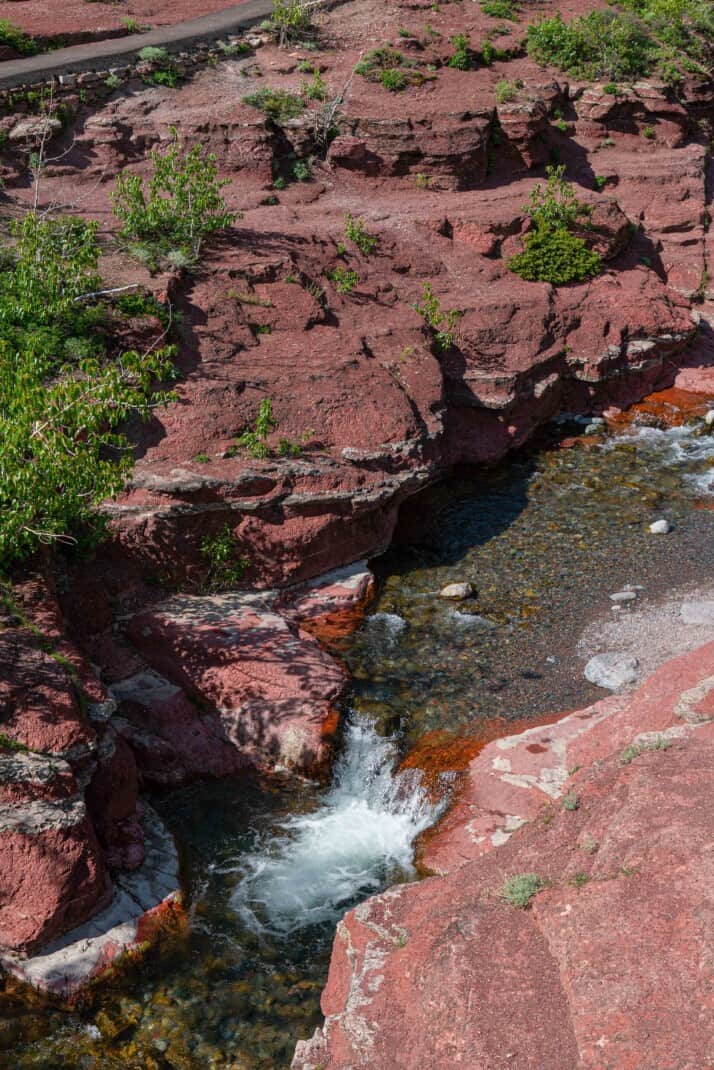 Akamina Parkway
For us, this parkway provided the most wildlife sightings. On two separate drives out and back we saw deer and big horn sheep. In addition, this parkway is the gateway to many trailheads for hikes to lakes and a waterfall tucked away in the mountains.
You will see trail signs all along the way, and you can jump out to check if the lengths and difficulty suit you. Lineham Falls and lower and upper Rowe Lake are a couple interesting options to explore.
We had no problem hiking at Crandell and Cameron Lake at the end of May, so there are lovely options earlier in the season. But if you're hoping to take longer hikes in to the alpine, don't plan to arrive until July when the snow will be completely melted.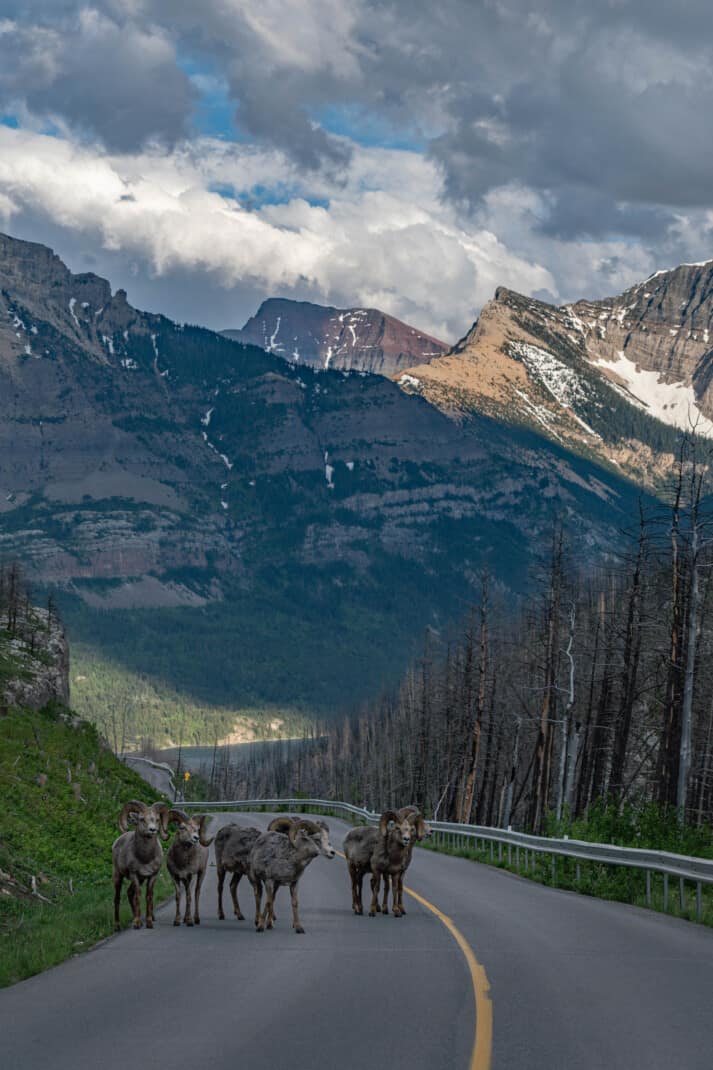 Cameron Lake
At the end of the Akamina Parkway you'll drive right up to the shore of Cameron Lake. It's a fantastic end to a drive with your pup!
You can have a swim in the lake, bring a kayak and go for a paddle, choose from the lakeside hikes that start on both sides of the shore.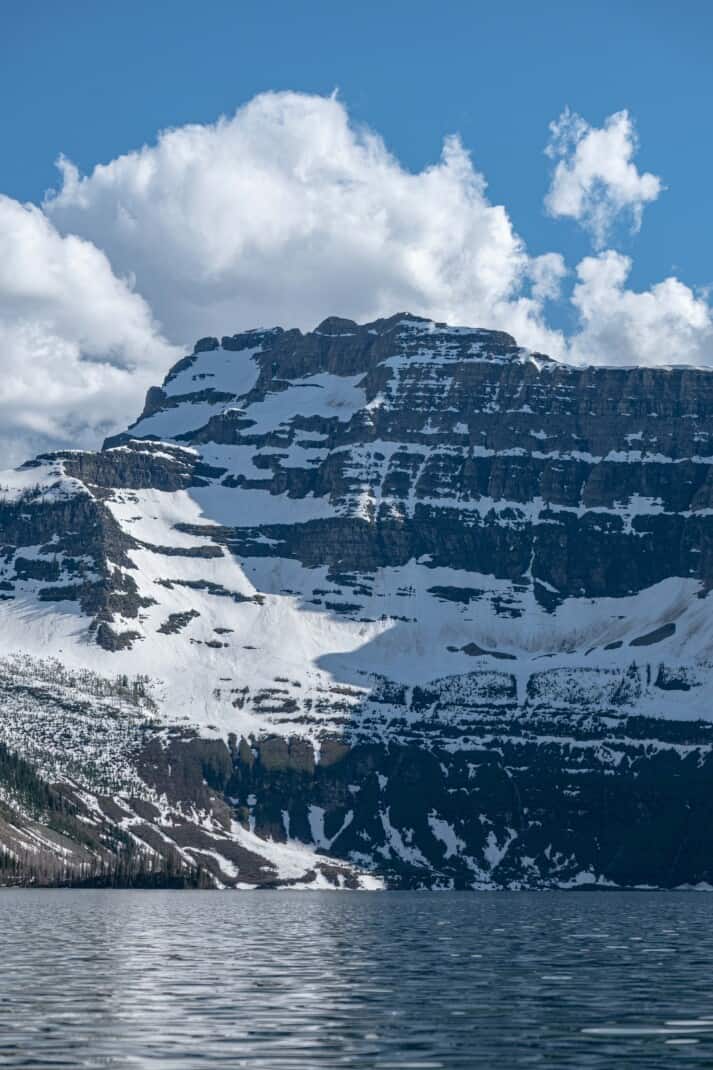 Walk to the left and you'll be on the challenging switchback route to Summit Lake (8.4 km roundtrip). From there you can continue past even more lakes and back to the townsite for a full day hike of 19 km.
Choose to go right and you'll take an easier 30-40min (one way) path following the lakeshore. We found the lake to be very quiet around dinner time and chose to have the most peaceful float out on the lake.
From mid-June until mid-September small boats, canoes, and paddle boards can be rented directly at the lake. And yes, they are dog friendly!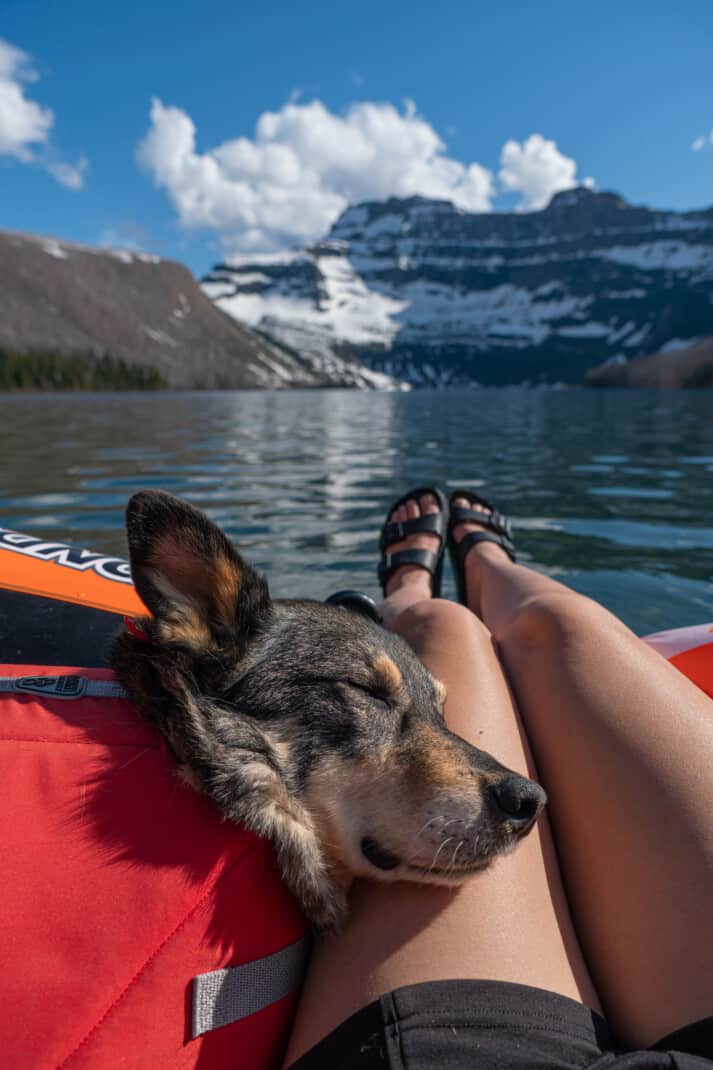 Bison Loop
The short self-driving tour of the bison paddock, is a drive-only adventure (no exiting the vehicle). So roll down the windows and let your dog catch all the sniffs!
Before or after your drive, stop at the unmarked pull-out just before the loop begins and take a short dog friendly walk to the top of the hill. From there you'll have a beautiful view of parts of the paddock below. And try out the oversized binoculars — hopefully you'll score a close up view of the bison with them!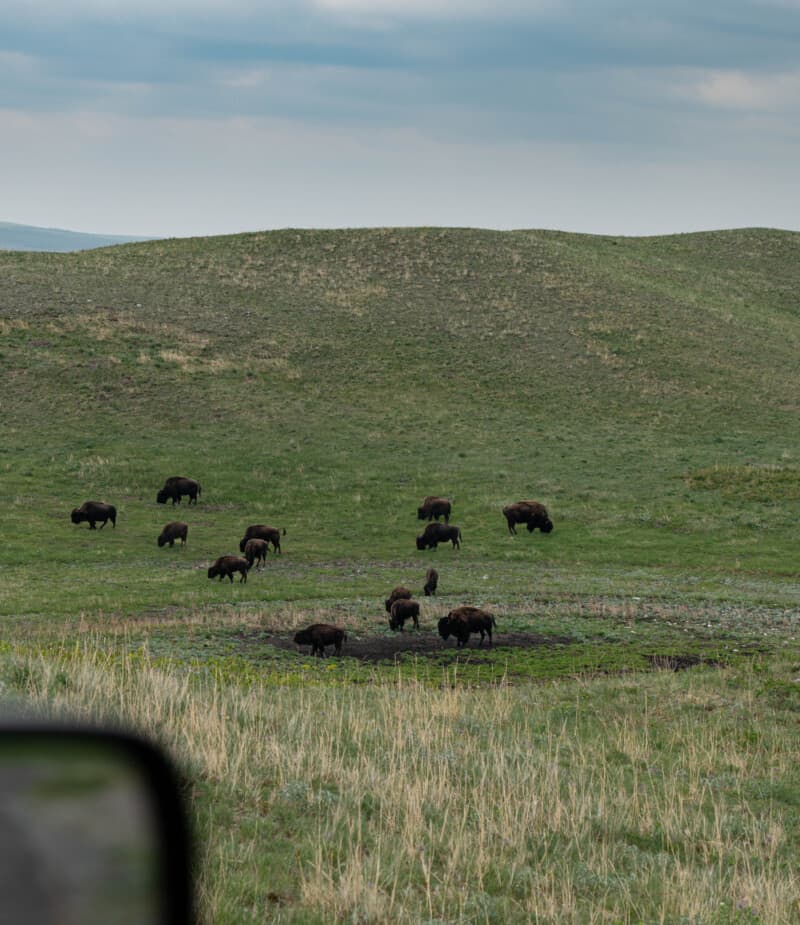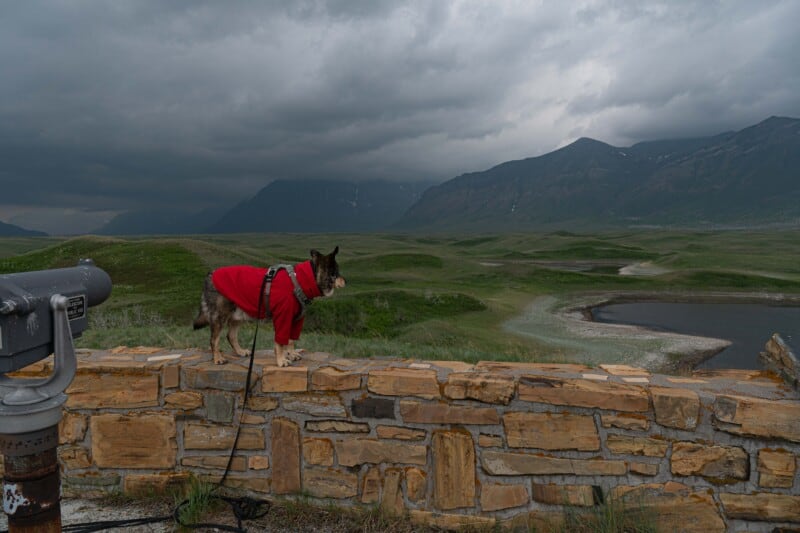 Why are the bison there?
Plains bison are a keystone species to the area, meaning they alter the landscape in a way that benefits the other plant and animal species. Having the plains bison here is an effort in conservation for both the lands and the Indigenous peoples.
You can read more about the plains bison on the Parks Canada website. "The rescue of bison from near extinction is one of Parks Canada's greatest success stories."
Dog Friendly Picnic Sites All Around
When you head out to explore Waterton, don't forget to pack a lunch and a special treat for your pooch. There are so many fantastic picnic sites with incredible views, it will be hard to choose which to dine at!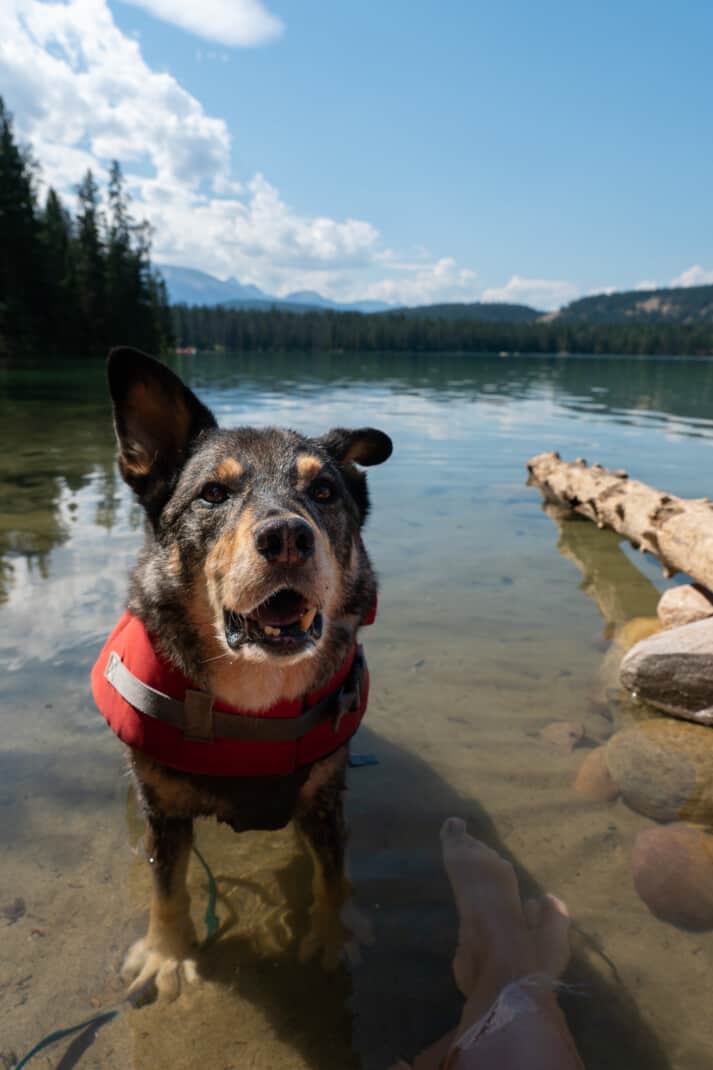 Dog Friendly Hiking In Waterton Lakes National Park
To more fully experience Waterton Lakes National Park with your dog, be sure to check out some of the pet friendly trails!
Note that Waterton Lakes is home to both grizzly and black bears. Although the chances of having an encounter with an aggressive bear are low, proper planning before you head out can help reduce your risk. When you arrive at the park, talk to a ranger about recent bear activity and be sure to keep your dog on leash.
Crandell Lake
There are a few options to begin your hike to Crandell Lake. We started from the Red Rock Parkway. But you can also begin from the Akamina Parkway.
Our round-trip hike was 7 km and generally quite easy. However, it didn't have a lot of shade, which is a consideration if you're hiking on a hot day.
The lake is accessible for a swim once you arrive and has a wonderful mountain in the background. We recommend this for an awesome half-day hike or a backcountry camping experience.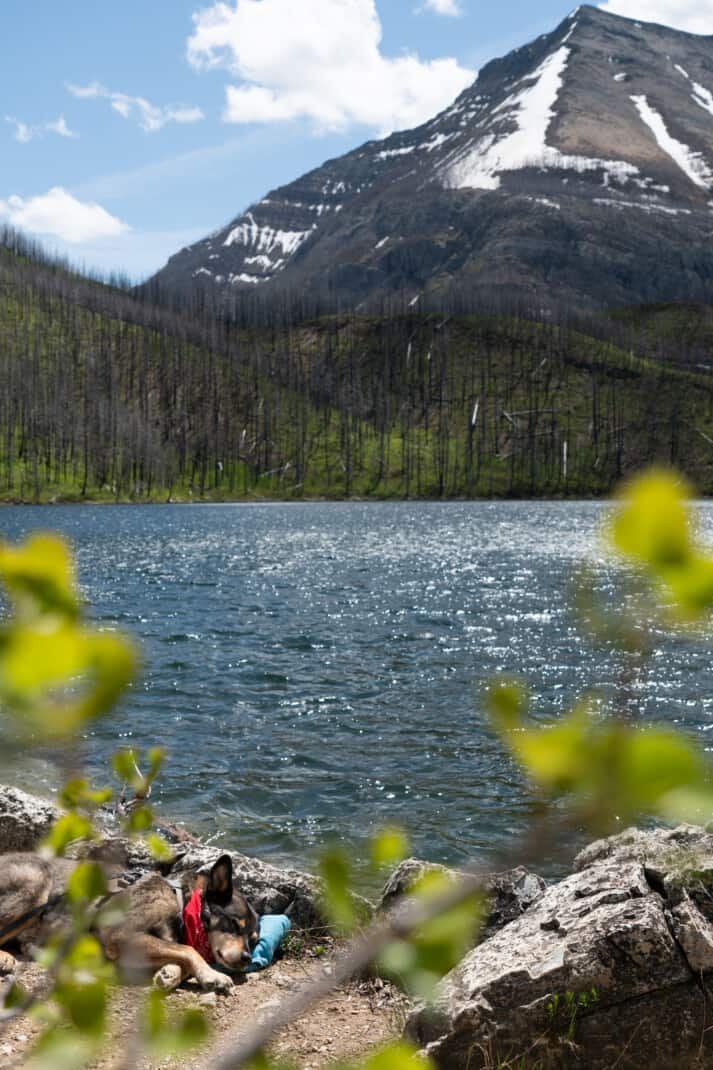 Cameron Falls
You can hike to Cameron Falls from your campsite or after a short drive from town, and have an instant reward once you're there! There are options to walk up to the top of the falls as well for a more lengthy adventure with more views.
Bertha Falls is another waterfall hike that you can start from the campground as well.
Rainy day tip: If you happen to be in Waterton during or right after heavy rainfall, make a point to head to Cameron Falls for a chance to see the falls running pink. Yes, these falls can run pink due the abundance of iron being washed down stream. So unique and cool!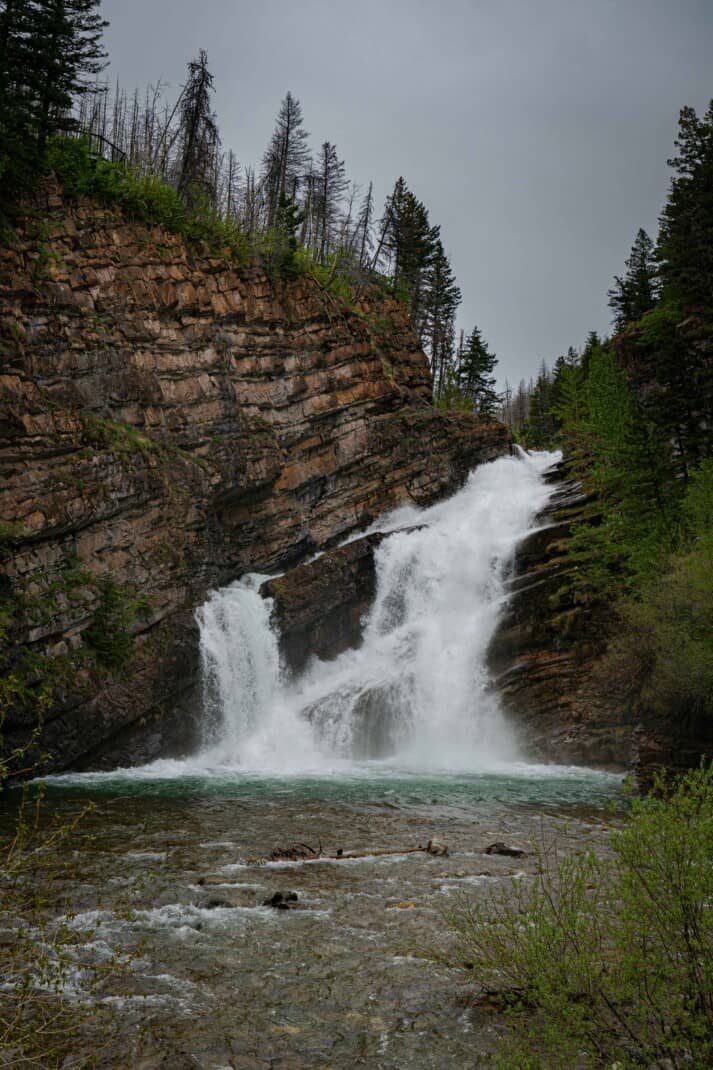 Prince Of Whales Viewpoint & Bear's Hump
Driving into town, I spotted the iconic Prince Of Whales Hotel perched up on a hill and suspected they might have a good view.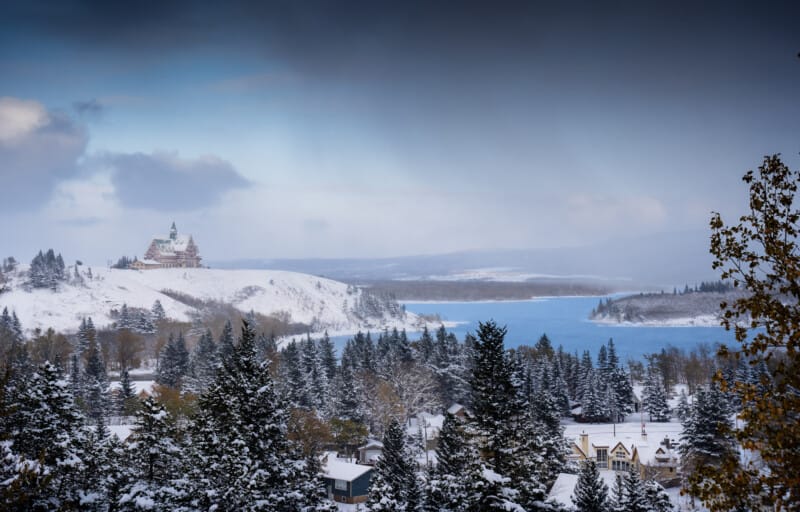 So we drove up and were directed to a free 30 minute parking area ($10.50/hr after that). I was told to "be sure to head to the left of the hotel for the best views!". And the views did not disappoint. Our 30 minutes flew by.
If you would like to stay longer without the parking pass, leave your car down below at Linnet Lake. Walk up the hill to the same viewpoint takes about 10 minutes.
To get even higher views and a better workout for your pup, park directly across from the Prince Of Whales at the Bear's Hump parking lot. It's a 1.5 km climb up, but I've been told the views are endless and totally worth the effort! The easy views we got were absolutely wonderful, so I can imagine how much more impressive they'd be from the top.
Where To Stay In Dog Friendly Waterton Lakes National Park
One of the most important decisions to make when you begin planning any pet friendly trip is where to stay. Fortunately, you'll find plenty of dog friendly options in Waterton Lakes National Park!
Camping
Currently there is just one campground in Waterton. It's located right on the edge of the townsite, and appropriately called the Townsite Campground.
Despite being in town the scenery is still eye catching with bold mountains all around you. Sites are available for any style of camping from unserviced walk-in and pull in sites, to sites with electricity and water. And, even though the campsites are very close together, I found our stay to be peaceful.
Campsites range from approximately $24-$35 (CAD) per night and a National Park pass is also be necessary and currently costs $21 (CAD) a day. For me as a solo traveler, the yearly park pass seemed a good investment at $72 (CAD) because it's accepted at all of Canada's National Parks. So, after Waterton perhaps you'll want to head up to Banff or Jasper, both of which are also very pet friendly!
READ MORE ⇒ The Ultimate Pet Friendly Guide To Banff National Park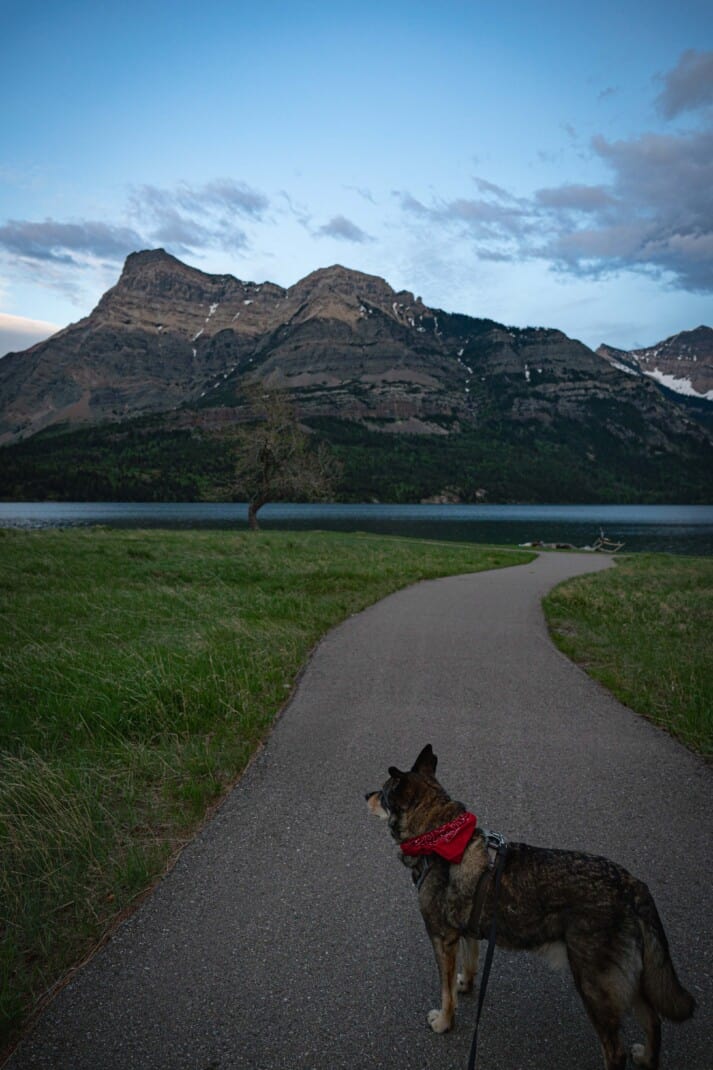 Townsite Campground offers amenities such as drinking water, hot showers, and picnic shelters. But our favorite was the dog friendly beach within walking distance of our campsite! It's wonderful to wrap up a day of touring with your pups with a stroll on the beach, watching pink and purple hues light the mountains.
One thing to be mindful of here is the wildlife. The deer seem to be very casual and will walk directly through your campsite. So, keep your pups leashed and close to you, and you'll have a wonderful stay!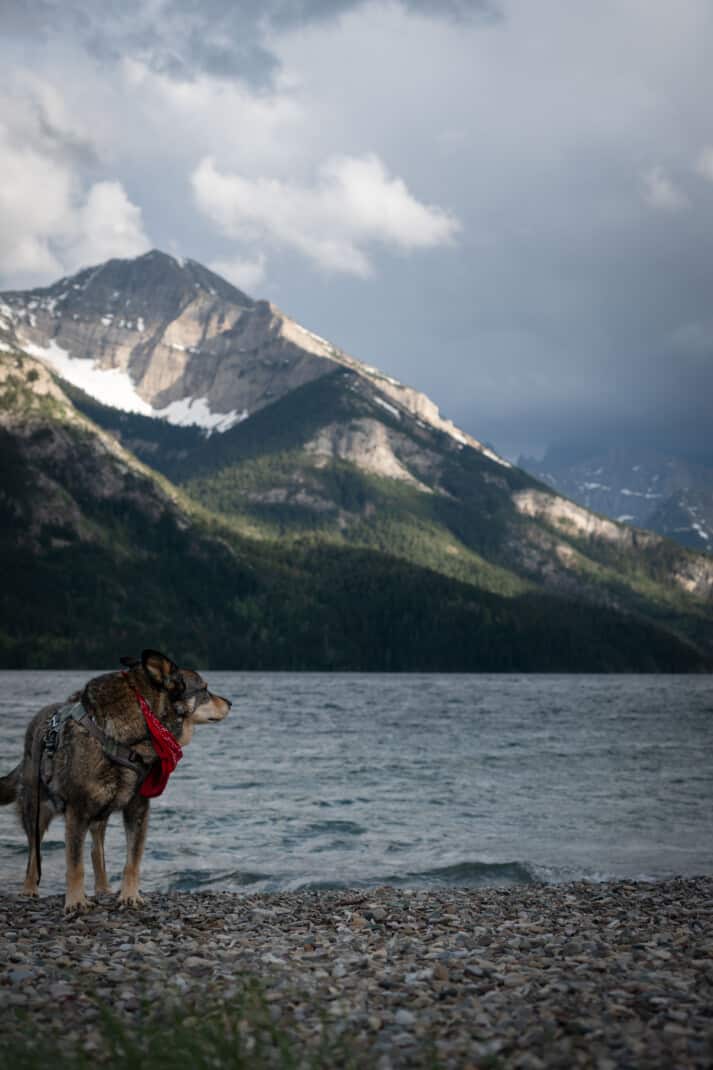 Back Country Camping
There are also 10 dog friendly back country camping options in Waterton Lakes National Park. You can dig deeper in to more details and fees on the Parks Canada website, but here is the list to get you started:
Alderson Lake
Bertha Bay
Bertha Lake
Boundary Bay
Crandell Lake
Goat Lake
Lineham Lakes Note: No campground facilities at this location
Lone Lake
Snowshoe
Twin Lakes
With the right gear and preparation, back country camping can be an exciting way to immerse yourself in nature with your pup!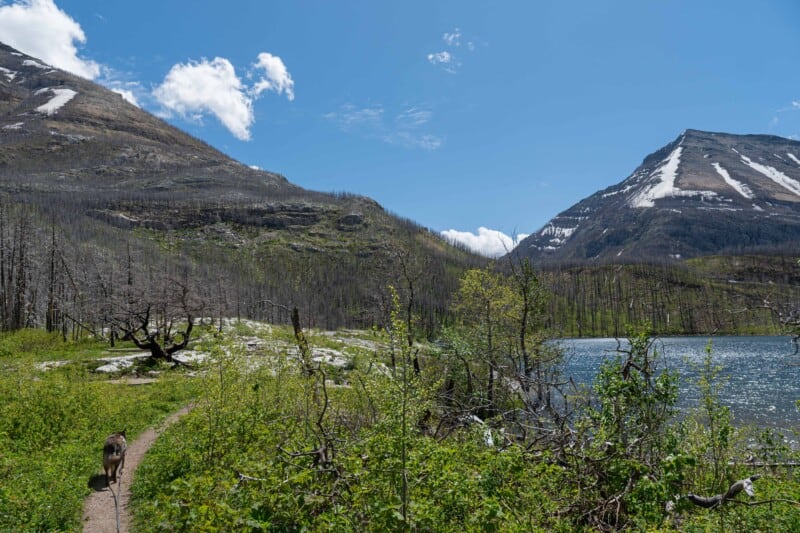 Dog Friendly Hotels In Waterton Lakes National Park
For those visitors who prefer hotels to camping, there is a nice selection of pet friendly hotels in Waterton Lakes.
Bear Mountain Motel – "Simple, clean & affordable" is their motto. Rates start at $170 in the high season and $130 in the low. One payment of $25 covers the pet fee for a ground floor, pet friendly room. Coffee, tea and hot chocolate available all day.
Waterton Lakes Lodge Resort – Beautiful grounds, offering pool, hot tub and rec center. However pets cannot be left unattended in the room. Pet fee of $20/night/per pet. High season rates start at $197.
Aspen Village – Pet friendly cottages available. For dogs who are sensitive to unfamiliar noises, it's nice to not share walls. Pool and hot tub on site. Pet fee $20/night/per pet. Rates start around $200.
The Bayshore Inn & Spa – The only hotel located on Waterton Lake's shore (stunning)! Rates for a pet friendly room can range from $179 – $359, depending on the season. Pet fee of $30/night/per pet. On site Chophouse restaurant has a dog friendly patio.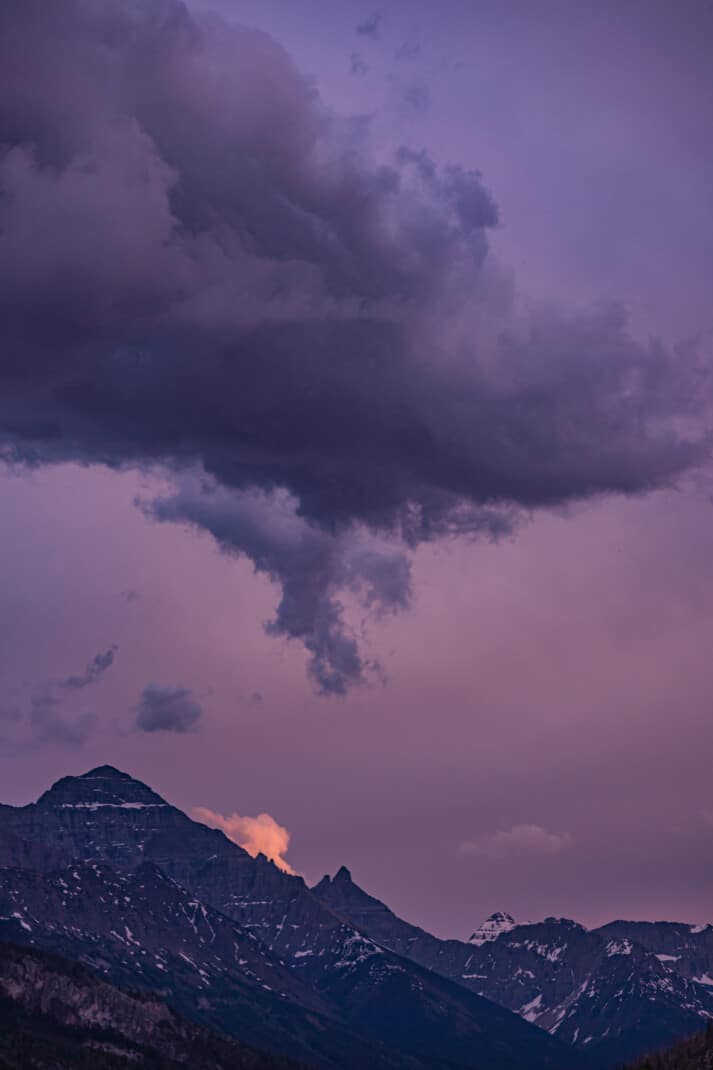 Dog Friendly Restaurants In Waterton Lakes National Park
After a long day of adventuring, pull up a seat with your best furry friend at one of these dog friendly restaurant patios in Waterton Lakes National Park!
Trappers Mountain Grill – wood fire pizza, burgers, and other pub fare.
Windflower Corner Cafe – excellent stop for breakfast sandwiches, baked goods or grabbing sandwiches for longer hikes.
Waterton Café – Said to have Waterton's finest burgers.
Lakeside Chophouse and Wine Bar – Classic chophouse fare offering items such as baked brie, crab cakes, and steak.
Zum's Eatery – A wide variety of items for breakfast, lunch, and dinner. Many options for vegetarians and some tasty vegan options.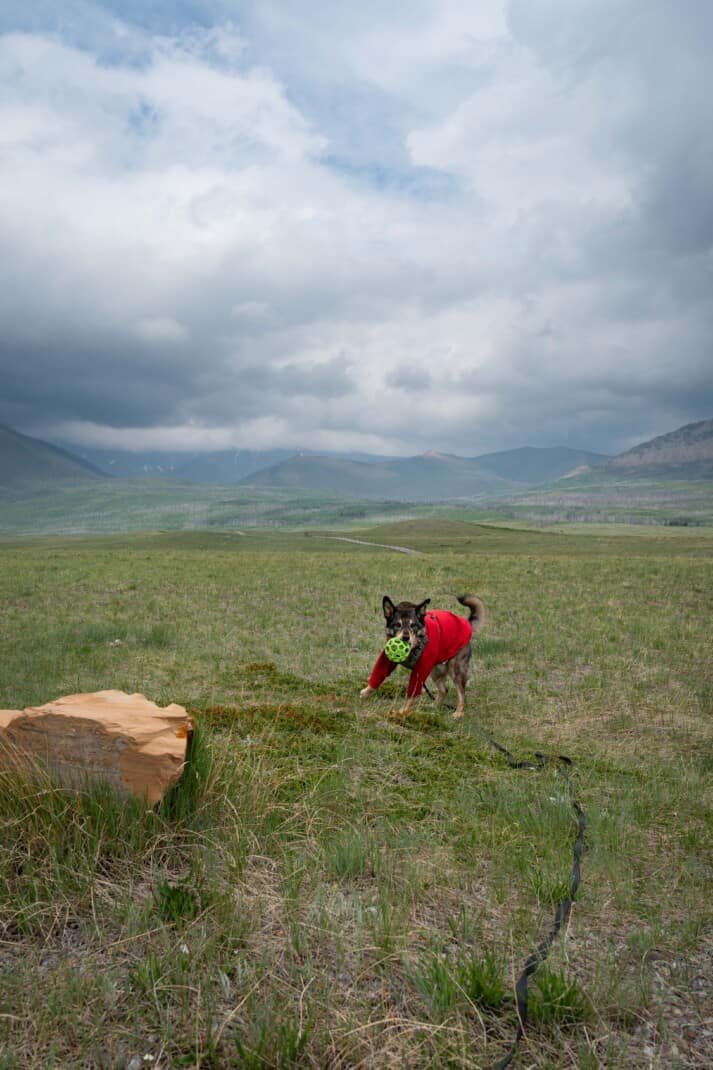 Waterton Lakes National Park is so pet friendly, it makes a fantastic destination for you and your best furends. And it's versatile enough to accommodate whatever style of adventure you like — from relaxed to vigorous.
I particularly loved that, even with a senior dog, so much amazing scenery and fantastic trails were accessible to us. You and your dog will be dining, playing, and hiking to your heart's content!
EXPLORE MORE ⇒ Pet Friendly Guide To Banff National Park
DO MORE ⇒ Pet Friendly Guide To Jasper National Park
EXPLORE MORE ⇒ Visiting Glacier National Park With Dogs
(Visited 14 times, 1 visits today)



Credit : Source Post