Have you ever headed out to buy the car you always wanted, only to return home with something else? Lasse Korpela from Seinäjoki, Finland has.
Lasse was about to purchase his next project car, a Datsun 160J (710), when he spied a 1969 Datsun 1600 (510) with 66,000 original kilometres on the clock. Despite having been parked up for a long time, the 510 sedan was in good shape. It was in original condition and still even had plastic wrap on the door panels. A quick fix would get it up and running, but Lasse had other ideas. A deal was made and he got started.
I'm always up for a good shakotan style build, but they're rarely seen here in Scandinavia. So when I do come across one I want to know more, and Lasse was happy to show me around his build while it was on display at the recent Custom Motor Show (AKA Elmia) in Sweden.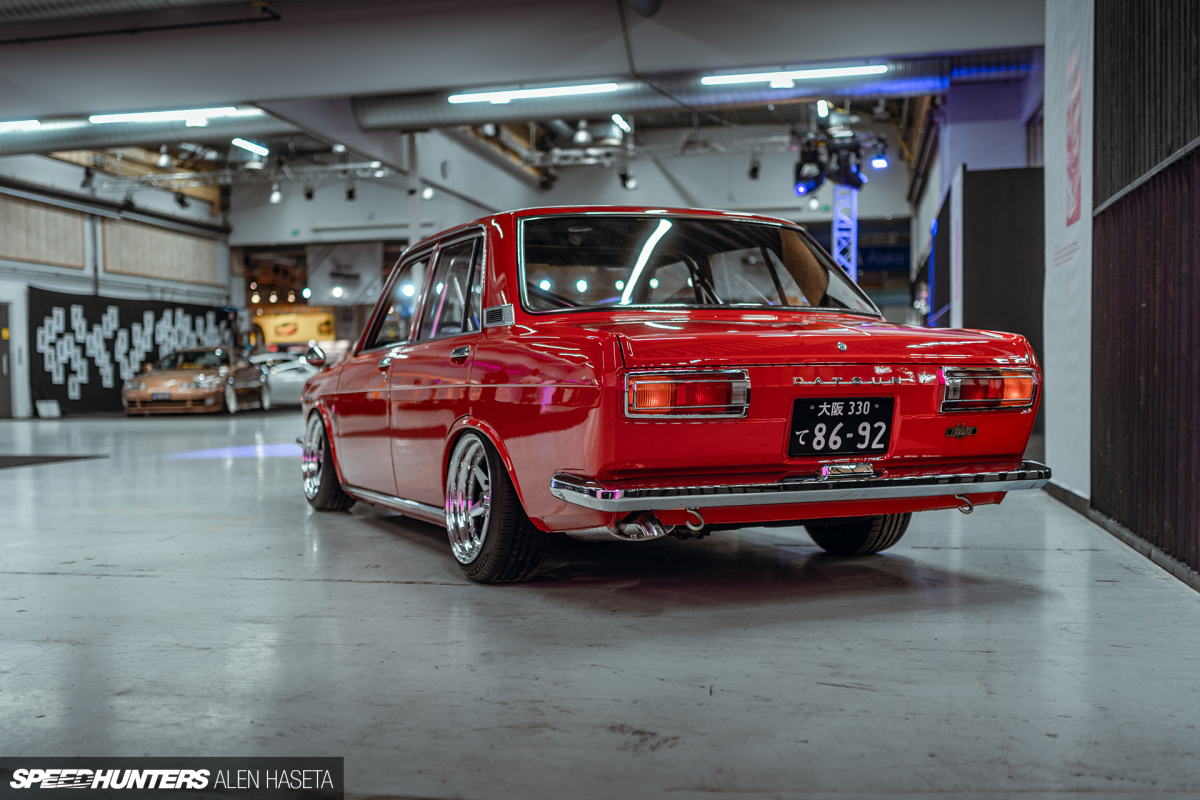 One could argue that the term shakotan means crazy fender flares, insane negative camber and an exposed oil cooler hanging off the front of the car. While those sort of modifications are consistent with the iconic Japanese modifying style popularised in the 1980s, shakotan cars come in many flavours. Lasso has taken an ultra-clean approach with his 510.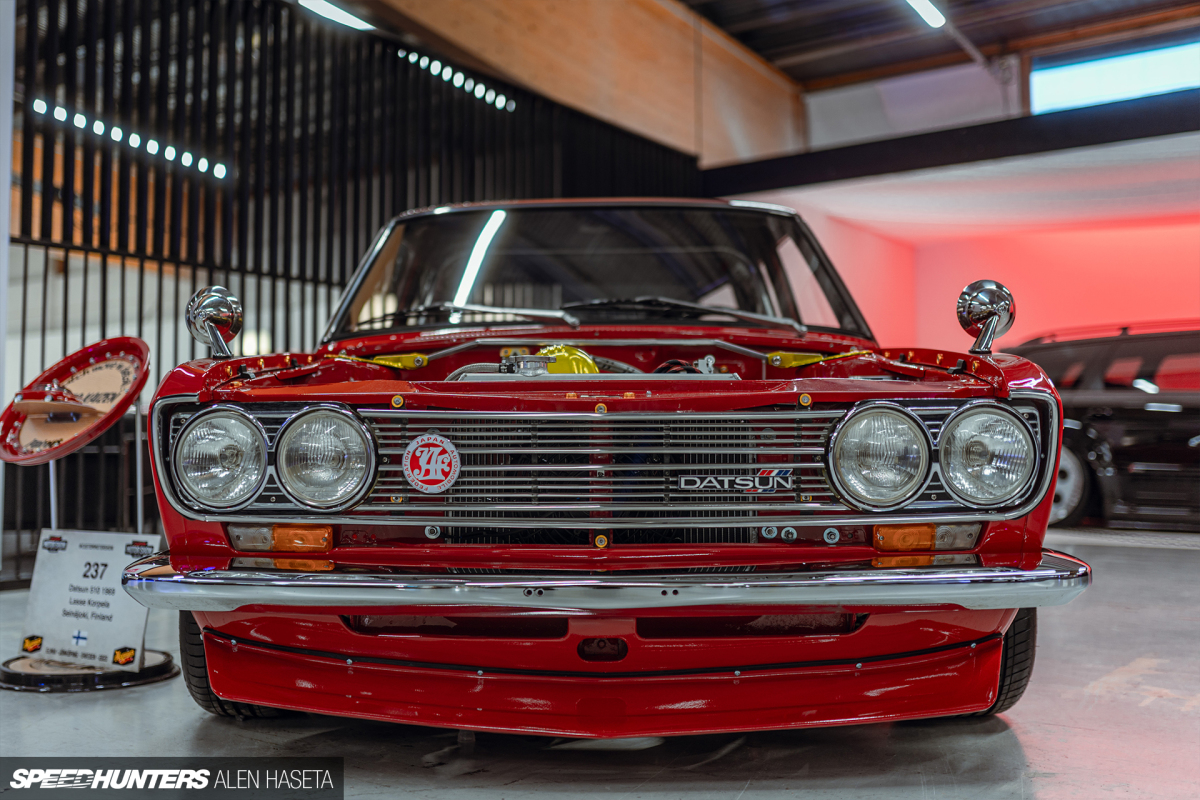 But not only is the Datsun's exterior clean, the finish is exquisite. Every panel was perfected before being repainted in Mercedes-Benz Rubinrot Red. The front and rear bumpers, chrome trims, door handles and emblems are all brand new parts. The same goes for the fender mirrors, which Lasse purchased from Nissan in Japan.
What couldn't be bought new, Lasse had custom-made for the 510 – the door hinges and lamp bezels being two of these items. It really does look like the car rolled off the production line just a couple of days ago.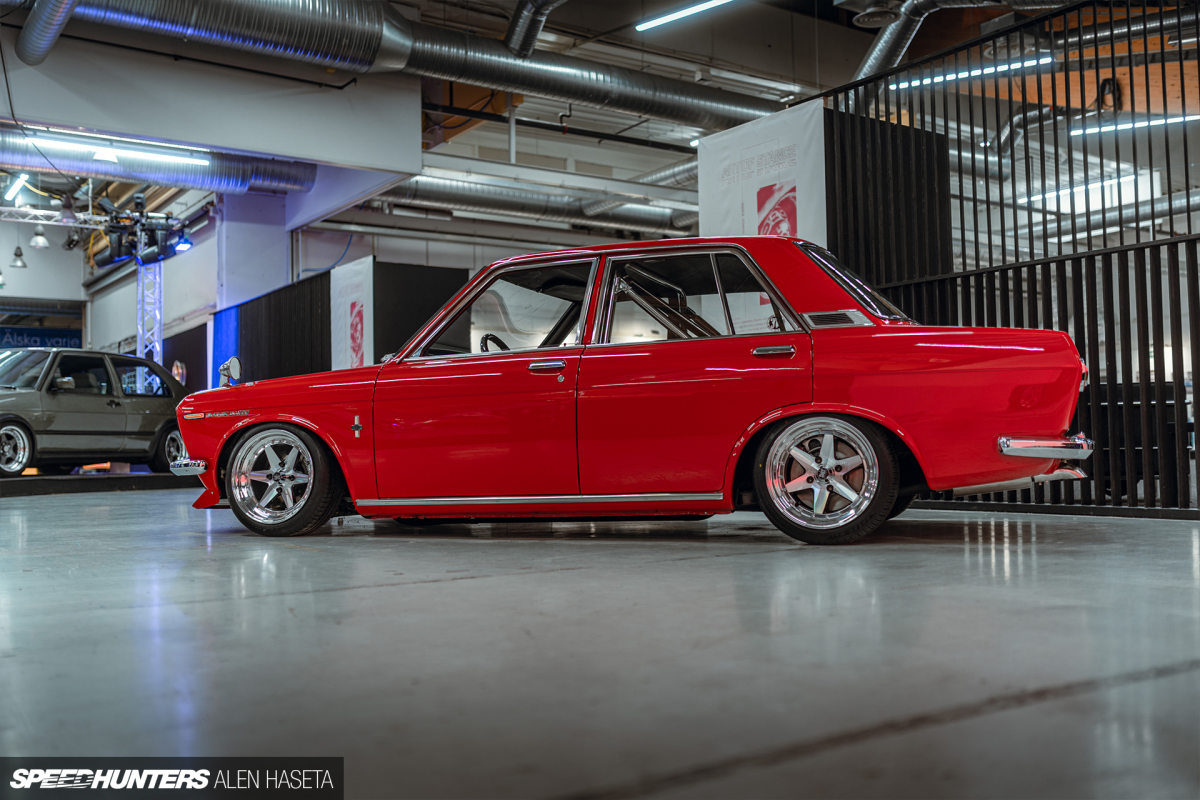 Lasse is a man of culture and never had any thoughts of altering the Datsun's exterior lines, nor was he interested in making any big changes to the chassis. He did, however, want the car to ride low. HSD Monopro coilovers designed for the Nissan RPS13 200SX were customised to fit the 510, with Volkswagen Golf upper spring plates added in the rear.
Underneath the Datsun, every component was either sandblasted and powder-coated or zinc-plated. Among other upgrades, Techno Toy Tuning adjustable billet tie-rods feature in front and polyurethane bushes now replace the originals throughout.
For wheels, Lasse has gone with a JDM old school favourite – SSR Longchamp XR4s. You could argue that definitely 13s or maybe 14-inch wheels would be more in keeping with the car's age, but the 15s that are mounted up on each corner look superb.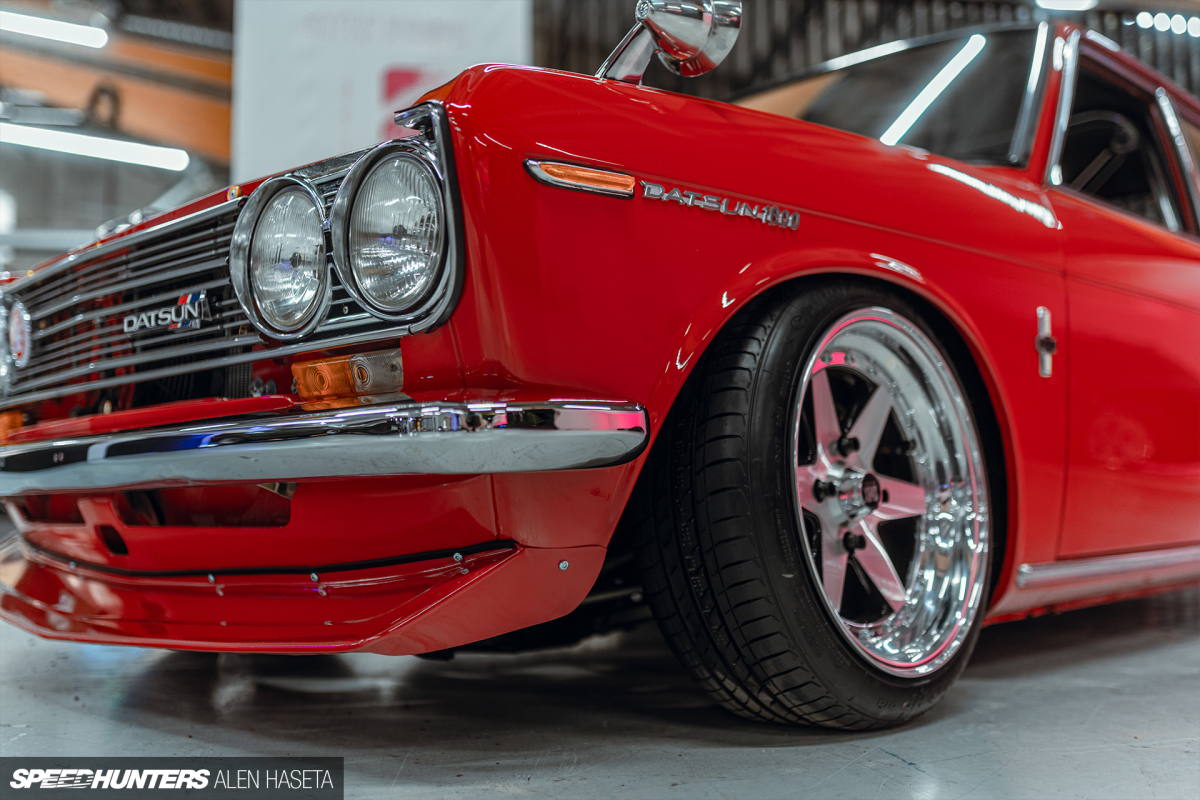 When Lasse purchased the wheels they were 2-piece and measured 15×6.5-inch; now they're 3-piece with custom outer lips, lathed centres and custom-made 'XR4S' centre caps. The finished specs are a functional 15×8-inch for the front and 15×8.5-inch out back.
The upside of bigger wheels is bigger brakes, and the Datsun now stops a lot better than it originally did with Wilwood Dynalite 4-pot callipers and 273mm Wilwood floating discs at the front, and a P11 Nissan Primera GT disc setup at the rear.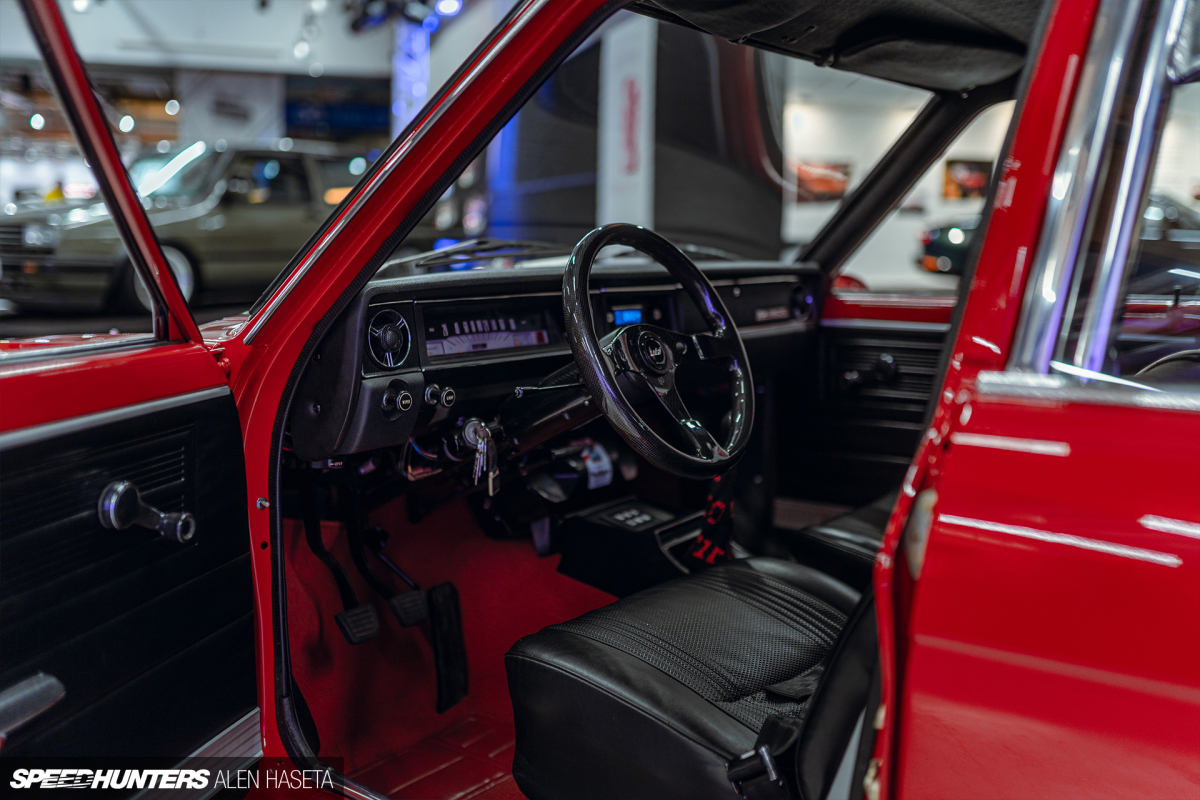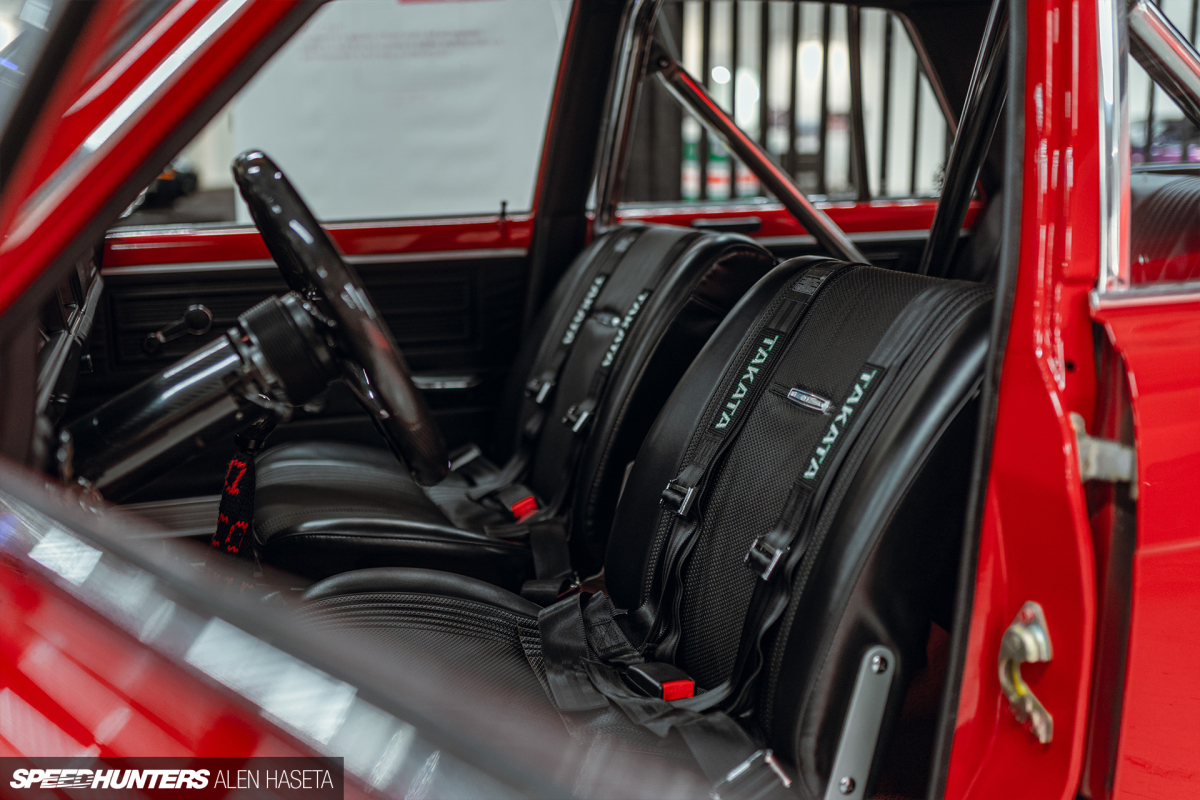 Inside the Datsun, Lasse has kept things clean and simple, starting with a custom stainless steel roll cage that took him 25 hours to polish up to its mirror shine. The original seats have been retrimmed in a factory style and fitted with TAKATA Racing harness belts, and the centre console, which was badly damaged, was repaired and painted it to match the rest of the interior. The steering wheel is full carbon fiber, while the gearbox shifter surround is a handmade piece, knitted in a Marimekko style by Lasse's wife.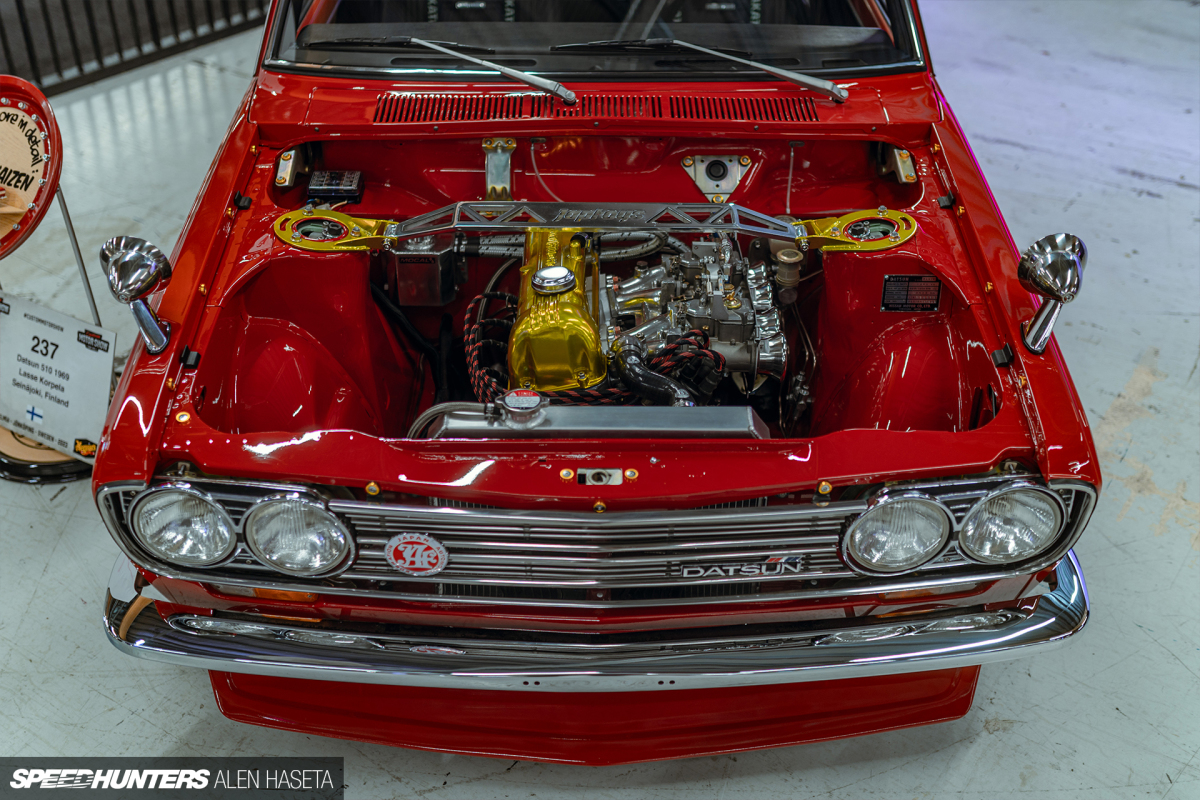 While a few modern amenities have found their way into the build, under the hood the 510's original 1.6L engine remains, albeit in higher spec and looking simply stunning in the detailed bay.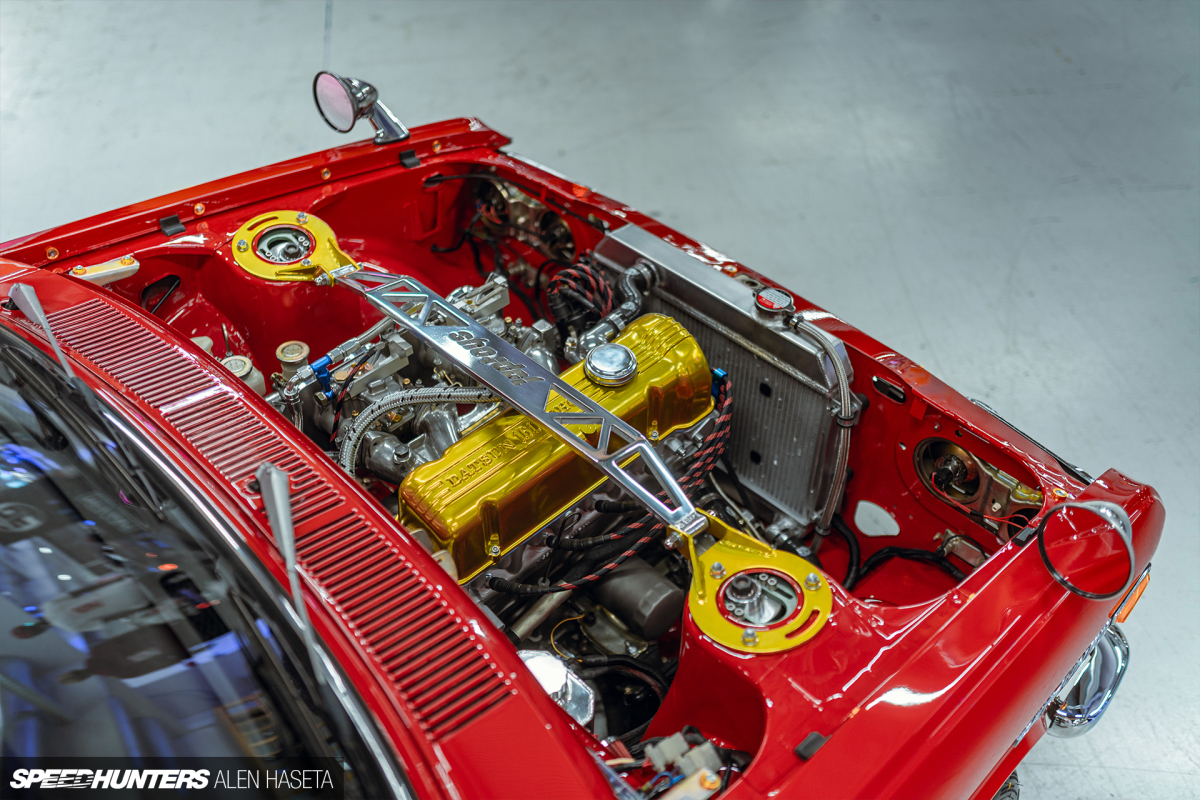 You'd half expect to see an SR20DET mounted up front, but Lasse never had performance intentions for the Datsun. However, with the help of a few upgrades –  a ported A87 cylinder head with a custom Koneistus Perälä cam, and an aluminium intake manifold running twin FAJS 45mm carburettors and Matalamäki Racing velocity stacks – it gets along nicely with around 150hp.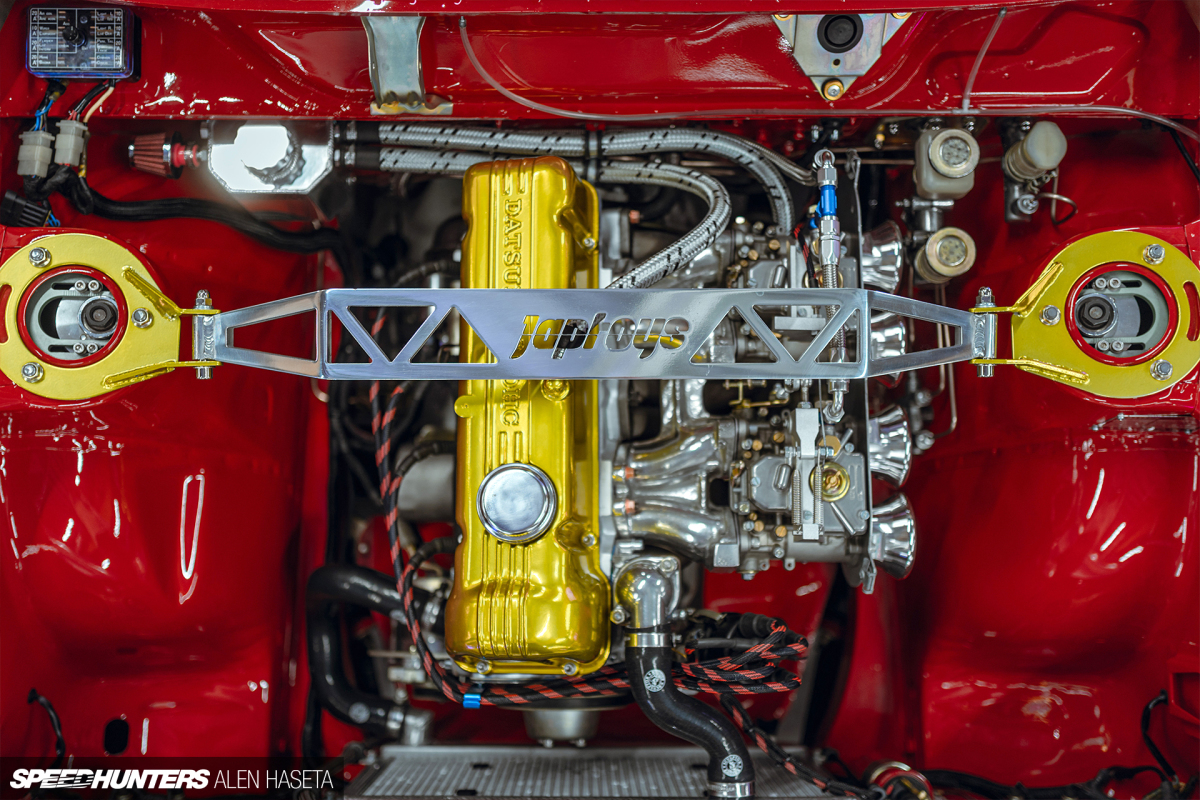 The original 4-speed manual gearbox remains too, but now runs out to a an R160 differential and VLD shafts from a Subaru Impreza WRX STI.
I need to make special mention of the strut bar, which Lasse designed himself and mounted up to RPS13 end plates.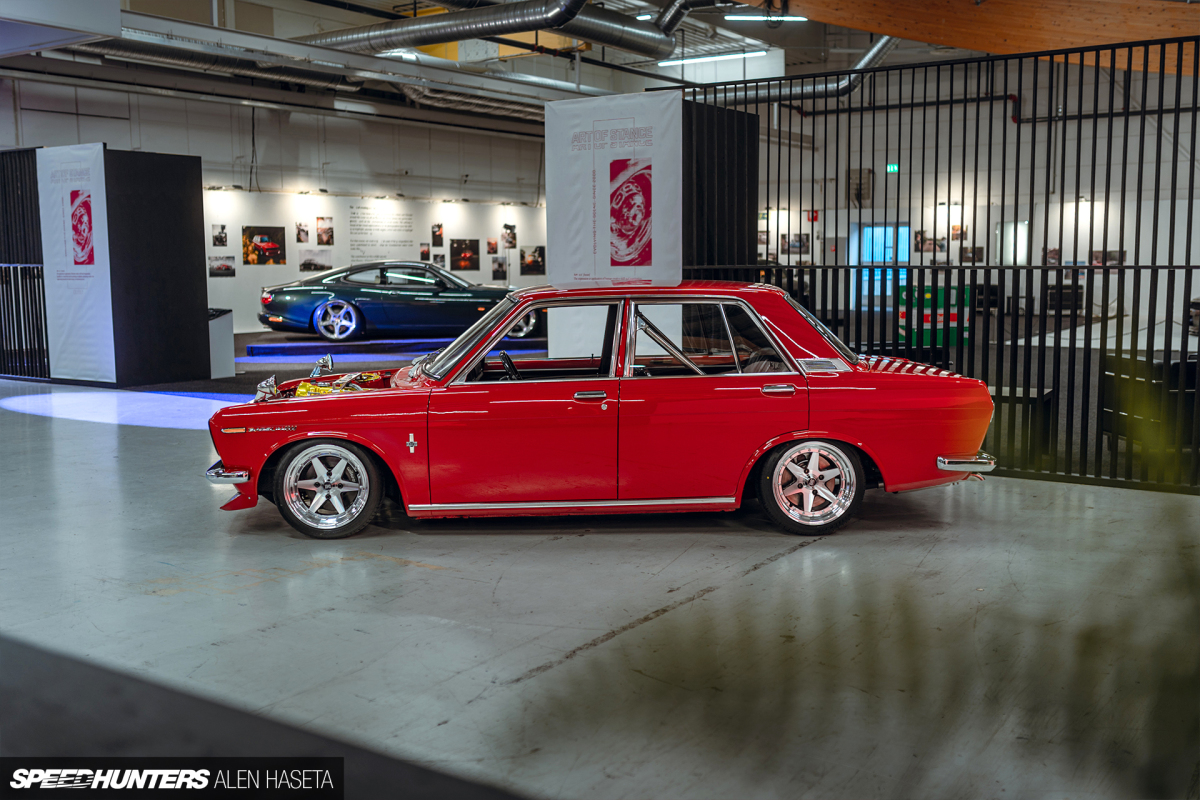 Lasse's 510 is fantastic in every way, and a great example of not needing to go crazy when wanting to build something that stands out – which the Datsun most definitely did at Elmia this year.

Not one to sit idle for long though, Lasse already has another project on the go, this time based on an R32 Nissan Skyline. Think genuine Bee*R body kit and a stroked SR20DET. That sounds like another Speedhunters spotlight in the making…

Alen Haseta
Instagram: hazetaa







Credit : Source Post